'My cancer was so aggressive they didn't have a chance to sperm-bank me' – a survivor's story of hope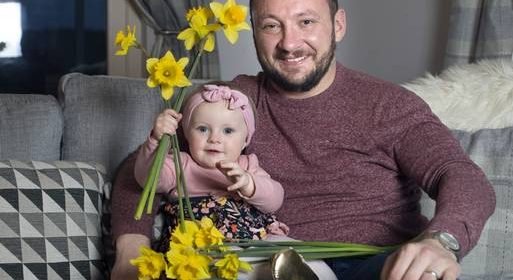 At one point, Kevin Rooney (31) was one of only 100 people in the world known to have suffered from a combination of two very specific, challenging diseases. He also has another important distinction – he was told he was unlikely to have children. Yet, here he is today, the father of an adorable baby girl born just 11 months ago.
Kevin, who lived in Clondalkin until he was 13, says he did most of his growing up in Kill, Co Kildare. "Mam and Dad are still there," he says. "And that's where I made most of my friends."
He went on to do a BA in finance and venture management, followed by a master's in IT. By then he was already in a committed relationship with Sorcha Conlon, whom he first met when he was 17 and she was 15. "We both went to Maynooth University, and at one point we were in class together," says Kevin. "Her first degree was in English and anthropology."
In his third year at college (2009), Kevin had two placements; the first was with pigsback.com and the second was with Barretstown, a charity for children with serious illnesses. "During my time at Barretstown, I woke up one morning and my face had collapsed," says Kevin. It later transpired he was suffering from Bell's palsy, which causes facial paralysis. He was successfully treated at Naas Hospital.
Not long afterwards, Kevin began to suffer from bad headaches, and he became very sensitive to light and sound. At that time, he was training for the Dublin Marathon. He'd already reached the point where he was running 25 kilometres. His mother also noticed that Kevin had lost a lot of weight; he thought it was due to his training and good metabolism.
Then, late in August, he collapsed while getting out of bed. He was rushed to Naas Hospital, where meningitis was suspected. A few days later, various tests, including a lumbar puncture, were done. Kevin was then transferred to Tallaght Hospital, where he was surprised to find himself in a room with several men who all appeared to have cancer-related illnesses.
The next day, he was taken for an MRI scan. While waiting, he was told that as soon as this was done, he would be going back to the ward to begin chemotherapy. "I said, 'Chemo? What for?' And they said, 'You have an aggressive form of cancer'. I was absolutely stunned. To have to go inside that machine, strapped in for however long it takes, having just been told you have an aggressive form of cancer, is the worst thing that has ever happened to me," says Kevin. "Trying to process that information inside that machine, with no one to talk to, was terrible."
Soon after, he learned that he was suffering from myelodysplastic syndromes (MDS) as well as acute lymphoblastic leukaemia (ALL). According to NCBI, an American website, "the transformation of MDS into acute lymphoblastic leukaemia is extremely rare." So rare in fact, Kevin says there were only 100 recorded cases of it worldwide when he was diagnosed. He says the leukaemia was not just in his blood, it was also in his spinal fluid, and was probably the cause of the meningitis.
And while both conditions affect immature white blood cells in bone marrow, the word 'acute' in ALL means it's a very fast-acting and aggressive form of cancer. So he was immediately put into isolation in Tallaght, where five courses of treatment began.
"The first involved five weeks of intense chemotherapy," explains Kevin. "They warned me it was going to make me very ill, but I wasn't sick, not even once," he says. The second course of treatment was done as an outpatient. "They said this one wouldn't make me feel unwell, but actually I was violently ill throughout," says Kevin, chuckling.
After that, he was back into hospital for three months in total. However, he was allowed to take the odd day off so he could escape the hospital environment for a few hours.
"I was in remission at this stage," explains Kevin. The next stage was a bone-marrow transplant to be done at St James's Hospital in Dublin. Having been put on the bone-marrow register, only two matches were found – one in Australia, the other in Dublin. In mid-February, Kevin did a bunk from hospital so he could buy an engagement ring and propose to Sorcha, who accepted his offer of marriage.
A month later, he underwent full-body radiation to kill off all his white blood cells. The next day, he had his bone-marrow transplant.
"After that, I was in an isolation room for five weeks, waiting for my immunity to build up," he explains. "But it still took a long time after that. I was in and out of hospital with various infections."
When Kevin first became ill, saving his life was the priority. "My cancer was so aggressive they didn't have a chance to sperm-bank me," he says. "So I was told I'd never have children." Nonetheless, it troubled him deeply that he was denying Sorcha the opportunity to satisfy her maternal instincts.
In September 2010, he went back to college, and having got his primary degree, he then elected to do his master's while working part-time for pigsback.com. Sorcha did the same post-graduate degree, so they ended up in classes together. In 2015, they got married in Portugal, surrounded by their families and friends.
In May 2017, Kevin was told that he had a 0.1pc chance of fathering a child. Nonetheless, he was sent to the Rotunda Hospital for testing and was astounded to learn that, in spite of all he had been through, his fertility levels were quite normal. Sorcha got pregnant immediately.
Soon after, Kevin's life came full circle when he completed the Dublin Marathon in well under five hours, and just six months later, Harbour Hope, the absolute apple of her daddy's eye, was born.
Kevin says no matter how dismal things seemed when he was so ill, they always "harboured hope" that he would get better; hence their daughter's lovely name.
Kevin says Sorcha was his "absolute rock" throughout this gruelling ordeal. "She gave up her final year at college to be with me night and day," he says. "There were even times when she slept on the floor by my hospital bed. She, and our families, were amazing."
There is absolutely no doubt that Kevin will be supporting Daffodil Day, which raises funds for cancer research, as well as for cancer patients and their families.
The Irish Cancer Society's Daffodil Day, supported by Boots Ireland, takes place on Friday, March 22. Buy a daffodil on the day, or to donate, see cancer.ie
Source: Read Full Article