Ambulance staff threaten strike next month in union dispute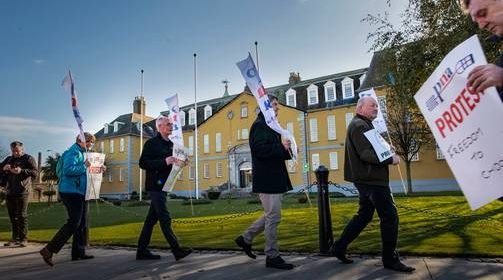 Ambulance staff – including including paramedics, advanced paramedics and emergency medical technicians- who are members of the Psychiatric Nurses Association (PNA) are threatening a one-day national strike on Wednesday, December 19.
The strike is in pursuit of their right to be represented by the trade union of their choice.
The one-day national strike by around 500 staff  is the third phase of industrial action which commenced on October 10 in protest at "the continued refusal by the HSE to engage in negotiations with the PNA when representing its ambulance branch, or to make payroll deductions of union subscriptions for PNA ambulance personnel members."
The national strike will  start at 7am Wednesday and run until 5 pm that day.
PNA General Secretary, Peter Hughes said the strike was a serious escalation in a dispute which is entirely of the HSE's making and which PNA have repeatedly asked the HSE to resolve.
"Ambulance personnel who are merely seeking a fundamental right to be members of the union of their choice now have no option but to move to strike action in pursuit of that right.
"It is an indication of the strength of feeling among ambulance personnel that they are now embarking on strike action to secure union membership and negotiating rights which are already enjoyed by every other worker within the HSE."
Sinead McGrath, the National Chairperson of the PNA branch (NASRA) said it was outrageous for the HSE to continue to attempt to force ambulance personnel members of PNA into joining another union that they have made clear they do not want to be members of.
"The ambulance personnel branch of PNA has successfully represented hundreds of members since its formation in 2010. 
"For the HSE to force strike action on these PNA members now is inexplicable and is clearly being done without regard to the impact this dispute is having on ambulance services or morale within the ambulance service workforce.
"It is time for the Minister for Health, Simon Harris to instruct the HSE to get back to running our health services."
Read more: Dispute: Ambulance staff threaten overtime ban in row over union subscriptions
Source: Read Full Article