Why the C.D.C. Changed Its Advice on Masks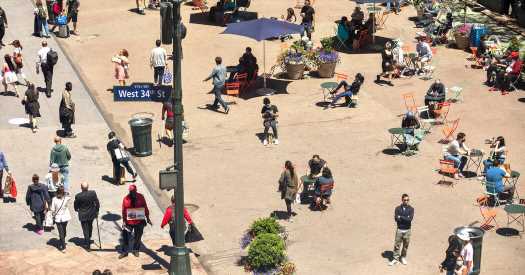 Two scientific findings altered the calculus: Vaccinated people don't transmit the virus, and the shots are effective against variants.
By Apoorva Mandavilli
Advice from federal health officials that fully vaccinated people could drop their masks in most settings came as a surprise to Americans, from state officials to scientific experts. Even the White House got less than a day's notice from the Centers for Disease Control and Prevention, the press secretary, Jen Psaki, said at a news briefing on Friday.
"The C.D.C., the doctors and medical experts there, are the ones who determined what this guidance would be based on their own data, and what the timeline would be," Ms. Psaki said. "That was not a decision directed by or made by the White House."
For months, federal officials have vigorously warned that wearing masks and social distancing were necessary to contain the pandemic. So what changed?
Introducing the new recommendations on Thursday, Dr. Rochelle P. Walensky, the C.D.C. director, cited two recent scientific findings as significant factors: Few vaccinated people become infected with the virus, and transmission seems rarer still; and the vaccines appear to be effective against all known variants of the coronavirus.
There is no doubt at this point that the vaccines are powerful. On Friday, the C.D.C. released results from another large study showing that the vaccines made by Pfizer-BioNTech and Moderna are 94 percent effective in preventing symptomatic illness in those who were fully vaccinated, and 82 percent effective even in those only partly vaccinated.
"The science is quite clear on this," said Zoë McLaren, a health policy expert at the University of Maryland, Baltimore County. Mounting evidence indicates that people who are vaccinated are highly unlikely to catch or transmit the virus, she noted.
The risk "is definitely not zero, but it's clear that it's very low," she said.
One of the lingering concerns among scientists had been that even a vaccinated person might carry the virus — perhaps briefly, without symptoms — and spread it to others. But C.D.C. research, including the new study, has consistently found few infections among those who received the Pfizer-BioNTech and Moderna vaccines.
"This study, added to the many studies that preceded it, was pivotal to C.D.C. changing its recommendations for those who are fully vaccinated against Covid-19," Dr. Walensky said in a statement on Friday.
Other recent studies confirm that people who are infected after vaccination carry too little virus to infect others, said Florian Krammer, a virologist at the Icahn School of Medicine at Mount Sinai.
"It's really hard to even sequence the virus sometimes because there's very little virus, and it's there for a short period of time," he said.
Source: Read Full Article