Poll Shows Parents Are Reluctant to Get Their Children Vaccinated for Covid-19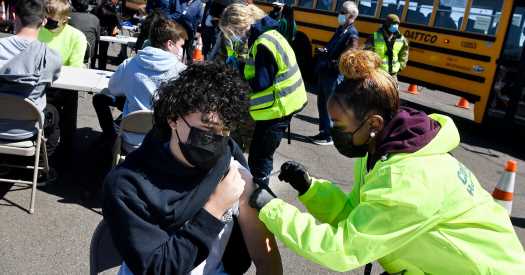 The new survey also found that only 9 percent of adults who hadn't gotten the shot planned to do so, suggesting the country is nearing the limit of people planning to get immunized.
By Jan Hoffman
The American public's willingness to get a Covid vaccine is reaching a saturation point, a new national poll suggests, one more indication that achieving widespread immunity in the United States is becoming increasingly challenging.
Only 9 percent of respondents said they hadn't yet gotten the shot but intended to do so, according to the survey, published in the April edition of the Kaiser Family Foundation's Vaccine Monitor. And with federal authorization of the Pfizer vaccine for adolescents ages 12 through 15 expected imminently, the eagerness of parents to let their children be vaccinated is also limited, the poll found.
Overall, slightly more than half of those surveyed said they had gotten at least one dose of the vaccine, a finding that matches data from the Centers for Disease Control and Prevention.
"We're in a new stage of talking about vaccine demand," said Mollyann Brodie, executive vice president of Kaiser's Public Opinion and Survey Research Program. "There's not going to be a single strategy to increase demand across everyone who is left. There will be have to be a lot of individually targeted efforts. The people still on the fence have logistical barriers, information needs, and lots don't yet know they are eligible. Each strategy might move a small number of people to get vaccinated, but all together, that could matter a lot."
With a growing number of scientists and public health experts concluding that it is unlikely that the country will reach the threshold of herd immunity, the Biden administration has stepped up efforts to reach those who are still hesitant. On Tuesday, the administration announced steps to encourage more pop-up and mobile vaccine clinics and to distribute shots to primary care doctors and pediatricians as well as local pharmacies.
The survey also showed that confidence in the Johnson & Johnson vaccine had suffered a significant blow after the 10-day pause in dispensing it while the authorities examined rare incidents of life-threatening blood clots in people who had taken it. While 69 percent of people said they had confidence in the safety of the vaccines made by Pfizer and Moderna, only 46 percent felt confident about the safety of the Johnson & Johnson vaccine. Among adults who have not been vaccinated, one in five said that the news about the Johnson & Johnson shot had prompted them to change their minds about getting a Covid-19 vaccine.
Source: Read Full Article