Fully Vaccinated and Time to Party: If You Are 70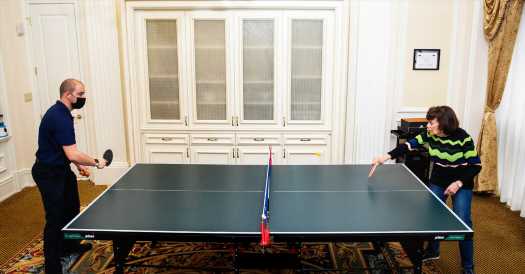 Older Americans still make up a majority of those who have been inoculated, and many are taking advantage and venturing out.
Marcia Bosseler, 85, is back to playing Ping-Pong — and beating all the men, she says — at her apartment complex in Coral Gables, Fla.Credit…Scott McIntyre for The New York Times
Supported by
By Jennifer Steinhauer
Bobby Stuckey flipped through receipts this month, surprised to see a huge increase in cocktail sales, the highest in the 17-year history of his restaurant, even though the bar has been closed. The septuagenarians are back.
"Every night we are seeing another couple or a pair of couples in the dining room, and they feel so much relief," said Mr. Stuckey, the owner of Frasca Food and Wine in Boulder, Colo. "Covid was hard on everybody, but you can't even think of the emotional toll in this group. They haven't gone out. They want to have the complete experience. It is just joyful to see them again."
Older people, who represent the vast majority of Americans who are fully vaccinated against the coronavirus, are emerging this spring with the daffodils, tilting their faces to the sunlight outdoors. They are filling restaurants, hugging grandchildren and booking flights.
Marcia Bosseler is back to playing Ping-Pong — and beating all the men, she says — at her apartment complex in Coral Gables, Fla.
Randy and Rochelle Forester went out to eat with another couple for the first time in a year, and Ms. Forester celebrated the pleasure of being "out of sweats, to put on some pretty earrings and lipstick and be back in the world a little bit." Fully vaccinated, Louis Manus Jr., an 82-year-old Navy veteran in Rapid City, S.D., is getting ready for his first vintage car club meeting in a year.
The upside-down world in which older Americans are drinking more martinis inside restaurants at a far greater rate than millennials will be short-lived.It's a fleeting Covid-era interregnum in which the elders celebrate while their younger counterparts lurk in grocery stores in search of leftover shots or rage on social media, envious of those who have received a vaccine. In a few months, all that will most likely be over, and vaccines will be available to all who want them.
For now, about two-thirds of Americans over 65 have started the vaccination process and nearly 38 percent are fully vaccinated, compared with 12 percent of the overall population, giving the rest of the nation a glimpse into the after times.
"I am just enjoying my life," said Robbie Bell, 75, who recently went out with two friends for a birthday celebration in Miami — one of whom was hospitalized last year with a dangerous case of Covid — and even hit the dance floor.
Source: Read Full Article