'This is very serious' – INMO urges health service to table 'real' proposals to avoid nurse strike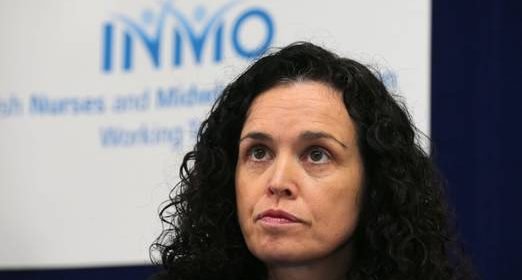 THE leader of a union for 40,000 nurses who plan to strike in two weeks has urged health service management to table "real" proposals to resolve the row today.
Arriving for talks with government officials, General Secretary of the Irish Nurses and Midwives Organisation, Phil Ní Sheaghdha, said management is in no doubt about what is needed to prevent strikes.
Members of her union have announced a strike on January 30, to be followed by five other dates next month.
The want wage hikes in the region of 12pc to put their pay on a par with other healthcare staff including radiographers, and claim there is a recruitment and retention crisis.
But the Taoiseach and government ministers are adamant an increase would breach the current public sector pay deal.
They have warned they will not improve on a €20m offer for nurses in specialised grades.
"We have said consistently nurses and midwives do not want a strike," said Ms Ní Sheaghdha.
"They have been left with no option and we now have 14 days in which to find a resolution and we are here with that mindset and we hope the employer is here with the same mindset."
She said nurses are the lowest paid professional group, and other countries pay more.
There are 1,600 fewer nurses working in the health service today than 2007 and the trolley figures yesterday were over 600, she added.
"It all points to one single place, which is our capacity doesn't match our needs and to open more beds and to develop our services, we need more nurses and midwives working in Ireland.
"And until we become competitive in the areas of their pay we're not going to win the battle." She said the HSE in its submission to the Public Service Pay Commission, accepted pay was an issue.
She said members are encouraged that they will get a real proposal that they will consider. If they don't they're resolute and have formed strike committees, she said, but will make sure patient safety is to the forefront during the strike.
The union leader said her members are not in the business of going on strike for no reason.
"This is very serious. It's the first time since 1999 that nurses have even considered taking industrial action so that will tell everybody that they genuinely believe there is no alternative. So we hope that today the employer is coming the table with an alternative that they can consider."
She said contingency planning is going on separately.
The 6,000-strong Psychiatric Nurses Association, which is also planning industrial action, are also attending the talks with Department of Health officials in a bid to resolve the dispute.
General Secretary, Peter Hughes, said he hoped management would come to the table with meaningful, realistic proposals.
If this is the case, he said he would bring these proposals back to his union's executive body, which meets on Friday.
He said any proposals put forward by the government would need to be implemented very rapidly, as members wanted issues dealt with immediately and not in the long term.
Mr Hughes said a resolution could be found within the parameters of the public service agreement.
Source: Read Full Article