Real Health Podcast: 'It's not what you're eating, it's what's eating you' – Operation Transformation experts preview the new series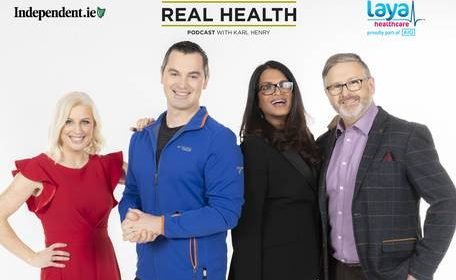 Another series of Operation Transformation has kicked off and I hope everyone watching gets some inspiration to make a change for the better in their lives.
This week, in an exclusive for the Real Health podcast, I'm joined by my fellow Operation Transformation experts to find out what we can expect in the new series and to get their tips for healthy living.
January is a great time for starting goals towards a better you and Operation Transformation can help show you just what can be achieved.
It's all about healthy habits and expert advice and tips that, with a bit of planning, are simple to implement.
Dr. Sumi Dunne is the new resident GP on the show and she's joined as ever by dietitian, Aoife Hearne, and Psychologist Dr. Eddie Murphy.
For Sumi, she wants to bring practical tips to people and highlight what's topical in medical and health issues also, with obesity the number one concern.
"Throwing money at a problem doesn't just give you results," she tells me. "It's about making sustained changes that will carry through."
Or as Dr. Eddie Murphy says, 'It's not what you're eating, it's what's eating you.'
Aoife Hearne is starting out her food and cooking advice with jars and packets – for the first few weeks anyway – but she says, it's about empowering people with skills in the kitchen and to ultimately decide between food v processed food.
"You can lose weight and still enjoy food," she says.
Don't forget, there's OT events being organised around the country so do try and get involved and let me know how you get on by emailing me at [email protected] or via Twitter and Instagram @KarlHenryPT.
The Real Health podcast is in association with Laya Healthcare.
Listen to the show on the SoundCloud player or subscribe and rate via the following links:
iPhone users, subscribe and listen to the show on Apple Podcasts
Android users can subscribe and listen on Google Podcasts
Or listen on SoundCloud
And we're on Spotify
Source: Read Full Article