Nurses' strike has left 40,000 patient backlog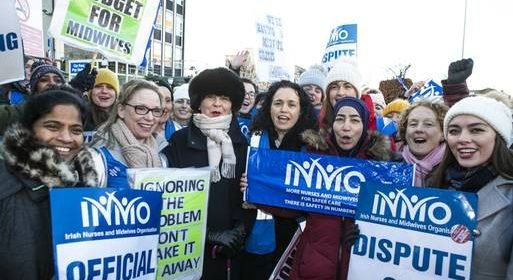 More than 40,000 patients who suffered a cancellation of surgery or outpatient appointment during the nurses' strike are facing lengthy delays before they are seen by specialists again.
The strikes by more than 37,000 members of the Irish Nurses and Midwives Organisation (INMO) have left hospitals and community services, including care of the disabled and elderly, struggling to recover from major disruption.
The nurses' union and employers entered "talks about talks" at the Labour Relations Commission yesterday in a bid to avert a 72-hour strike starting on Tuesday, which threatens to bring the health service to its knees.
The talks, which adjourned last night until this afternoon, also include offi­cials from the Department of Health, the Department of Public Expenditure and the Irish Congress of Trade Unions. The hope is a formula can be found to begin substantive negotiations while avoiding any breach of the national wage agreement. Progress was reported to be slow last night.
The biggest gulf is between the nurses' pay claims and the insistence by Public Expenditure Minister Paschal Donohoe that the national wage agreement cannot be breached, risking knock-on demands from other public service workers.
Pressure escalated further yesterday after the 6,000 strong Psychiatric Nurses Association said it would strike for six days – three next week and three the following week. The action would affect thousands of mental health patients who are resident in psychiatric units and others who attend outpatient care.
Dr Doireann O'Leary, a Cork GP, said she feared people would die if the nurses' strike did not end.
She revealed her 74-year-old father had two cancer scans cancelled due to the strike so far, and only discovered he had lung cancer after she insisted that he go for a private appointment.
"I do believe people will die because of a result of this… if I didn't know who to call on Wednesday and get that scan for him, he'd be sitting at home actively dying of cancer," she told RTÉ radio.
Meanwhile, Dublin city centre is expected to see a big show of solidarity for nurses today as the INMO members, family and friends march through the city from 12.30pm.
It will feature nurses with suitcases, symbolising the many who move abroad.
Source: Read Full Article