Kerry Katona health: 'Horrible, eggy burps' Star's 'unbearable' condition – NHS remedies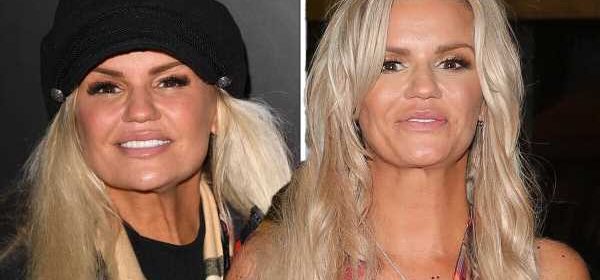 Kerry Katona enjoys Spain holiday with fiancé Ryan Mahoney
We use your sign-up to provide content in ways you've consented to and to improve our understanding of you. This may include adverts from us and 3rd parties based on our understanding. You can unsubscribe at any time. More info
With 800,000 followers on Instagram alone, Katona's post sparked concern, but in one of her recent magazine columns the former I'm A Celebrity… Get Me Out of Here! contestant shared more about her debilitation condition, which affects between one and two in 10 people in the UK. Initially worrying that her stomach pains were connected with a cyst on her ovary which she discovered last year, Katona soon realised that she was suffering from a bad flare-up of irritable bowel syndrome (IBS).
"My stomach swelled up and was hurting badly," she wrote, before going on to describe some of her unpleasant and unwanted symptoms.
"It's been happening a lot – and I get these horrible, eggy burps. My stomach looks so big, I could pass for pregnant."
Stating that her hospital stay "wasn't ideal" the mum-of-five went on to say that the pain became so unbearable she was forced to seek professional medical help.
She added: "It's so painful at times – I feel like I want my belly to rip open.
"Thankfully, everything is fine. But staying in A&E on a Friday night was an experience. It was scary, sad and traumatic."
Prior to her ordeal in hospital, Katona admitted that despite having suffered IBS symptoms for some time she was "put off" seeing a doctor because of her busy schedule.
But now having ordered tests to "find out what food reacts badly in my stomach and what I can't eat," Katona is making sure that she does all she can to avoid another flare-up and curb her suffering.
Despite being quite a common condition, IBS can cause a severe impact on an individual's everyday life, especially if they struggle to find the right ways to manage symptoms.
Once diagnosed individuals typically have the condition for life with symptoms flaring up during times of stress or after eating certain foods.
The most common symptoms of IBS include the following:
Abdominal (stomach) pain and cramping, which may be relieved by moving your bowels
A change in your bowel habits – such as diarrhoea, constipation or sometimes both
Bloating and swelling of your stomach
Excessive wind (flatulence)
Occasionally experiencing an urgent need to move your bowels.
However, others may also experience less common symptoms such as lethargy, feeling sick or heartburn. If the above symptoms tend to cause a severe impact on an individual they may also tend to experience frequent periods of low mood or stress, which ironically can make symptoms worse.
As the cause of IBS is still relatively unknown by medical professionals, and with symptoms often similar to other conditions such as coeliac disease and inflammatory bowel disease, getting an official diagnosis of IBS can prove to be difficult.
View this post on Instagram

A post shared by Kerry Katona (@kerrykatona7)
However, when seeking help from a medical professional, they can do a blood test to rule out the possibility of coeliac disease or another underlying condition that is affecting the digestive system and stomach.
The NHS notes that private allergy testing (for example hair sampling) is not a reliable way to test for allergies or intolerances and individuals are advised to speak to their GP before doing any testing of the sort.
Once diagnosed, there is no single diet or medication that works for everyone with IBS. However there are specific tips and tricks approved by the NHS to help ease specific symptoms. For example, to help ease bloating, cramps and farting the NHS recommends the following:
Eating oats (such as porridge) regularly
Eating up to one tablespoon of linseeds (whole or ground) a day
Avoiding foods that are hard to digest (like cabbage, broccoli, cauliflower, brussels sprouts, beans, onions and dried fruit)
Avoiding products containing a sweetener called sorbitol
Asking a pharmacist about medicines that can help, like Buscopan or peppermint oil.
To reduce diarrhoea, they recommend:
Cutting down on high-fibre foods like wholegrain foods (such as brown bread and brown rice), nuts and seeds
Avoiding products containing a sweetener called sorbitol
Asking a pharmacist about medicines that can help, like Imodium (loperamide).
And finally to help relieve constipation try the following:
Drink plenty of water to help make your poo softer
Increase how much soluble fibre you eat – good foods include oats, pulses, carrots, peeled potatoes and linseeds (whole or ground)
Ask a pharmacist about medicines that can help (laxatives), like Fybogel or Normacol.
It is important for individuals with IBS to try and follow a healthy balanced diet consisting of regular meals including breakfast, lunch, and evening meal and small snacks if required.
One specific drink that the NHS notes about is caffeine. Most commonly found in tea, coffee, energy drinks and cola. If individuals think caffeine may affect symptoms, they are advised to try and reduce it further or eliminate it completely.
On top of diet, many people find that exercise helps to relieve the symptoms of IBS. The NHS recommended aiming to do a minimum of 150 minutes of moderate-intensity aerobic activity, such as cycling or fast walking, every week. The exercise should be strenuous enough to increase your heart and breathing rates.
Source: Read Full Article