Kaiser Permanente Colorado, union keep talking ahead of possible strike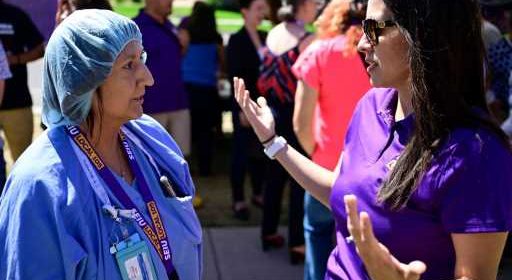 Kaiser Permanente Colorado and the union representing almost half of its employees didn't reach a deal over the weekend, but have agreed to continue talking ahead of a possible strike beginning Wednesday.
The contract between a coalition of unions and Kaiser Permanente divisions around the country expired Saturday. Earlier in September, the unions announced they could go on strike from Oct. 4 to 6 if they don't reach a new contract.
In Colorado, that would mean about 3,000 technicians, office workers and licensed practical nurses affiliated with Service Employees International Union Local 105 could walk off the job for three days this week. About 6,800 people work at Kaiser Permanente Colorado, which has roughly 500,000 members and runs 33 medical offices in the state.
Nationwide, about 75,000 workers could go on strike, with walkouts also planned in California, the District of Columbia, Oregon, Virginia and Washington. It would be the largest strike by health care workers in U.S. history.
Kaiser Permanente Colorado has said it will continue to offer care during a strike, if one occurs, but nonurgent appointments could be canceled. While it hasn't specified how it will do that, the most likely route is by hiring temporary workers, who typically earn significantly more than permanent staff.
The health network alerted members over the weekend that should nonurgent procedures and appointments need to be rescheduled, it will notify patients in advance.
In a statement released Saturday, Kaiser Permanente said it had reached agreement with the unions on the use of temporary staff, tracking vacancies, dispute resolution and travel for continuing education.
Wages remain a sticking point. It's not clear if concerns about staffing have been resolved; Local 105 has continued to say its members felt their clinics were understaffed, while Kaiser Permanente Colorado said an agreement already had been reached at the national level to hire thousands of new workers.
About 99% of Local 105 members who participated in a late August vote were in favor of authorizing a strike.
A different union, United Food and Commercial Workers Local 7, also came close to going on strike at Kaiser Permanente Colorado in 2021. That dispute also involved unions in multiple states. The two sides reached a deal on wages, with an agreement to increase hiring.
Sign up for our weekly newsletter to get health news sent straight to your inbox.
Share this:
Click to share on Facebook (Opens in new window)

Click to share on Reddit (Opens in new window)

Click to share on Twitter (Opens in new window)
Policies
Report an Error
Contact Us
Submit a News Tip
Most Popular
Kiszla: You better believe CU's Shedeur Sanders is better quarterback than Heisman winner Caleb Williams

Kiszla: You better believe CU's Shedeur Sanders is better quarterback than Heisman winner Caleb Williams

Kiszla: Broncos didn't win game for Sean Payton, they averted another crisis of grumpy coach's making.

Kiszla: Broncos didn't win game for Sean Payton, they averted another crisis of grumpy coach's making.

Keeler: CU Buffs receiver Omarion Miller sealed place in Boulder lore with kiss from Michael Irvin and love from Michael Westbrook. "Y'all haven't seen nothing yet."

Keeler: CU Buffs receiver Omarion Miller sealed place in Boulder lore with kiss from Michael Irvin and love from Michael Westbrook. "Y'all haven't seen nothing yet."

Broncos four downs: Over 20 minutes, QB Russell Wilson and Vance Joseph's much-maligned defense save Denver's season

Broncos four downs: Over 20 minutes, QB Russell Wilson and Vance Joseph's much-maligned defense save Denver's season

How it Happened: Broncos win first game of Sean Payton era with huge fourth-quarter comeback over Bears

How it Happened: Broncos win first game of Sean Payton era with huge fourth-quarter comeback over Bears

Teen shot and killed during homecoming celebration at Southlands Mall in Aurora

Teen shot and killed during homecoming celebration at Southlands Mall in Aurora

Justice Department sues Colorado for allegedly segregating people with disabilities

Justice Department sues Colorado for allegedly segregating people with disabilities

USC coach Lincoln Riley, Trojans players heap praise on Deion Sanders' Colorado Buffaloes

USC coach Lincoln Riley, Trojans players heap praise on Deion Sanders' Colorado Buffaloes

Lauren Boebert escorted out of "Beetlejuice" musical in Denver after "causing a disturbance"

Lauren Boebert escorted out of "Beetlejuice" musical in Denver after "causing a disturbance"

Uplands finally breaks ground on contested farmland in Westminster

Uplands finally breaks ground on contested farmland in Westminster
Trending Nationally
Tim Wakefield, beloved Red Sox pitcher and broadcaster, passes away
NYPD detective who drove through George Floyd protesters yells at CCRB prosecutor
California Gov. Gavin Newsom picks Laphonza Butler as Feinstein's Senate replacement
N.Y. state police issue Amber Alert for missing 9-year-old girl
Man known for pursuing sexual predators shot to death in Michigan restaurant
Source: Read Full Article