Kaiser Permanente Colorado employees could go on strike Oct. 4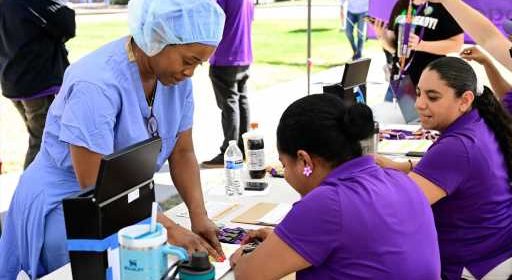 A union representing Kaiser Permanente Colorado employees announced Friday that it plans to strike for three days in early October, though it's possible negotiators could still reach a deal before that happens.
Services Employees International Union Local 105 announced that it had sent Kaiser Permanente Colorado a notice that workers intended to strike from Oct. 4 to 6, if they haven't agreed to a new contract by then.
The union represents about 3,000 of Kaiser Permanente's 6,800 employees in Colorado, including technicians, licensed practical nurses and office workers. About 99% of those who cast ballots in late August said they were in favor of authorizing a strike this fall.
Kaiser Permanente Colorado has about 500,000 members and runs 33 medical offices. At the time of the strike vote, it said in a statement that negotiations were progressing and dismissed the vote as a pressure tactic.
Nationwide, about 75,000 workers could go on strike, with walkouts also planned in California, Oregon, Virginia, Washington state and the District of Columbia.
The union accused Kaiser Permanente of bad-faith negotiating and failing to address employee demands for wage increases and increased staffing. In March, it filed grievances with the National Labor Relations Board, alleging Kaiser Permanente and its affiliates didn't provide necessary information for bargaining.
"Being away from our patients is the last thing we want to do," Patricia Johnson-Gibson, vice president of SEIU Local 105's health care division, said in a news release. "But Kaiser executives have refused time and time again to bargain in good faith and talk to frontline healthcare workers about the solutions needed to end the Kaiser short-staffing crisis."
Kaiser Permanente Colorado said in a statement that the affiliates hired a combined 29,000 people nationwide in 2022 and 22,000 this year, and the health care network has offered a wage package that would keep employees' pay at or above the average for their local areas.
"For the last 26 years of our historic labor-management partnership, we have reached agreements with the coalition (of unions) every time, with no strikes," it said in a statement. "Our top priority is caring for our members and patients, and we have plans in place to ensure we can continue to provide, high-quality care should a strike actually occur."
Sign up for our weekly newsletter to get health news sent straight to your inbox.
Source: Read Full Article