Colorado mask mandate to be lifted in most settings for counties with fewest COVID-19 restrictions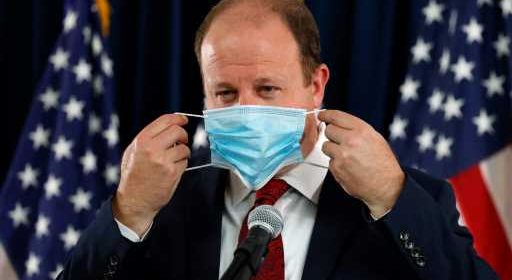 Colorado will no longer require masks to be worn in most settings for residents of the 31 counties that are at Level Green on the state's color-coded COVID-19 dial system, the governor's office announced Friday.
In those counties at Level Green, which is the lowest stage on the dial, masks only will be required in schools, among congregate care visitors and in other high-risk settings such as health care facilities and hair salons, according to a modified order from Gov. Jared Polis that will be issued after the expiration Saturday of the current statewide mask mandate.
The new order still will require masks to be worn indoors in counties at Level Blue and higher when there are public gatherings of at least 10 unvaccinated people or people for whom the vaccination status is not known, according to the agency.
"By continuing to wear our masks in public indoor settings around others, we can safely enjoy the activities we love and keep our economy open," Gov. Jared Polis said in a statement. "Every community has been impacted differently by this pandemic, and we want to ensure this order is reflective of that."
The new 30-day order will require masks to be worn in Level Green counties in the following settings:
Schools, including extracurricular activities and child care centers
Indoor children's camps
Public-facing state government buildings
Hospitals, ambulance service centers, urgent care centers, doctor's offices and other medical settings
Hair salons, nail salons, body art businesses and esthetician services.
Congregate care facilities, prisons and jails
Denver remains at Level Yellow on the state's dial, and most of the metro area is at Level Blue or Level Yellow. Gilpin is the only county in the 10-county metro area at Level Green.
Denver Mayor Michael Hancock on Thursday said he plans to keep the city's mask mandate in place until at least early May regardless of what the state does.
Jefferson County, which is at Level Blue, also has its own local mask mandate that "supersedes the statewide order" so residents must still wear face coverings inside and outdoors when at least 6 feet of distancing is not possible, said Ashley Sever, spokeswoman for Jefferson County Public Health, in an email.
The changes to the statewide mask mandate were first detailed last month when the Colorado Department of Public Health and Environment released the draft plan for it's "Dial 3.0," which went into effect March 24. The easing of the mask order goes into effect Sunday.
The relaxing of Colorado's mask mandate follows moves by other states, such as Arkansas and Arizona, that have fully lifted their mask orders. It also goes against the recommendations of federal officials, including President Joe Biden, who has asked states to keep mask mandates in place to help slow the spread of the coronavirus.
Related Articles

Denver's mask mandate to remain in place through early May


Colorado's expansion of vaccine access stokes fears that appointments will be even harder to find


Mass vaccination site at Denver's Ball Arena is now open, but you may have to wait for an appointment


Colorado's COVID-19 outbreaks drop overall, but rise in prisons


Colorado looking to make it easier for ranchers to sell meat to consumers
The Associated Press contributed to this report. 
This is a developing story that will be updated.
Source: Read Full Article