5,000 health staff on sick leave while delays rise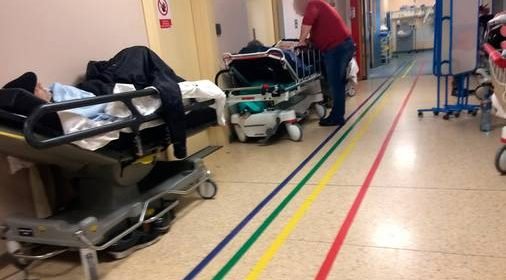 About 5,000 staff across the health service were on sick leave yesterday as hospitals were plunged into winter levels of overcrowding with 591 patients on trolleys waiting for a bed.
The ordeal of so many patients waiting for a bed is on a par with a bad winter's day, even though it is still early in November.
There were 60 patients on trolleys in University Hospital Limerick and 55 in Cork University Hospital.
Also hit was Letterkenny University Hospital, where 48 patients needed a bed.
Comments by Taoiseach Leo Varadkar that hospital staff should be on duty during the hospital overcrowding peak of late December of January drew fire from doctors and nurses.
But figures reveal an ongoing problem of absenteeism across the health service, including hospitals.
There were 5,490 health staff on sick leave, most of it certified, during last winter's hospital trolley chaos in late December and January.
The hospital group with the highest level of no-shows in December was in Mr Varadkar's own constituency in Dublin and in the north-east. The RCSI group had absenteeism rates of 4.8pc. It rose to 5.3pc in January.
In January, when A&E congestion reached dangerous levels, doctors had the lowest level of absenteeism at 1.8pc, but it was at 5pc for nurses and 6.3pc for other patient and client care staff.
However Phil Ní Sheaghdha of the Irish Nurses and Midwives Organisation said the Taoiseach was trying to deflect from the real problems in the health system.
"There is no winter plan and this winter is going to be as bad, but hopefully not worse, than last year," she said.
She insisted that many nurses who worked long shifts were due time off they could not take, with one hospital owing around 1,000 hours.
Health Minister Simon Harris said health staff worked extraordinarily hard but that the Taoiseach was correct. "It is important staffing levels across the hospital, including emergency departments, diagnostics services, community and primary care are sufficient to allow staff provide the services patients need," he said.
A lesson from last winter for this season is that staffing rotas must be signed off and this is now being discussed by the Department of Health and HSE, he added.
The HSE yesterday referred questions on staffing rotas to hospital groups. The HSE has a director of human resources with a large-staffed department.
Asked what guidelines the HSE had for hospitals, a spokeswoman said: "As part of winter preparedness, hospital groups and community healthcare organisations are required to review rosters and ensure appropriate staffing levels for the holiday period."
"On reviewing rosters, hospital groups and community healthcare organisations are required to ensure appropriate staffing levels given the known surge in demand that occurs post the Christmas period and again immediately after the New Year".
When contacted about their winter rostering plans, most of the hospital groups did not respond yesterday.
The Ireland East Hospital Group, which did respond, said it "has consistent and appropriate rostering schedules throughout the year".
It has a nurses bank to meet the year-round demand for frontline nursing and health care assistant cover.
Source: Read Full Article