Vaccinated Mothers Are Trying to Give Babies Antibodies via Breast Milk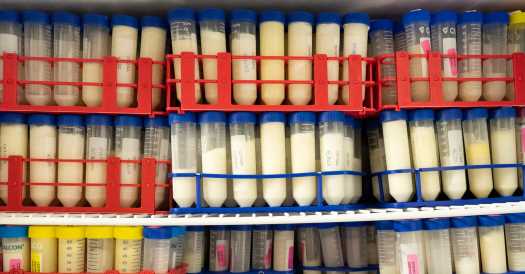 Multiple studies show that there are antibodies in a vaccinated mother's milk. This has led some women to try to restart breastfeeding and others to share milk with friends' children.
By Heather Murphy
As soon as Courtney Lynn Koltes returned home from her first Covid-19 vaccine appointment, she pulled out a breast pump. She had quit breastfeeding her daughter about two months earlier because of a medication conflict. But she was off those pills, and she had recently stumbled across research suggesting that antibodies from a vaccinated mother could be passed to her baby through milk.
Getting the milk flowing again — a process known as relactation — would not be easy. She planned to pump on every odd-numbered hour from 7 a.m. to 11 p.m. But Ms. Koltes and her husband were eager to finally introduce their 4-month-old daughter to family members, and with children not yet eligible for vaccination, she was willing to try.
"I am starting to see very slow progress, so it is all worth it if it means I can protect her," Ms. Koltes, who lives in Orange County, Calif., said last week — nine days after receiving her first dose of the Pfizer-BioNTech vaccine.
Partly because it's so physically taxing, relactation is not common. (Medication is often also involved.) But over the past few weeks, online forums focused on relactation have been swarmed with newly vaccinated mothers like Ms. Koltes. Some had stopped breastfeeding their children more than a year earlier.
"I'm glad I'm not the only one here trying to relactate for this reason!" one woman wrote in a lively thread in a private Facebook group.
"Go team vaccine!" another wrote.
In stark contrast, other parenting and breastfeeding forums have been simmering with worries that breast milk from a newly vaccinated mother could be dangerous. It's not only vaccine skeptics who have been encouraging those fears, which researchers say are unfounded: Some pediatricians and vaccine administrators have been urging nursing mothers to dump their milk after they are vaccinated.
Source: Read Full Article