Tesco urgently recalls popular product over allergy fears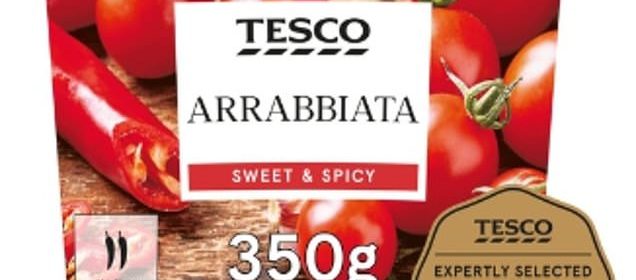 Tesco urgently recalls popular product over allergy fears
Supermarket's Arrabbiata Sauce with a March 2 'use by' date has been recalled

Food Standards Agency told Brits with a milk intolerance or allergy not to eat it
Tesco has recalled a pasta sauce over fears it may contain milk.
The supermarket's Arrabbiata Sauce with a March 2 'use by' date, which costs £1.80, may pose a risk to those who are allergic or intolerant to milk or its components.
The Food Standards Agency (FSA), which published the alert this week, told people in the UK with a milk intolerance or allergy not to eat the tomato-based sauce.
Instead, they can return the 350g tub to the Tesco store they bought it from for a full refund — even if they don't have a receipt.
The FSA issues food recalls — when customers are asked to return a product — when problems are spotted with food that means it should not be sold.
Tesco said: 'We have been made aware that one date code of Tesco Arrabbiata Sauce 350g may contain milk which is not declared on the packaging.
'The product could pose a safety risk to those people with an allergy or intolerance to milk.'
'Please do not consume this product if you have an allergy to milk, return the affected product to store where a full refund will be given.
People who can't consume milk are either allergic to the proteins in a cow's milk or they cannot digest the sugar in the product — known as lactose intolerance.
'No receipt is required. Tesco apologises to our customers for any inconvenience caused.'
Arrabbiata is a spicy sauce, usually served with pasta, made from garlic, tomatoes, and dried red chili peppers cooked in olive oil.
Milk allergy symptoms can range from a rash, itching and swelling on the skin to vomiting, stomach cramps and diarrhoea that starts within minutes of eating or drinking items that contain dairy.
However, those how suffer from delayed cow's milk allergy may not have any symptoms until two days after exposure. 
In severe cases, it can cause anaphylaxis — a severe, life-threatening reaction when swelling in the throat can block the airways. 
A milk allergy can be diagnosed by a persons immediate reaction to milk, as well as skin, blood and breath tests.
Around three in 100 babies have a cow's milk allergy but most grow out of it during their childhood. 
Older children and adults who are allergic to cow's milk tend to have a more serious allergies.
What is a cow's milk allergy? 
There are two main types of cow's milk allergy: immediate and delayed. 
Immediate cow's milk allergy sufferers' usually see reactions come on very fast, between minutes and up to two hours after drinking cow's milk or eating foods that contain dairy.
Symptoms can vary, but in some people this type of allergy can cause anaphylaxis, a serious, life-threatening reaction.
With delayed cow's milk allergy, smptoms usually start between four and 48 hours after drinking cow's milk or eating foods containing dairy. 
Symptoms can vary but mainly affect the digestive system and skin.
Source: Anaphylaxis UK
Source: Read Full Article