Social isolation in the U.S. rose even as the Covid crisis began to subside, new research shows.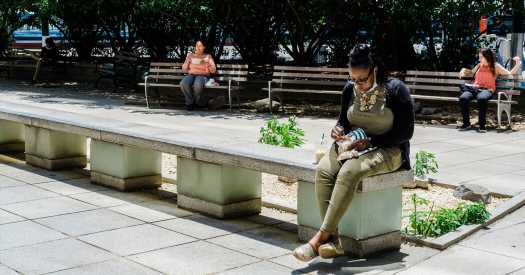 Many Americans felt socially isolated during the pandemic, cut off from friends and family as they hunkered down and kept their distance to try to protect themselves from infection.
But new research released Thursday suggests many people's sense of isolation increased even as the public health crisis in the United States began to abate, with communities opening up and the economy improving.
While the level of social isolation declined during the spring of the pandemic after the initial shock of the crisis subsided, it then increased sharply over the summer months last year, according to researchers at Harvard, Northeastern, Northwestern and Rutgers universities, before leveling off during the fall.
People began to feel less disconnected last December through April of this year, but the levels of social isolation measured by the researchers increased again this June.
The findings suggest recovery from the pandemic may take a long time and could affect people's view of their relationships over time. "There were cumulative effects from the social isolation," said David Lazer, a professor of political science and computer sciences at Northeastern and one of the study authors.
To determine social isolation, the researchers asked each person about the number of people they could count on to care for them if they got sick, to lend them money, to talk to about a problem if they were depressed, or to help them find a job. Someone who said they had only one person, or no one they could turn to, in a given category was considered socially isolated.
The researchers polled a total of 185,223 individuals over 12 different surveys from April 2020 to June 2021.
Even now, with many more people vaccinated against the coronavirus and much more actively engaged in their communities, people may be thinking differently about those they previously relied on for help. "That pause in life may be causing a lot of revisitation in our relationships," said Dr. Lazer, who pointed to the unusual number of people deciding to leave their jobs as the pandemic ends. "It takes a while to heal the social fabric."
The increase in feelings of isolation even when the most severe restrictions were lifted "is striking," said Mario L. Small, a professor of sociology at Harvard who was not involved in the study. People may have felt they had fewer people to lean on because they remained physically distant from a broad network of acquaintances and friends, he said, even when the lockdowns had eased.
The researchers found people's isolation increased last summer even though they were seeing people more. "Our findings show that recovering from social isolation is hard and does not simply stem from increased social contact," the researchers concluded.
The researchers also point to a strong association between social isolation, particularly for those people who said they lacked people they could turn to for emotional support, and moderate or severe depression.
Many of those hardest hit by the pandemic, with lower incomes and less education, seem slower to improve, Dr. Lazer said. "We definitely do see a separation of fates in respect to socioeconomic status," he said, with some groups experiencing a longer and more uneven recovery.
Source: Read Full Article