Real Health Podcast: Exclusive behind-the-scenes with Dancing with the Stars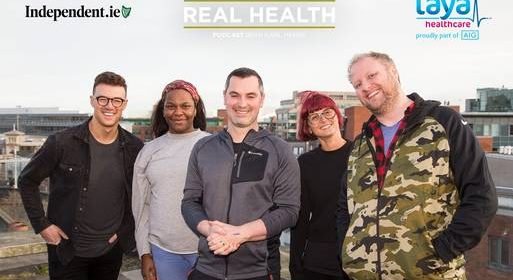 Dancing with the Stars is one of the country's most popular TV shows and not only does it showcase the skill of dancers and dancing, the fitness involved is something to greatly admire.
On this week's Real Health episode I caught up with two of the celebrity contestants and their professional dance partners – The Young Offenders star, Demi Isaac Oviawe  and her dance partner Kai Widdrington, as well as comedian, Fred Cooke, and his dance partner, Giulia Dotta – to find out what their training regime is like as well getting some of the behind-the-scenes gossip.
Having signed up for a crash course in dancing myself a few years ago and only lasting twenty minutes (!) I know how hard it is physically and it was fascinating to hear how Demi and Fred were coping with the demands of the show.
"It's the most nerve-wracking thing I've done in my life," Fred told me.  "There's no room for mistakes and I'm a stand-up comedian!  I have it easy when I'm telling new jokes."
For Demi, who is also studying for her Leaving Cert, it wasn't something she jumped into lightly.
"I spent weeks of thinking whether to do it or not," says Demi.   "I'm trying to do my Leaving Cert and I was having to move away from home but then I said 'screw it, I'll do it'."
Tune in to RTE 1 on Sunday at 6.30pm if you want to see how the contestants get on.
Keep sending your questions in to me via email [email protected] or contact Karl on Twitter and Instagram @karlhenryPT.
The Real Health podcast with Karl Henry in association with Laya Healthcare.
Listen to the show on the SoundCloud player or subscribe and rate via the following links:
iPhone users can subscribe and listen on Apple Podcasts.
Android users can subscribe and listen on Google Podcasts.
Or listen on SoundCloud
And we're on Spotify
Source: Read Full Article