Musical Chairs? Swapping Seats Could Reduce Orchestra Aerosols.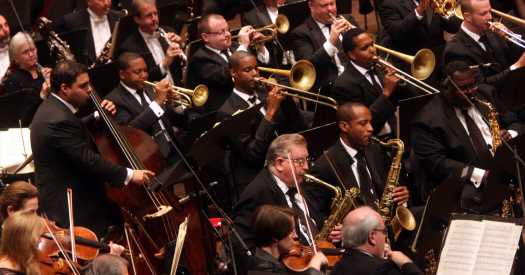 Moving super-spreading instruments, like the trumpet, closer to air vents could limit the aerosol buildup on stage, according to a new study.
By Emily Anthes
If musical instruments were people, trumpets would be super spreaders. When a trumpeter blows into the mouthpiece, tiny respiratory droplets, known as aerosols, travel out of the musician's mouth, whiz through the brass tubing and spray into the air.
During a deadly pandemic, when a musician might unwittingly be exhaling an infectious virus, that poses a potential problem for orchestras. And the trumpet is not the only musical health hazard.
"Wind instruments are like machines to aerosolize respiratory droplets," said Tony Saad, a chemical engineer and expert in computational fluid dynamics at the University of Utah.
A simple but radical change — rearranging the musicians — could significantly reduce the aerosol buildup on stage, Dr. Saad and his colleagues reported in a new study, which was published in Science Advances on Wednesday.
The work began last summer, when the Utah Symphony began to wonder whether, and how, they could return to performing safely.
"They were looking for people that could provide insight into mitigation strategies that people would have some faith in," said James Sutherland, a chemical engineer at the University of Utah and a co-author of the study.
The researchers created a detailed computer model of the symphony's concert hall, noting the location of every air vent and the rate of air flow through the HVAC system.
Then they mapped the typical position of each musician. The Utah Symphony, like most modern orchestras, positioned its musicians in a standard pattern, with the string instruments at the front of the stage, followed by several rows of woodwinds and brass instruments — the flutes and oboes, then the bassoons and clarinets, and then the trumpets and French horns. The trombones and the percussion section were positioned at the very back of the stage.
To model the spread of aerosols during a concert, they incorporated recent research led by Jiarong Hong, a mechanical engineer at the University of Minnesota. Working with the Minnesota Orchestra, Dr. Hong and his colleagues had measured the concentration and size of aerosol particles emitted by a variety of different wind instruments. (Among their findings: The trumpet, bass trombone and oboe posed the highest risk.)
Source: Read Full Article