Intervention sought amid calls to end 'cruel' action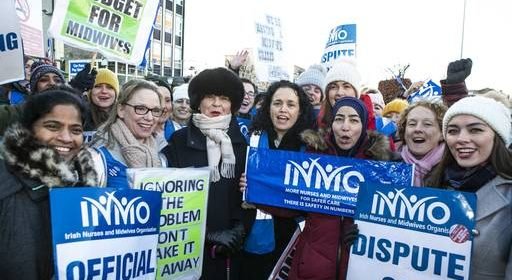 "Intense efforts" were under way last night to get a formula that would allow the Labour Court to resume talks on the bitter nurses' strike.
It is understood an intervention – seen as a last-ditch bid to stop a three-day strike next week – could potentially be made to get the Irish Nurses and Midwives Organisation (INMO) and the HSE back in talks today.
It follows a third day of strikes by nurses yesterday – with three consecutive days of walkouts planned for next week.
The stand-off between striking nurses and health employers is now "senseless and cruel" as vulnerable people are getting caught up in the chaos, disability organisations warned yesterday.
The crisis in the health service escalated yesterday as more than 37,000 nurses walked out of hospitals and community health centres for their third day of strike, leaving another 27,000 patients without a service, some of them cancer patients and others with serious illness.
Read more: Hospitals will become dangerous if nurses continue strike action – Simon Harris
The strike by members of the INMO came as the Government repeated that it is bound by the national wage agreement.
The Disability Federation of Ireland warned that "accessing appropriate health care was already a struggle for people with disabilities – we now urgently need to see both sides sitting down and working towards a resolution of the nurses' strike".
"We have no interest in taking sides. We simply say the current stand-off is both senseless and cruel in light of the chaos coming down the line as the strike intensifies.
"An agreement must be found, we see no point in delaying the inevitable and call on both sides to come together without further delay," it said.
The nurses are planning to strike three days in a row next week from Tuesday.
Letters were issued to GPs by the HSE yesterday alerting them that nurses will provide cover exemptions only where the risk is "emergency life-­preserving".
Safety
An overtime ban by 6,000 members of the Psychiatric Nurses Association (PNA), which ended this morning, caused serious disruption to mental health facilities in Mullingar and St Ita's in Dublin when staff had to work 36-hour shifts to maintain cover for the safety of patients.
The PNA is also planning to stage three days of strikes next week which will severely affect mental health services.
Health Minister Simon Harris warned that if the three days of strike go ahead next week, conditions would be dangerous and pose a safety risk.
HSE chief clinical officer Colm Henry said the fear was that a huge backlog of patients, whose appointments were cancelled because of the strike, were now building up and it would take weeks to reschedule them.
"As the strike days accumulate, we have serious concern looking forward into next week, about the impact this will have on services and on patient safety," he warned.
Each day of the strike, 13,000 outpatients had their clinics cancelled, at least 2,000 patients in need of surgery had to say at home and more than 10,000 people in the community, including those with an intellectual disability and the elderly, had their services shut down.
Meanwhile, Public Expenditure Minister Paschal Donohoe said yesterday he had to be mindful that 291,000 others were abiding by the agreement's terms.
Source: Read Full Article