'I was just 15 when I contracted an STI. I was a frightened teenager with little support' – James Kavanagh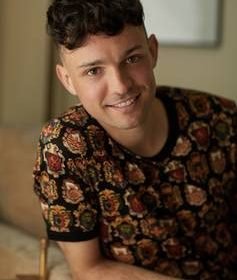 I was 15 years old and in a sexual health clinic when I learned that I had gonorrhoea. I had no idea what was happening. In fact, I had absolutely no idea that there were such things as sexually transmitted infections. The word 'gonorrhoea' sounded foreign and ugly to me – it's fair to say that I was in a state of shock.
My parents are going to be so traumatised, I thought, and rightly so – but they had never warned me about sexually transmitted infections or STIs. I had just come out and he hadn't been out for long – we certainly didn't know this could happen.
Gonorrhoea is a really common STI (it used to be known as 'the clap'), and around the world, it's estimated that 78 million new cases are diagnosed each year, which shows you how common it really is. It's most often diagnosed amongst 18 to 24-year-olds and it's easily treated – however, because some people are scared to go to their doctor, it's often not reported or treated at all.
I knew something was amiss because it felt like I was urinating glass every time I went to the toilet – however, not everyone has this or any symptoms. I was lucky that I did have a symptom so I knew to visit a doctor.
Getting tested and treated is really important because gonorrhoea can lead to more serious long-term health problems like pelvic inflammatory disease (PID) in women or infertility.
I was treated with a single tablet – mainly, treatment consists of one antibiotic tablet or injection. But after my diagnosis, I spent hours researching STIs and then passed on everything I had learnt to my classmates. Everyone echoed my shock and questioned why we weren't being taught about things like STIs in sex education? I felt somewhat let down by the people (my school, the Government, even my parents, whom I adore) responsible for my education and personal safety.
Whilst my diagnosis was the reality check I clearly needed, it is definitely not the way young people should be educated about sexual health.
Looking back, I realise just how defining that moment was when I was diagnosed with an STI. I was a frightened teenager with little support and so angry that I found myself in that situation. That is why I now work hard to advocate for safe sex and progressive sexual health education.
In early 2017, at the peak of my Snapchat following, I spent time chatting to my followers, most of whom were in their teens, about their life experiences, worries and concerns.
I wanted to get a really true sense of the pressures that today's teens are experiencing and what they were (and weren't) learning in school to equip them to deal with these pressures.
Ireland has grown up so much over the past decade. Surely, I thought, the sex education that I experienced had evolved too.
Never was there a mention about sex for pleasure or anything other than penetrative sex. There certainly wasn't even a whisper of gay sex. Instead, we received an insular, one-dimensional sex education that consisted of an embarrassed science teacher wheeling in a TV and pressing play on a video that informed us that penis+vagina = baby. To my astonishment, my followers said they were still being shown videos of a similar nature to what I had been shown, videos that solely focused on reproductive sex.
I decided then and there that I would personally provide sex education lessons every Tuesday via Snapchat to try to better inform and educate teens. I did this for over two months. Through my work in this area, and talking and interviewing many experts, I know now that parents need to talk about sex with their children like they're discussing the weather. A parent's attitude towards sex education is pivotal because it is reflected on to their kids later in life.
It's important to create a positive atmosphere and one in which kids are informed about how to prevent STIs – this is more relevant than ever because every week in Ireland, 10 people are diagnosed with HIV; last year alone, young people aged 15-24 accounted for 50pc of chlamydia diagnoses, 39pc of gonorrhoea cases and 38pc of genital herpes cases. The statistics speak for themselves. I urge parents to discuss sex at the dinner table.
I feel very strongly about these issues and I am determined to effect positive change. That's why I have teamed up with Durex and HIV Ireland to ask the people of Ireland to 'give a f**k' (#GAF) about Aids ahead of World Aids Day this Saturday.
Durex has partnered with non-profit organisation, RED, to support its mission to end Aids. For a limited period, Irish consumers can purchase a box of limited edition condoms in selected retailers nationwide, and funds raised from sales will go directly towards a programme in South Africa where it is estimated that there are 7.2 million people living with HIV.
The 'Keeping Girls in School' programme aims to reduce new HIV infections and pregnancies among young women through encouraging girls to stay in education and improving access to sexual health and reproductive services.
More generally, I am glad that the Provision of the Objective Sex Education Bill 2018 is now on to its third stage in the Dáil and would strongly welcome the opportunity to contribute to the legislated sex education curriculum.
Ultimately, I want the powers that be to 'give a f**k' about our sexual health and the 15-year-olds who may find themselves in a situation like mine.
The next generation should not be failed by those close to them.
For more information about the Durex campaign, go to www.durex.ie/red.
Source: Read Full Article