How Much Infertility Treatments Actually Cost 8 Different Women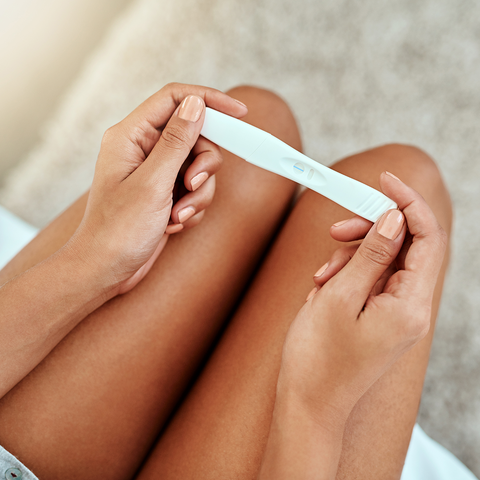 Getty Images
Help Kim & Emily Make A Baby. Eliza's Incredible Egg Rescue. Our Fight Against Infertility. These are just a few of the more than 6,500 GoFundMe campaigns out there that speak to how over-the-top expensive having a baby can be if you need fertility treatments.
A survey by WomensHealthMag.com and OprahMag.com, in partnership with the Black Women's Health Imperative and Celmatix, found that cost was the biggest factor that prevents women from seeking infertility care—regardless of their ethnic background.
It's not uncommon for fundraisers who do decide to pursue treatments to make impassioned pleas for upward of $10,000 to use toward medical bills—but the reality is that invoices from the doctor's office are just part of the cost that families incur when they seek treatment.
People who have limited or no paid time off may lose wages because of work they miss while sitting in waiting rooms—or because of the hours they spend driving to see specialists who are in-network. Hotel stays and flights can add up for those who pursue fertility treatment away from home. (I spoke with one woman who spent more than $100,000 total.)
As families endure the emotional toll that fertility treatment can take, they may also seek counseling, which of course comes at an additional cost.
Some people take on crushing debt—all in the name of becoming parents. Here, eight women around the country share what the financial burden of infertility looked like for them.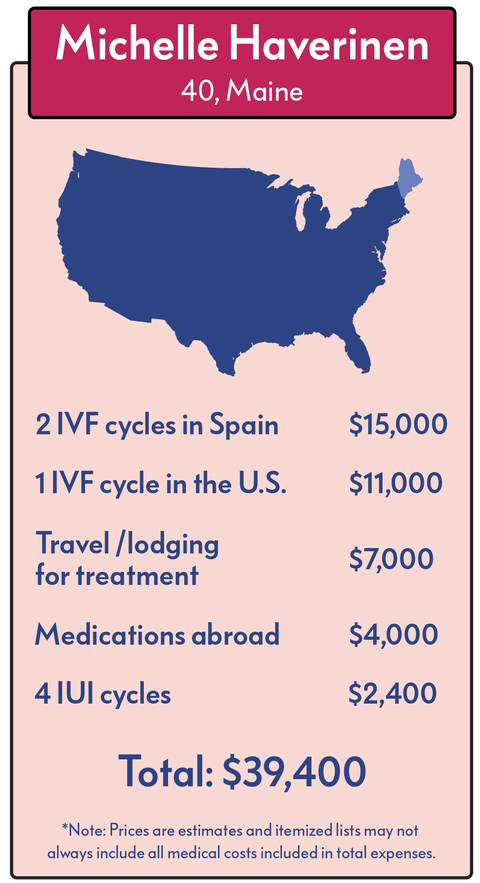 .
"Every one of my treatments has been paid for out-of-pocket because my insurance didn't cover them. We had four failed IUIs (see "Common Infertility Costs" above for more information) and an IVF cycle that ended in a miscarriage. After that, we were devastated. We thought we were at a dead end, but our doctor suggested we get IVF internationally because the treatment and medication cost less than in the U.S.
"Initially, we were intimidated by the idea of doing IVF internationally. But my ob-gyn connected me with another patient who had gone to Spain for treatment and had already done all of the research on facilities there. So in October 2017, we headed abroad.
"Unfortunately, I didn't respond well to the medication doctors gave me after we arrived, and instead of transferring embryos as planned, we had to freeze the eggs we retrieved, leave them in Spain, and head home.
"We took a second trip a few months later and did another egg retrieval, preimplantation genetic screening, and transfer. We miscarried again. Expenses for Spain included travel, lodging, and meals—plus lost income for my husband and me because he doesn't have paid time off and I ran out of vacation time.
"Right now, we're hoping to raise $42,000 to pay for an egg donor assurance program, which gives you six cycles with donor eggs. If you don't take home a live baby, you get your money back, which we know we'll use for adoption expenses (which are roughly the same).
"It was an extremely difficult decision to set up a fundraising page, not only because it meant being completely open about our struggle to family, friends, and our community, but also because we were ashamed to ask others for help financially. Negative comments have come back to me (both directly and indirectly) about how it's expensive to raise a child—and that we shouldn't be doing this if we couldn't afford it.
"So far, we've raised about $11,000 on our GoFundMe page. Most of the donations have come from family and friends, some from friends of friends, and some from a few strangers. We have gone from feeling ashamed to just absolutely grateful for the generosity that is helping us get closer and closer to our goal of building our family. The ability to cover the cost of IVF or adoption changes our entire world, and we have had to let go of the shame and embarrassment or else we will never get our miracle baby." —Michelle Haverinen, 40, Maine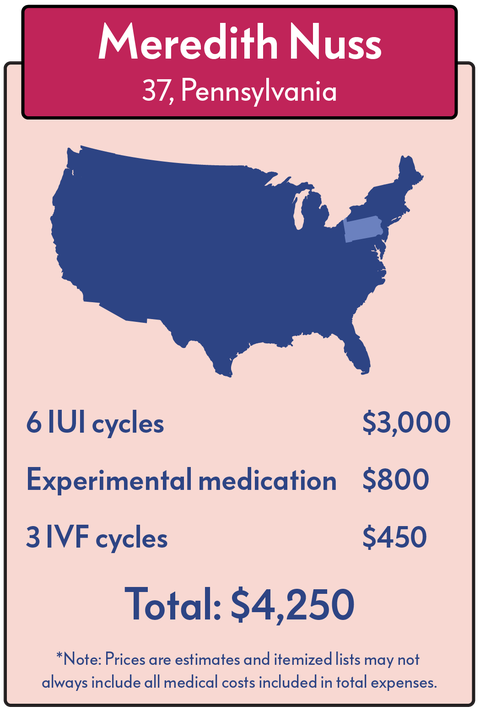 .
"My husband and I struggled to get pregnant, and because we live paycheck to paycheck, we were terrified we'd never be able to have a child. But in 2012, my employer switched to an insurance company that covered fertility treatments. We started with IUI. Though we had insurance, it cost us approximately $500 per round, between doctor's visit copays and medications; we did six rounds.
"After IUI, we tried two failed IVF cycles. On our last cycle, we tried a drug called Omnitrope, a hormone that stimulates growth and improves the quality of eggs, combined with an IVF cycle. That cost us an additional $800 because, back in 2016, it was considered an experimental drug not covered by insurance. Even though it was costly, we tried it because our doctor felt that medication was our last chance for a successful outcome.
"We did end up with one viable embryo, and eventually, I got pregnant. I wholeheartedly believe that this medication made the difference, and I think we're a prime example of why it's so important for laws to go into effect that require insurance coverage for fertility treatments." —Meredith Nuss, 37, Pennsylvania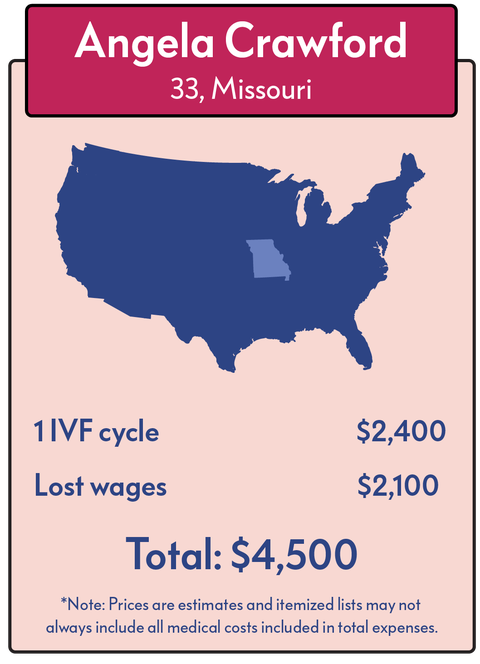 .
"I live in Springfield, Missouri, where there isn't much available in the way of specialized medicine, so the closest reproductive endocrinologists to me were about three hours away. I'd always heard good things about Washington University in St. Louis, which was in-network with my insurer, meaning I'd have up to $30,000 of coverage. If I'd gone elsewhere, I'd only get $10,000 covered.
"Though it might sound good to hear I could get up to $30,000 of coverage, this was actually a downside in some ways—essentially, my insurer got to dictate where I got my treatment.
"From June 2015 to May 2016, I made about 25 trips to St. Louis, taking a total of four weeks off of work. Even though I took paid time off for the first week, I still lost thousands of dollars in wages. When I underwent IVF, they retrieved 29 eggs and fertilized 21 of them; 13 made it to five-day blastocyst, a key stage in embryo development. We transferred one embryo and found out quickly that I was finally pregnant. I delivered a perfectly healthy little girl on Jan 12, 2017." —Angela Crawford, 33, Missouri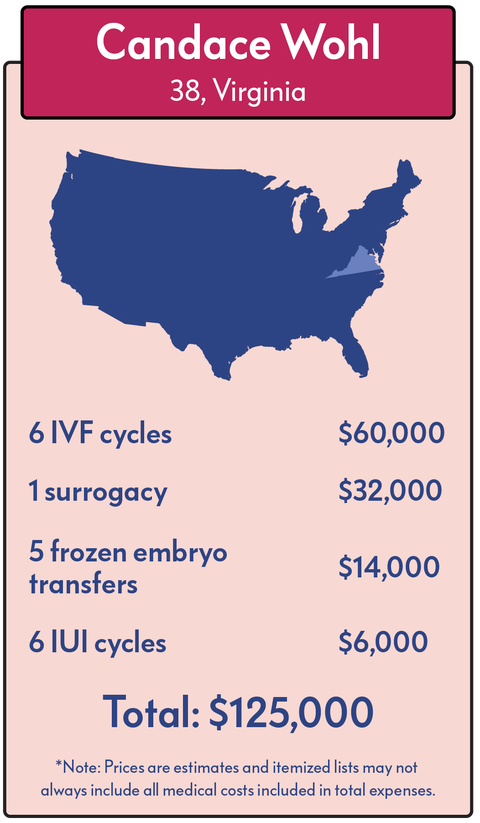 .
"Like most normal couples, 'trying' began simply with wine and a mixtape. But nothing worked. My husband and I knew something was wrong, so we saw a doctor. My insurance company told us they would cover up to $10,000 in infertility treatments, so we used that as far as it would take us. We tried six IUIs, which were such a blur. We then did five rounds of IVF, including egg retrieval. We also did frozen embryo transfers, but they all failed.
"After my fifth embryo transfer, doctors noticed some irregular cells. I started going to an oncologist, who told me I had early-stage uterine cancer. My reproductive endocrinologist and gynecologic oncologist said I could give IVF one more shot. After that, I'd have to get a hysterectomy.
"The sixth IVF cycle failed, and my husband and I were crushed. We decided to try adoption, which we learned could cost between $25,000 to $60,000, depending on which type of adoption you choose. In 2013, while starting the adoption process, a friend approached us and volunteered to be our gestational carrier for surrogacy. We'd never considered it before because of the associated expenses, but we now realized that adoption was similarly expensive—so we went for it. In 2014, we had our daughter.
"I think it's really important to talk about the fact that IVF doesn't work for everyone. And the other options—surrogacy and adoption—can be even more expensive. Right now, we're in the midst of drafting a surrogacy contract in hopes of having our second child. We're taking out a $50,000 loan to pay for it." —Candace Wohl, 38, Virginia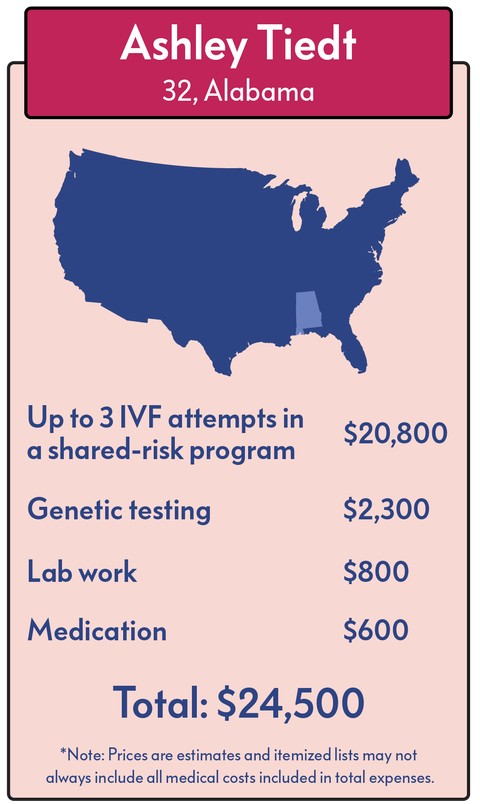 .
"My husband and I started trying for a family in 2015. We started with Clomid, a drug that stimulates ovulation. We did three rounds, none of which were successful.
"We waited six months between our doctors telling us that IVF was our best option and actually pursuing it. We took that time to get the money together and really pray about the decision we were making. We are your basic middle-class family, and this wasn't money that we just had lying around.
"Our doctor offered something called a shared-risk program, so we paid $20,000 up front for up to three IVF attempts. We incurred extra expenses for genetic testing and the drugs that I took before the procedures (our insurance only covered half of the cost). We also paid an external lab in Texas to test our embryos for genetic and chromosomal abnormalities.
"While I was worried about spending the money, I also had moments when I would say things like, 'I'm willing to spend all our money to have a child.' Deep down, though, I knew I didn't want to have a child and not have the financial stability to provide a good life for them. I cried myself to sleep many times while struggling with the decision.
"We cut back financially on a lot of things because of the treatments. My husband sold a classic convertible. I used to go to a gym, and I quit that. We cut cable, and we sold a lot of things around our house in order to add that money to our savings account. We were constantly looking for any way possible way to save or make as much money as possible to be able to afford the treatments.
"Luckily, we got pregnant on our second IVF frozen embryo transfer and still have one embryo frozen. We'll have to pay $3,000 if we want to transfer it down the road." —Ashley Tiedt, 32, Alabama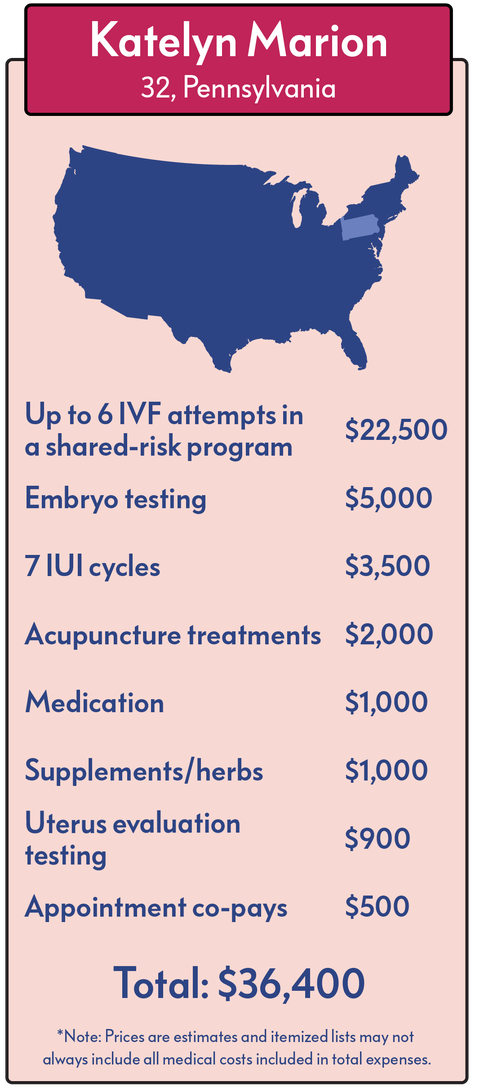 .
"My husband was diagnosed with fertility issues over two years ago. We have been through one failed round of timed intercourse, which is when you take medicine to stimulate ovulation and doctors tell you when you're ovulating so you can have sex. After that, we had seven failed IUIs. We've also opted to do a shared-risk IVF program that includes six retrievals and unlimited transfers. You have to transfer all embryos before you can leave and get your money back. At this point, I have had two retrievals and six transfers.
"For us to be able to pay the money up front, we had to borrow some from our families. It was extremely difficult to ask them. In my mind, every decision we make financially revolves around the 'what ifs' that stem from continuous infertility treatment. We never know what big cost is around the corner, and since we're 32, it's not like we have years to save up for treatment.
"During all of this, we have also done genetic screening of the embryos and an ERA—or endometrial receptivity analysis—which evaluates your uterus to see if it's prepared for implantation of an embryo. We also did acupuncture, which other people who went to my fertility clinic recommended.
"Our total expenses so far are around $36,000 out-of-pocket, without any success yet. The only things that have been covered by insurance are medications (we've just paid copays), blood work, ultrasounds, and diagnostic testing during the IUIs. We currently have three frozen embryos and are still in treatment.
"It's extremely frustrating to spend money for a diagnosed medical condition that still does not have coverage in many places. It feels unfair, and it honestly makes me angry if I think about it too much. If it weren't for the guarantees of the shared-risk program, we never would have done IVF and would have moved straight to adoption." —Katelyn Marion, 32, Pennsylvania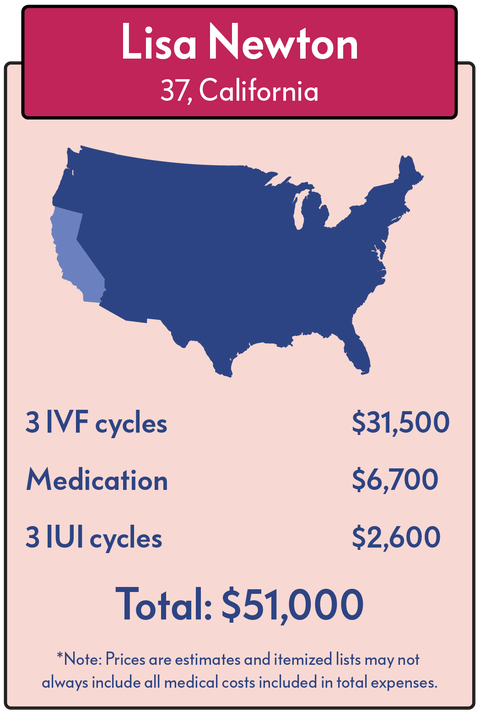 .
"I started trying to conceive when I was 31, and it took three years, three IUIs, and three IVFs for us to get pregnant. It cost over $51,000—all out-of-pocket because my insurance didn't cover it. I think I was surprised by how much fertility medications cost and how the costs can differ depending on the pharmacy. For IVF, we spent several thousands of dollars on medications, in addition to the doctor's fees and lab fees. Because my local pharmacy didn't stock the medications, I ended up ordering my medications from a fertility pharmacy 300 miles away that could overnight them. Our third IVF cycle resulted in a pregnancy, and my daughter was born in December 2015. We then had a surprise natural pregnancy (free!) in October 2017, and our second child was born in June." —Lisa Newton, 37, California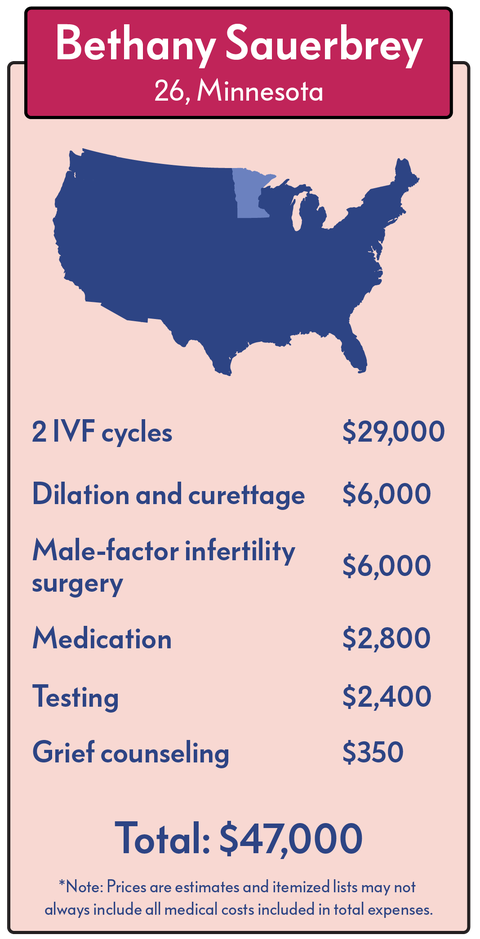 .
"I have a tumor on my pituitary gland, which affects ovulation. My husband has an enlargement of the veins in his scrotum, which results in low sperm count and other issues. He got surgery in an attempt to correct it, but that failed—it cost $6,000.
"We started with IVF because we knew our health issues would make it hard for us to get pregnant. My first round resulted in miscarriage, so I had to get a dilation and curettage to, well, remove the contents of the uterus. I paid out-of-pocket for that—for both the procedure and the anesthesia.
"I went into grief counseling, because the idea of doing a second round of IVF after our first miscarriage was so terrifying, I had no idea how to move forward. I was also holding on to some pretty intense feelings of anger and needed help learning how to turn those feelings into something constructive. We went a total of three times. I was told that insurance would likely have covered the sessions, but in order to have any sort of counseling covered, I would need a mental health diagnosis of some sort—anxiety, depression—that would stay with me forever. I didn't feel that was fair or appropriate, so we opted to pay out-of-pocket.
"While we were definitely benefiting from the counseling, we stopped going after three sessions because we couldn't afford it with our second round of IVF approaching. My second IVF this year was successful, and I'm currently pregnant." —Bethany Sauerbrey, 26, Minnesota
More From Our Black Women And Infertility Package
Source: Read Full Article