Get flu jabs next week, NHS tells thousands of over-65s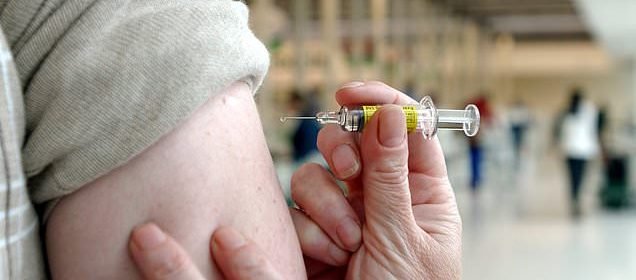 Get your flu jabs next week, NHS tells thousands of over-65s after vaccine shortages at GPs and chemists
The NHS had run out of the vaccine as the harsh winter months set in
GPs have criticised the new system – Fluad – calling them a 'complete debacle' 
They have been forced to send elderly and vulnerable patients away 
The over-65s will be urged to get their flu jabs next week as part of a major publicity drive.
NHS bosses will inform them there are now plenty of vaccines in stock following widespread shortages at GPs and chemists.
Thousands of older patients have not yet had their jabs just weeks away from the flu season, which usually begins in December.
The problems have been blamed on the introduction of a new and more effective jab which was ordered-in very late in the year.
Thousands of older patients have not yet had their jabs just weeks away from the flu season, which usually begins in December
New stocks were expected to have been delivered to surgeries by yesterday afternoon and NHS officials say there is more than enough to go round.
Professor Jane Cummings, the chief nursing officer for England, is due to appear on TV news bulletins on Monday urging patients to get vaccinated.

Australia is set for a horror tick season as experts warn…


'I was so terrified when I saw the rash': Woman, 23, who…
Share this article
She is expected to encourage the over 65s to go back to their GPs even if they have previously been sent away.
The interviews will form part of NHS England's annual Stay Well Campaign, which urges the public to look after themselves over winter to avoid falling ill.
This year's campaign will have a particular focus on urging the over 65s' to get their flu jabs amid concerns that many have given up.
Yesterday a survey of 650 family doctors by Pulse – a magazine for GPs – showed that two thirds had run out of the vaccine, known as Fluad.
Dr Marie Williams, a GP from Blackpool, told the magazine that the last few weeks had been a 'complete debacle.'
Doctors say they were only given instructions from NHS England to switch to the new vaccine in February, four months after they had bought in their stocks.
They usually order flu jabs in September and October, up to a year before they are administered to patients for the following flu season.
The manufacturer Seqiris says that NHS England's decision in February did not give them enough time to produce all the vaccines by September.
As a result, they have had to make them in batches – the third and final lot was meant to have been delivered by the end of this week.
Many surgeries had no vaccines in stock when were meant to be running their flu immunisation clinics in September and October.
NHS England on the other hand say doctors had plenty of time to order the new jabs and change the dates of their flu clinics accordingly.
Next week's campaign is expected to claim that there is now a surplus of one million vaccines for the over 65s.
Up to 8.5 million jabs have been made whereas only 7.5 million older patients are expected to want them.
Last week the Mail revealed how shortages had been reported in Devon, Kent, West Sussex, Essex, Middlesbrough, Derbyshire and Liverpool.
One pharmacist in Bristol said he was turning away 15 patients a day and did not expect new supplies until after Christmas
An elderly patient in Billingshurt, West Sussex said there was a queue twice around the car park for the dwindling stock at her local GP surgery.
The over 65s are offered the flu jabs for free on the NHS either from their GP surgeries and pharmacies.
Usually they are extremely prompt at coming forward and uptake rates are much higher than in other groups including pregnant women and the under-fives.
This year however only 52 per cent have had the vaccine so far, compared to 65 per cent this time last year.
Source: Read Full Article