Faricimab Efficacy, Safety Hold Up in Real-World Study

In a real-world study, the dual-action antibody faricimab demonstrated improvement in key anatomical markers in patients with wet age-related macular degeneration (AMD) who had no previous treatment for the condition and those who had less than optimal results on other anti–vascular endothelial growth factor (VEGF) agents.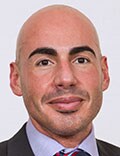 Dr David Almeida
"Irrespective of treatment-naive or previously treated recalcitrant patients, faricimab delivers efficacy and anatomical improvements with no new safety concerns," David Almeida, MD, MBA, PhD, who presented results of the TRUCKEE trial at EURETINA 2023, told Medscape Medical News. "This is important and welcomed given the recent approval." Almeida is president of Erie Retina Research, in Pennsylvania.
Faricimab, approved by the US Food and Drug Administration in 2022 to treat neovascular AMD (nAMD) and diabetic macular edema, targets two key pathways that contribute to macular edema: VEGF-A, the same complement factor that aflibercept targets; and angiopoietin 2 (Ang2).
TRUCKEE evaluated 2622 eyes of 2212 patients who were treated with faricimab. Follow-up after one injection was available for 2395 eyes as well as after six faricimab injections for 406 eyes. Average patient age was 80 years, and 43% of trial participants were women.
The study population included 145 eyes that had not been treated previously for nAMD and 2250 eyes that received injections with other anti-VEGF injections before switching to faricimab.
Study Results
In the treatment-naive patients, outcomes after one injection included a gain of 1.66 Early Treatment Diabetic Retinopathy Study (ETDRS) letters in best-corrected visual acuity (BCVA) and a reduction in central retinal subfield thickness (CST), as measured on optical coherence tomography (OCT), of 68.56 µm.
In patients who switched from another anti-VEGF agent, those outcomes were a gain of 0.54 ETDRS letters and a reduction of 24.77 µm, Almeida told attendees at the meeting. The average follow-up interval was 49.5 days after injection.
The study also evaluated anatomical markers of intraretinal fluid (IRF) and subretinal fluid (SRF), both of which indicate edema in AMD. In the treatment-naive patients, those markers showed reductions of 41.1% and 37.2%, respectively; in previously treated patients, the reductions were 25.5% and 29.8%, respectively, Almeida reported.
Between 25% and 30% of "difficult-to-treat real-world switched patients had complete resolution of IRF/SRF after one injection of faricimab," Almeida told attendees. Specifically, patients switched from aflibercept achieved a 50-µm reduction of CST after six injections, he added.
In all switched eyes that received six injections of faricimab (n = 397), vision gains were 0.47 ETDRS letters, and CST reductions were 24.8 µm, on average, Almeida said.
In terms of safety outcomes, he said that in eyes treated with faricimab, the rates of intraocular inflammation and endophthalmitis were .02% and .04%, respectively, with no cases of retinal vasculitis or retinal artery occlusions.
Strengths and Limitations
Gemmy Cheung, MBBS, head of the medical retina department at Singapore National Eye Center, noted that the strengths of the TRUCKEE study include a large ongoing dataset with study locations throughout the United States and inclusion of both treatment-naive and switch cases.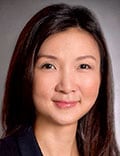 Dr Gemmy Cheung
"As the dataset starts to accumulate, we can now start to see the results after longer — 6-month — follow-up," Cheung said. Including data on both BCVA and anatomical outcomes "is also extremely helpful," she said.
One inherent limitation with real-world studies is that the populations "tend to be very heterogeneous and the reason for switch can be variable," she added.
The TRUCKEE data are in line with those reported in the Phase 3 TENAYA and LUCERNE trials of faricimab, Cheung said.
"During the matched interval of the clinical trial, greater reduction and faster drying was observed in the faricimab arms," she said. "These data suggest that switching to faricimab in eyes that have persistent fluid with other agents should be considered, especially if they are unable to extend retreatment intervals."
TRUCKEE is an independent study. Vial provided contract research organization services. Almeida disclosed relationships with Alimera, along with Alcon, Allergan/AbbVie, Bausch and Lomb, Bayer, Boehringer Ingelheim, EyePoint Pharmaceuticals, Genentech/Roche, Novartis, and Regeneron Pharmaceuticals. Cheung disclosed relationships with Bayer, Boehringer Ingelheim, Novartis, and Roche.
EURETINA 2023. Free paper session 3: AMD 1: The TRUCKEE Study: Real World Efficacy and Safety of Faricimab in Neovascular AMD. Presented October 5, 2023.
Richard Mark Kirkner is a medical journalist based in the Philadelphia area.
For more news, follow Medscape on Facebook, X (formerly known as Twitter), Instagram, and YouTube
Source: Read Full Article