'Early detection saved my life' – Testicular cancer survivor Les Reilly on why all men should check themselves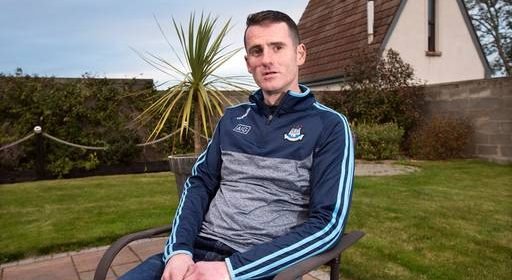 Men are notorious for neglecting their health so every November, the Movember campaign aims to raise awareness for male specific conditions and encourage men to be more open about their health and seek help when needed.
The campaign has been running in Ireland for ten years, but Les Reilly was ahead of the crowd as he sought help when he discovered a testicular lump in 2007 and after being diagnosed with cancer and treated early, he is enjoying good health today.
"In April 2007, I noticed some swelling in the testicular area with intermittent sharp shooting pain," recalls the 38-year-old. "The pain didn't last long, but was very strong when it happened and I found that taking a bath would take swelling down. This went on for a while because due to the area it was in, I was embarrassed to see my GP over it, so being a typical man, I hoped it would disappear by itself.
"But unfortunately the bouts of pain began to last longer and I would be left with a heavy dull ache after each 'attack' as I called it. It was September ­- five months after the pain started – before I went to a doctor and after questioning me about lifestyle, hobbies and sports, I was referred to hospital for an ultrasound which showed up something abnormal, so I was sent for further tests."
Following these investigations Les, who runs a convenience store in Naul, Co Dublin, received an appointment to see a consultant where he discovered the news that he had cancer.
"I went alone as I didn't expect to be told my diagnosis and was really shocked to hear the word cancer, but was also relieved to have an answer to my strange symptoms," he says. "The consultant discussed a treatment plan of radiation therapy combined with chemotherapy and I went on to have 10 sessions of radiation which was fine, apart from being very tiring. Then I had a two week break before starting chemotherapy.
"I can't remember how many sessions I had, but they started in November and went on until February the following year and a lot of sickness came with it – but I have been told it is much more advanced now in terms of anti-nausea. I had it worked out that if I had chemo on a Tuesday I'd be sick on Thursday, Friday and half of Saturday. I continued to work as I'm self-employed, but had great support from my employees and on many occasions called in favours. I also ended up having an orchidectomy (removal of the testicle), which went well and have had no problems in that area since."
However, two years after his testicular cancer, the Dublin man was diagnosed with colorectal cancer and would advise everyone, men and women, to be vigilant about their health and seek advice if at all worried.
"The second cancer diagnosis was very devastating for me as I had to have various surgeries on the same area, rather than remove it as a whole," he says. "I was left wearing a colostomy bag while the bowel was recovering and I found that very hard to accept, but I've had it reversed since and thanks to regular checks I can now say that I'm cancer free.
"Unfortunately I lost my sister last year to cancer at 39 years of age and another sister to heart issues at 36 years of age a few years previously, so I would encourage everyone to look after their health – don't be embarrassed like I was initially, do regular self-checks as they cost nothing but could make all the difference as early detection is vital.
Also talk to friends and family about how you are feeling and use all the services provided by the Irish Cancer Society – each hospital has a team so reach out and use them as they will help you get through it."
Joan Kelly is the cancer support manager for the Irish Cancer Society – she agrees and says men need to stay on top of their health and not let embarrassment be the reason for a late diagnosis.
"Testicular cancer occurs in the testicles, which are part of the reproductive system in men," she explains. "There are approximately 176 cases diagnosed every year in Ireland and most testicular cancers are germ cell tumours – which are the special cells needed for reproduction. There are two main types of testicular cancer: seminoma and non-seminoma and the exact cause is unknown.
"It can be treated well, but sometimes embarrassment can be an issue for men even though there is really no need at all to be embarrassed – it's important and helpful to remember that doctors have seen it all before. So if someone is worried about testicular cancer we would encourage them to go talk to their GP, or go to a men's health clinic if they are more comfortable with that, as soon as possible. This is a very curable cancer, but the earlier it is caught, the better."
Testicular cancer is one of the easiest cancers to treat and very often it can be cured. The treatment varies, but the first step is usually surgery and then the type of treatment depends on the size and stage of the disease, the type of testicular cancer (whether it is seminoma or non-seminoma), if the cancer has spread and the general state of the patient's health.
"Even though the symptoms of testicular cancer can be caused by conditions other than cancer, get them checked by your doctor," urges Joan Kelly. "Remember most testicular cancers are curable. If they are found early, they can be treated very easily. So if you feel you might be at risk, talk to your family doctor about your concerns. He or she may advise you to visit a specialist. And all men should examine their testicles regularly, especially those who have a history of undescended testes."
The cancer care professional explains who is at risk of developing testicular cancer:
* Undescended testicle: Testicular cancer is more common in men with a testicle that did not descend, or which descended sometime after birth.
* Previous history of testicular cancer: You are slightly more at risk if you have had testicular cancer in the past.
* Family history of testicular cancer: You are more at risk if your father or brother had the disease.
* Fertility problems: If you have fertility problems, you have a small risk.
* Mumps: If you had a rare complication of mumps called mumps orchitis, your risk increases.
* Ethnic and social group: If you are white skinned, you have a higher chance of getting testicular cancer. Testicular cancer is also more common if you are in a wealthier social group.
* Klinefelter´s syndrome: This is a sex chromosome disorder that causes low levels of male hormones, sterility, breast enlargement and small testicles. If you have the syndrome, you have an increased risk.
For more information visit cancer.ie or contact the cancer nurseline on freephone 1800 200 700, email [email protected] or drop into one of 13 Daffodil Centres in hospitals nationwide. Movember partners with the Irish Cancer Society and are the primary contributor to their prostate cancer programmes. Funds help provide information, support and care to those affected by prostate cancer, as well as funding vital cancer research. To get involved check out movember.com
Symptom checker
* The most common symptoms of testicular cancer:
* A painless lump or swelling in a testicle.
* Pain or discomfort in a testicle or in the scrotum.
* An enlarged testicle or a change in the way it feels.
* A heavy feeling in the scrotum.
If the cancer has spread you may get:
* A dull ache in your back.
* Tenderness in the breast area.
* Stomach ache.
* Shortness of breath.
* A painless lump in the side of the neck.
* For more information cancer.ie
Source: Read Full Article