Endovascular Therapy Benefits Large Infarction: ANGEL-ASPECT

Patients with a large cerebral infarction have better functional recovery when they receive endovascular therapy early on in addition to usual medical management, a new study shows.
The trial was stopped early because a planned interim analysis showed efficacy of endovascular therapy in this patient population.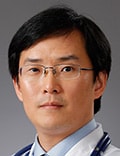 Dr Xiaochuan Huo
Among patients in China with acute ischemic stroke and a large cerebral infarction, treatment with endovascular therapy within 24 hours after stroke onset "resulted in a better functional outcome at 3 months than medical management alone," lead author Xiaochuan Huo, MD, PhD, associate chief physician, Interventional Neurology Department, Beijing Tiantan Hospital, Capital Medical University, Beijing China, told Medscape Medical News.
"This trial added important evidence for the benefits of endovascular therapy," Huo added.
The findings were presented at the International Stroke Conference (ISC) 2023 and were published online in The New England Journal of Medicine.
Will Change Practice
Commenting on the results for Medscape Medical News, Tudor G. Jovin, MD, professor and chair, Department of Neurology, Cooper Medical School of Rowan University, said he has "little doubt" this study will change practice.
Despite previous studies showing signals of benefit from thrombectomy for patients with large-core infarcts, and some even finding a large treatment effect, "somehow the world didn't register this," said Jovin.
"The stroke community was perhaps reluctant to accept these signals that were there in plain sight because we have been primed for such a long time that reperfusing large infarcts was, if not detrimental, not beneficial."
But this study, along with another study showing similar results, SELECT 2, which was also presented at this meeting and was published in the same issue of NEJM, provide "overwhelming proof" and "have finally made the community aware," said Jovin. "This is sort of a wake-up call to say, 'Hey, this is real; patients with large infarcts also benefit from thrombectomy.' "
This new research suggests it's not necessary to learn the infarct size, at least in the early time window, and doing so just wastes precious time, added Jovin.
The impact of thrombectomy on patients with "super large infarcts" is still not clear, although these are "extremely rare" in the early time window, perhaps representing only about 1% of patients, said Jovin.
The increased rate of hemorrhages in study patients receiving thrombectomy "is the price you pay" for the benefits, said Jovin. He noted that this is not any different from the situation with tissue plasminogen activator (tPA), which is routinely used because the benefits far outweigh the risks.
ANGEL-ASPECT
As patients with large infarctions are generally excluded from studies of thrombectomy, it's been unclear whether they benefit from this therapy, the researchers noted.
The multicenter Endovascular Therapy in Acute Anterior Circulation Large Vessel Occlusive Patients With a Large Infarct Core (ANGEL-ASPECT) trial included 455 adult patients (median age, 68 years; 38.7% women) who had a large infarct core caused by acute large-vessel occlusion in the anterior circulation (Alberta Stroke Program Early CT Score [ASPECTS] 3–5 without core volume limitations or ASPECTS 0–2 with core volume between 70 and 100 mL).
Study participants had to have a score of 6–30 on the National Institutes of Health Stroke Scale (NIHSS) and a retrospectively determined prestroke score of 0 or 1 on the Modified Rankin Scale (mRS).
The median baseline NIHSS score of study patients was 16, the median ASPECTS was 3, and the median infarct-core volume was 62 mL.
Researchers randomly assigned patients to undergo either medical management alone or medical management as well as endovascular therapy. Medical management included intravenous (IV) thrombolysis for those who were eligible.
IV thrombolysis was administered before thrombectomy for about 28% of patients in each group. Some 78.7% of all patients arrived at the hospital outside the typical 4.5-hour window and were ineligible for thrombolysis.
A greater percentage of patients in the endovascular therapy group was receiving antihypertensive medications (83.0%) than in the medical management alone group (54.0%). About 20% of patients in each group were taking an anticoagulant medication.
When the trial was halted, outcome data were available for 336 patients. An additional 120 patients had undergone randomization, and 455 had completed 90 days of follow-up.
Better Functional Outcome
The primary outcome was the score on the mRS at 90 days. Results showed a shift in the distribution of scores on the mRS at 90 days toward better outcomes favoring endovascular therapy over medical management alone (generalized odds ratio, 1.37; 95% CI, 1.11 – 1.69; P = .004).
The efficacy of endovascular therapy with respect to the primary outcome was similar across predefined subgroups and across all trial sites. However, the trial was not powered to allow definite conclusions based on the results of subgroup analyses.
Although patients with an ASPECT score of 0–2 (indicating very large infarct cores) are considered unlikely to benefit from endovascular treatment, the researchers did find some signals of gain for these patients.
"Although no conclusions can be drawn because the trial was not powered for this analysis and the confidence interval for the odds ratio between the trial groups included 1, there may have been a benefit with endovascular therapy in this subgroup," the authors write. "More trials are warranted to determine if this benefit is valid."
As for secondary outcomes, the percentage of patients with a score of 0–2 on the mRS at 90 days was 30.0% in the endovascular therapy group and 11.6% in the medical management group (relative risk [RR], 2.62; 95% CI, 1.69 – 4.06).
The percentage of patients with a score of 0–3 on the mRS at 90 days was 47.0% in the endovascular therapy group and 33.3% in the medical management group (RR, 1.50; 95% CI, 1.17 – 1.91).
The primary safety outcome was symptomatic intracranial hemorrhage within 48 hours, which occurred in 6.1% of the endovascular therapy group, compared to 2.7% in the medical management group (RR, 2.07; 95% CI, 0.79 – 5.41; P = .12)
Mortality within 90 days was 21.7% in the endovascular therapy group and 20.0% in the medical management group. Other serious adverse events occurred in 40.0% in the endovascular therapy group and 38.2% in the medical management group (P = .70).
The percentage of patients receiving IV thrombolysis was relatively low, which may have affected outcomes in the medical management group. Another potential limitation was that urokinase rather than alteplase, which is probably more effective, was used for thrombolysis in a small percentage of patients.
Further, the study did not include patients older than 80 years or those with an ASPECT value greater than 5 and infarct core volume of 70–100 mL, and it included only Chinese patients, so the results may not be generalizable, the researchers note.
These findings will likely change clinical practice, said Huo, who noted that the current guideline doesn't provide "a high-level recommendation" for EVT in patients with a low ASPECT score.
"These new results will change the guideline" to suggest endovascular therapy for large-core patients, he said.
Welcome News
An accompanying editorial by Pierre Fayad, MD, Department of Neurological Sciences, Division of Vascular Neurology and Stroke, University of Nebraska Medical Center, Omaha, welcomed results from this and other recent related studies.
From these new results, "it is reasonable to suggest that endovascular thrombectomy be offered to patients with large strokes" if they arrive in a timely fashion at a center capable of performing the procedure and have an ASPECT value of 3–5 or an ischemic-core volume of 50 mL or greater, he writes.
"The improved chance of independent walking and the ability to perform other daily activities in patients with the most severe strokes is welcome news for patients and for the field of stroke treatment."
The study received funding from Covidien Healthcare International Trading (Shanghai) Co Ltd, Johnson & Johnson MedTech, Genesis MedTech (Shanghai) Co, Ltd, and Shanghai HeartCare Medical Technology Co, Ltd. Huo and Jovin report no relevant financial relationships.
International Stroke Conference (ISC) 2023: Late-breaking abstract 20. Presented February 20, 2023.
N Engl J Med. Published online February 20, 2023. Abstract, Editorial
For more Medscape Neurology news, join us on Facebook and Twitter.
Source: Read Full Article