Debt ceiling fight looms over Medicare, Medicaid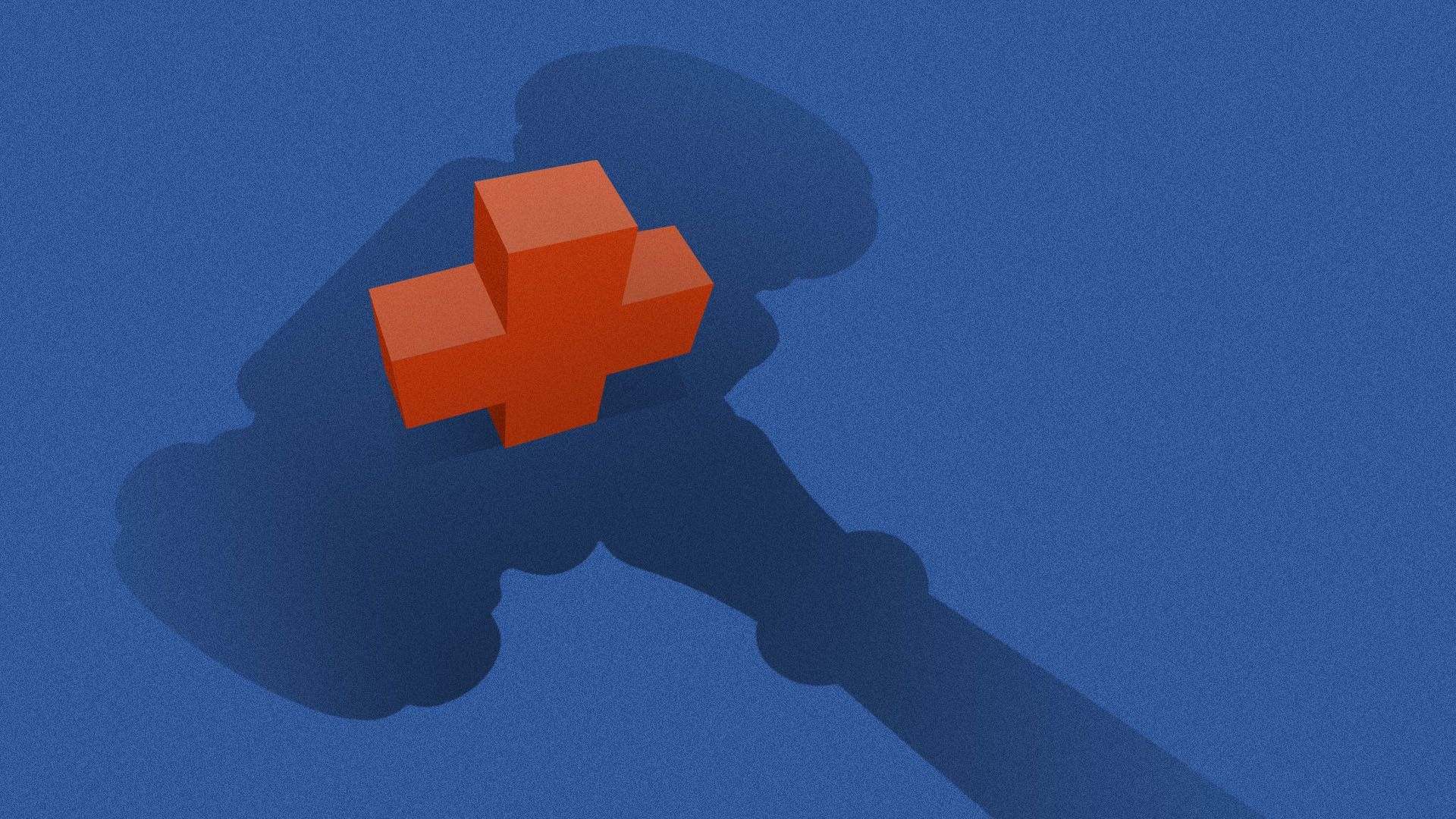 Illustration: Sarah Grillo/Axios
House Republicans don't have much of a path to get major health care changes passed with a Democratic Senate and president, with one possible exception: the debt ceiling fight.
Why it matters: It's not clear which spending cuts House Republicans will push for in exchange for expanding the government's borrowing authority later this year — but at least some say health care programs like Medicare and Medicaid should be on the table.
Others, mindful of how the mere talk of entitlement cuts has brought political repercussions, are saying they want to steer clear of the programs.
What they're saying: "We're going to have to look at the whole board," conservative Rep. Barry Loudermilk (R-Ga.) told Axios, including mandatory spending like Medicare and Medicaid. "The easiest to start with is discretionary, but the main driver of the national debt is the mandatory."
"Everything's on the table," he added.
Asked about entitlement reform, Speaker Kevin McCarthy told reporters Thursday that "as Republicans we will always protect Medicare and Social Security," but did not get into specifics. (He also did not mention Medicaid).
"We will protect that for the next generation going forward, but we are going to scrutinize every single dollar spent," he added.
What to watch: Rep. Morgan Griffith (R-Va.), a Freedom Caucus member who is also on the Energy and Commerce Committee, said any changes to Medicare would not take place immediately.
"Anytime we talk about those cuts people always panic," he told Axios. "Nobody needs to panic. If we're going to do something, it will be out in the future years a long way out and people will understand it and will have time to adjust for it."
He cited the possibility of raising the Medicare eligibility age from 65 to 67 as one possible change, while keeping it lower for people who had careers doing manual labor and have trouble continuing to work later in life.
Reality check: The chances of any kind of major entitlement reform remain remote in a divided government. But if there's one thing that's clear so far about the House this year, it's that it is unpredictable.
And Republicans say they are going to push for some sort of spending cuts as part of the debt ceiling debate.
Rep. Byron Donalds (R-Fla.), who at one point last week was an alternative GOP Speaker candidate for the anti-McCarthy faction, said "I don't anticipate that at all," when asked about Medicare or Medicaid changes in the debt ceiling talks.
Rep. Brett Guthrie (R-Ky.), expected to be chairman of the House Energy and Commerce health subcommittee, said he is interested in bringing back a controversial GOP plan from the debate over repealing the Affordable Care Act that would cap Medicaid spending, saying the program should be made "sustainable."
He said he had not discussed including that plan in the debt limit talks. "I would love to do it somewhere, I'm not sure we're going to do it in the debt limit."
The other side: Democrats are already going on the attack and portraying the GOP as reckless.
"We intend to defend Social Security and Medicare and do the responsible thing and raise the debt ceiling," Rep. Richard Neal (D-Mass.), the top Democrat on the House Ways and Means Committee, told reporters. "The debt ceiling shouldn't be held hostage to this sort of conversation."
Moderate GOP Rep. Dave Joyce (R-Ohio) acknowledged that some in his party will bring up entitlement changes as part of the debt ceiling talks, but noted the changes would never get through the Senate, calling them "aspirational."
"That's a great soundbite [where Democrats] can throw us all under the bus in the campaign, but it's not indicative of what's truly going to happen at that time," he said.
A version of this story was published first on Axios Pro. Get news like this by subscribing. Use code POLICY100 which gives you $100 off.
Source: Read Full Article