Colorado lawmakers scale back bill to limit hospital facility fees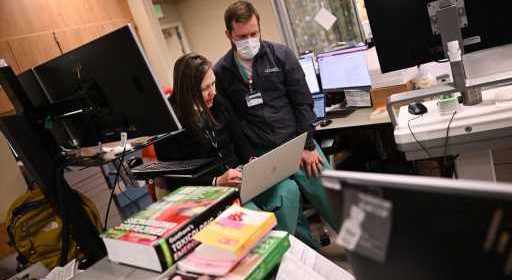 Proponents have narrowed a bill to limit the facility fees that hospital-owned clinics can charge in Colorado after an outcry from health care providers, but the measure would still significantly reduce the circumstances under which patients pay them.
At hospital-owned clinics, patient bills typically have two parts: the provider fee, for the doctor or nurse practitioner's time, and the facility fee, which covers overhead and support staff. Patients could also be charged for any medications, supplies or tests received.
The original House Bill 23-1215 would have outlawed facility fees if the care was provided via telemedicine; if the clinic wasn't on the hospital's campus; or if the care received could safely be provided somewhere other than a hospital.
It also would have required providers to notify patients of how much they could be charged in facility fees and allowed the Colorado Attorney General's Office to investigate violations as a "deceptive trade practice."
The revised bill would keep the requirement that facilities notify patients of their fees and still allow the attorney general to enforce it, according to a summary released by lobbying firm Weaver Strategies. The prohibition on facility fees would be narrowed to include only telehealth visits, preventive services and primary care.
The revised version also would exempt critical access hospitals and "sole community hospitals" — hospitals that are either publicly owned or private nonprofits that have a contract to care for uninsured people — from limits on facility fees, and require a third party report on the fees.
"We have heard from countless patients who have been caught completely off guard by hefty hospital charges they never expected to pay that are not covered by insurance, as well as doctors who describe the anxiety their patients experience from not knowing how much they'll have to pay for care. We have also heard extreme claims from hospital systems projecting 'catastrophic losses' if HB23-1215 were to pass, without sufficient evidence to support those claims," lobbyist Kachina Weaver said in a news release. "What is clear is there is much more we need to understand about facility fees and their impact on patients, providers and hospitals."
Cara Welch, spokeswoman for the Colorado Hospital Association, said the group is still waiting to see the revised language, but the summary sent out on Monday doesn't appear to address their concerns. Hospitals said that eliminating facility fees would make it unsustainable for them to offer outpatient care, because they couldn't be reimbursed for digital infrastructure, nurses' time and other costs.
"Even if scaled back per the proponents' message, this will still harm access to care — and especially essential primary and preventive care that is helping Coloradans stay healthier and out of the hospital," she said in an email. "It will also have a detrimental impact on access to specialty care through telehealth, which many Coloradans — especially in rural parts of the state — have come to depend on."
Allan Baumgarten, an analyst who studies hospital finances in Colorado and other states, said he wasn't sure the bill was viable as originally written, but is "somewhat sympathetic" to the desire to rein in facility fees. They don't make sense for clinic-based care, because a hospital-owned clinic isn't significantly different from an independent one that doesn't charge facility fees, he said.
"It's sort of a golden goose of revenue," he said.
Sign up for our weekly newsletter to get health news sent straight to your inbox.
Source: Read Full Article