Colorado COVID hospitalizations rise, possibly because of new variant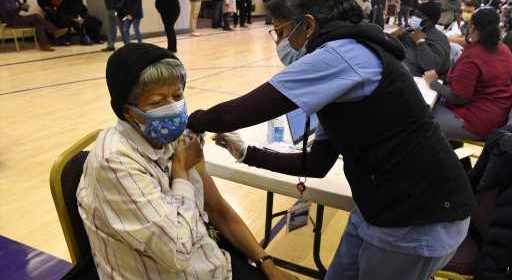 Colorado's COVID-19 hospitalizations rose slightly this week, and some indicators suggested the virus may be spreading more widely again.
The numbers can fluctuate, so one week's data may not represent a trend. Still, the fact that three of the four major indicators are trending up suggests Colorado may be seeing the effects of the XBB.1.5 variant taking over, said Beth Carlton, an associate professor of environmental and occupational health at the Colorado School of Public Health.
It's not totally clear why wastewater data may be the exception, though it is older than the other data types, she said.
The Centers for Disease Control and Prevention estimated XBB.1.5 accounts for about 61% of cases nationwide and about 33% in the region including Colorado.
Hospitalizations rose in the Northeast as the XBB.1.5 became predominant, but have since started dropping again. The latest variant in the omicron family is better at evading antibodies from vaccines and previous COVID-19 infections than previous versions. Other parts of the immune system can limit how severe an infection becomes, though.
Antibody-based drugs, including one for people whose bodies don't respond to vaccines, also don't work well against XBB.1.5. The CDC has recommended that people with compromised immune systems take other precautions, including getting the latest booster shot, wearing masks in public and avoiding crowded indoor spaces.
The data released by the Colorado Department of Public Health and Environment and the CDC painted a mixed picture of COVID-19 in the state this week:
202 people were hospitalized with the virus statewide on Tuesday afternoon, up from 185 at the same point last week
9.1% of tests came back positive over the last seven days, up from 7.5% a week earlier
2,823 new cases were reported in the week ending Sunday, up from 2,064 the previous week
Viral concentrations in wastewater were decreasing in 47 utilities, rising in 6 and flat in 12 as of Friday
All Colorado counties but one are at low risk from COVID-19, based on cases and hospitalizations (Bent County is at the medium level)
31 counties have "substantial" or "high" transmission, based on cases and the positivity rate
The trajectory is far clearer for flu and respiratory syncytial virus, which both appear to be in retreat. New RSV hospitalizations were at their lowest levels since late September, with 33 people admitted in the Denver area with the virus.
Flu hospitalizations dropped to their lowest rate since late October, with 30 people admitted in the most recent week.
Colorado had "low" levels of flu-like illness in the week ending Jan. 21, according to the CDC. Only seven states and the District of Columbia have flu activity that's "moderate" or higher.
Experts have cautioned that it's still possible the country could see a second wave caused by a different flu strain, though.
Sign up for our weekly newsletter to get health news sent straight to your inbox.
Source: Read Full Article