Cancer warning: Formaldehyde is a human carcinogen that's found in 'many' household items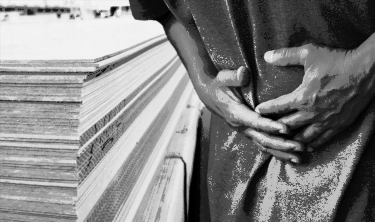 Tipping Point: Louise Minchin donates winnings to cancer charity
We use your sign-up to provide content in ways you've consented to and to improve our understanding of you. This may include adverts from us and 3rd parties based on our understanding. You can unsubscribe at any time. More info
The information on the risks of cancer in the home comes from Cancer Factfinder – a website that specialises in reviewing cancer risks found on the internet.
In the case of household items they warn about the chemical Formaldehyde.
This, informs Cancer Factfinder, "is a colourless, flammable, strong-smelling chemical that is used in building materials and in the production of many household products".
It also adds that it is a known "human carcinogen" meaning that if it makes its way into a person's body their risk of cancer is increased.
On how it makes its way into the immune system, it says exposure "mainly occurs by inhaling the gas or absorbing liquids containing formaldehyde through the skin.
"Short-term health effects of exposure are watery eyes; burning sensations in the eyes, nose, throat; coughing, wheezing; nausea, and skin irritation".
Formaldehyde doesn't just occur when a person breathes in fumes from cleaning products.
It occurs when people are exposed to car exhausts, cigarette smoke, gas stoves, wood-burning stoves, kerosene heaters, and pressed-wood products.
Meanwhile, scientists have said plants hold the key to future cancer treatments.
Statistics say one in two people will get cancer in their lifetime.
The natural world, say scientists, could play a significant role in new cancer treatments.
This news comes just weeks after the Government launched its 10-year War on Cancer.
Researcher Melanie-Jayne Howes of Kew Gardens said: "Basic research and understanding of plant biology has had a key impact on cancer treatment."
"There are lots of different tumour types and tumour subtypes that are being discovered all the time so we still need new ideas and new drugs" added Leeds University's Professor Susan Short.
One of the plants that could be effective at treating cancer is cannabis.
Professor Short is leading a UK trial into the effectiveness of medicinal cannabis against brain tumours.
Other studies have also found cannabis is effective against prostate and colon cancer.
Ms Howes added: "If we can show how we can source new medicines from nature by unlocking the useful properties of plants, then we help treat disease, but we also demonstrate the value of biodiversity and provide an incentive for people to protect it."
The natural world then, could be the key to saving more lives from cancer.
More information on cancer can be found via your GP or the NHS website.
Source: Read Full Article