Britain's Got Talent star says weight loss helped her become a mother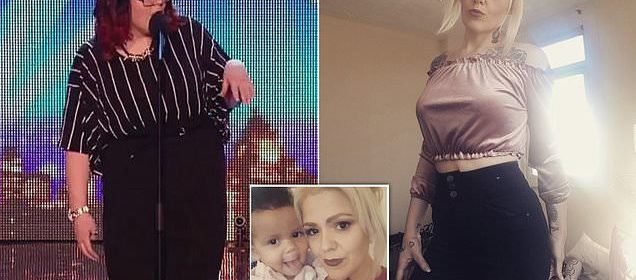 Britain's Got Talent star, 30, credits her 14-and-a-half stone weight loss for helping her finally become a mother after enduring eight miscarriages
Catarina Merighi tipped the scales at 23st 10lb (332lbs) when at her heaviest
After seeing an unflattering photo of herself, she overhauled her diet
Now a svelte 9st 4lb (130lbs), Ms Merighi had her daughter Rosabelle last year
1
View
comments
A woman who lost 14-and-a-half stone (203lbs) believes her astonishing weight loss helped her become a mother after suffering eight miscarriages.
Catarina Merighi, 30, from Penge, London, lost eight pregnancies between September 2013 and June 2017, which left her so depressed she would gorge on 24 packets of crisps a night.
Although she tipped the scales at 23st 10lb (332lbs), Ms Merighi was only motivated to shift the weight after seeing an unflattering photo of herself at a friend's barbecue.
After overhauling her diet to just 1,300 calories a day and exercising up to seven times a week, the cleaner is now a svelte 9st 4lb (130lbs).
Ms Merighi, who is single and made it to the semi-finals of Britain's Got Talent in 2014, has finally achieved her dream of becoming a mother, with daughter Rosabelle arriving last year.
Catarina Merighi believes losing 14.5 stone (203lbs) helped her become a mother after she suffered eight miscarriages. Pictured at 9st 4lb (130lbs), her daughter Rosabelle arrived last year after she endured the pregnancy losses between September 2013 and June 2017
Ms Merighi is pictured on Britain's Got Talent in 2014, where she made the semi finals, while she was on her weight-loss journey. An unflattering photo motivated her to shed the pounds
Pictured with her 'beautiful girl', she is adamant losing weight helped her become a mother
Ms Merighi claims she was always carrying too much weight but the problem became out of control as she got older. 
'I was always a chubby kid. My mum was super healthy, and we walked everywhere but I had an extremely slow metabolism so always had that puppy fat,' she said.
'Then when I had the ability to go feed myself and buy my own stuff it spiralled.
'Honestly and truly, I hated myself, it wasn't just about looking like my friends and family and looking better. It was about the fact I knew the damage I was doing to myself.'
Thousands of lung-cancer patients will receive a life-saving…

Mother reveals how she is forced to leave her daughter,…

The couple who say being diagnosed with Parkinson's in their…

EVERY school should have mental health officers to tackle…

Almost 7,000 Britons under 25 have Type 2 diabetes including…
Share this article
DOES OBESITY INCREASE THE RISK OF MISCARRIAGES?
Our in four women with a BMI over 30 – defined as obese – miscarry before 12 weeks. This is compared to one in five who are of a healthy weight. 
Although unclear exactly why this occurs, scientists believe overweight women have higher levels of the hormone insulin in their blood, which may later the lining of the womb and affect embryo development. 
Carrying dangerous amounts of weight also raises the risk of pregnancy complications, such as high blood pressure and bleeding, which can result in an miscarriage.
She continued to pile on the pounds while in a long-term relationship, leaving Ms Merighi in a 'rut' of comfort eating and not exercising. 
She then got a sharp reality check after seeing photos of herself taken at the BBQ on Facebook.
'I did not recognise the person I'd become,' Ms Merighi said.
'I mean I'd always been chubby from a child but this person in this picture wasn't me and I knew I had to make a change.
'Losing weight has made me a totally different person. It's built my confidence, made me happier and at least now I can run for the bus without feeling like I'm having a heart attack.
'More importantly I miscarried eight times when I was bigger and it wasn't until I lost all the weight I had my beautiful little girl, so honestly losing weight in my eyes helped me to become a mum.'
Ms Merighi is pictured left at her heaviest when she tipped the scales at 23st 10lb (332lbs). Now slim (right), she says she finally feels 'content and happy within her own skin'
Pictured at her heaviest, Ms Merighi would gorge on 24 packets of crisps every night 
The single mother (pictured with Rosabelle) says she is happier and more confident than ever
Ms Merighi claims people do not recognise and are always shocked by her transformation
Ms Merighi has since launched a personal training business to help others on their weight-loss journey.
'Not falling off the plan was the most difficult thing about the weight loss and getting on with it when I've felt disheartened,' she said.
'I've had many a moment I just gave up but then I looked at who I used to be and kept going.
'Most of the time people don't recognise me and when they realise it's me they are just shocked. I've heard it all from people asking, "where did you go?" and saying, "Kitty are you there?"
'I am finally content and happy within my own skin.
'If someone really doesn't know where to start with weight loss, read up about different plans and think about how your body reacts to certain foods.' 
Pictured left before, Ms Merighi claims she 'honestly and truly hated herself'. Pictured right after losing the weight, she said she now feels like a 'totally different person'
Pictured before with a friend, Ms Merighi said she did not 'recognise the person she'd become'
Since losing the weight, Ms Merighi has launched a personal training business to help others
Source: Read Full Article