'You need the money for going to college' – One third of 17/18-year-olds in school have part-time jobs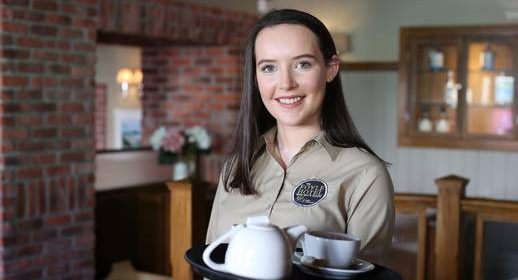 Being a second-level student means doing lots of juggling between school, homework and extra-curricular activities, including sports and seeing friends. So where does a part-time job fit into the mix and is it good for students?
There is a dearth of information in this country about the kinds of students who have a paid job while at school and the impact of a job on their studies.
An Economic and Social Research Institute (ESRI) study published in 2005 found that students who worked while at school, particularly those working long hours, did pay a price in terms of their exam performance and likelihood of completing secondary education.
And it found that students from more privileged – higher professional – backgrounds had not been drawn into paid work in the same numbers as other groups. Working-class students tended to work longer hours, thus potentially exacerbating social class-based differentials in participation and achievement.
It also stated that the challenge in policy terms was to find a way of balancing the potential negative and positive effects of part-time work by drawing upon and recognising the skills acquired by young people outside of school and developing more innovative ways of combining work and study for students at risk of dropping out of full-time education.
Selina McCoy, Associate Research Professor at the ESRI who authored the report, says while it's 10 years old, the evidence is still pretty much the same. She says some students work out of economic necessity, but the research shows that more intensive part-time work is going to be detrimental to students' educational engagement.
According to the latest figures, one third of all 17/18-year-olds who are in school have part-time jobs. The statistics, published in November 2016 as part of the 'Growing up in Ireland' (GUI) survey, showed that slightly more females – some 35pc – who were still in school had a part-time job compared to 31pc of males.
The GUI survey also showed that having a part-time job while at school was less likely among students who were in their Leaving Cert year compared to those who were in fifth year. And it showed that the average time spent working during term in a part-time job was nine hours a week, with an average weekly income of €72.37.
According to Clive Byrne, Director of the National Association of Principals and Deputy Principals (NAPD), while young people enjoy the financial independence that comes with having a part-time job, they have to make sure it's not taking away from their ability to study or to concentrate on their studies.
"If people are interested in promoting their academic future, they have to be aware of the amount of time they are spending on work. Some students might have a Saturday job, while others would be working very late at night and would be exhausted in the morning. Summer work or weekend work has less impact," he says.
Byrne points out that weekend work may limit a young person's ability to be involved in extra-curricular activities, which are an important counter-balance to studying.
Anthony Doogan (left), principal of Moville Community College in Inishowen, Co Donegal, says he tells students that the Leaving Cert is a marathon, not a sprint, and stresses to them the importance of balance in their lives.
At least half of the school's sixth years have part-time jobs and Doogan says it can be hard for students to balance their school work, sleep, nutrition and study if they are working too much.
"I have no doubt of the value of part-time work and there's no doubt about the value of work experience. Our Transition Year has work experience and this is invaluable in terms of critical life lessons. It gives students an understanding of working life. If wisely chosen, it gives you an understanding of the career you might like or that you may want to avoid," says Doogan.
However, he says he would question the focus of the student who is doing more than 10 hours of paid work a week.
Niamh McDermott, a student at the school, is preparing for her Leaving Cert this year. She says her part-time job in the family-run Foyle Hotel provides her with some much needed head-space away from school.
"I'm keeping up a small bit of part-time work. It's part of my downtime and gets my mind off study. I find it necessary – you need the money for going to college and you need the experience," she says. The 17-year-old, who wants to study journalism after leaving school, is working only a few hours a week now as the Leaving Cert gets closer and closer.
"I love my work. A family business is different and I enjoy it. I'll be trying to get as much work as I can during the summer. Some people I know are working two jobs to be able to afford to go to college," she says.
"I found it a big struggle coming up to the mocks to balance everything. I had to give up playing the harp this year. I have a good balance at the minute. I make a monthly timetable to keep me on track. I have to put in an hour to eat because coming up to my mocks, I found I might have gone without lunch or dinner," she says.
Of her earnings, Niamh says she created a savings account last year and all of her money goes into that.
She believes her job, which involves meeting and greeting people as they come into the hotel on Moville's Main Street, will stand to her in her life after school.
Source: Read Full Article