'I can and I will' – Parents share the joy their son who has Down syndrome has brought them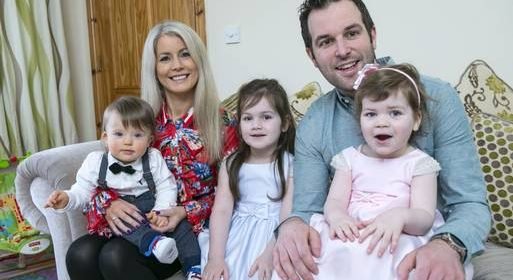 Being told that their baby son Louis has Down syndrome came as a shock to musician and teacher Seanie Vaughan and his wife Lorraine, principally because their beautiful boy was two-and-a-half weeks old before the diagnosis was made. The news was broken by phone to maths and Irish teacher Lorraine by a paediatrician, who had sent a blood sample for genetic testing when she noticed that Louis's little fingers curled inwards, which can be a sign of the condition.
She didn't mention it at the time, and Louis, born four weeks early, didn't have the appearance of a child with the condition. He was checked by their own GP and the public health nurse during those early weeks and nobody detected anything wrong, so the phone call out of the blue was a blow.
"We had been in a little bubble of bliss, adjusting to being a family of five, and my world went spinning," says mum-of-three Lorraine. "I seriously thought she had the wrong person at first. Seanie's paternity leave was over and I had to phone him at work to tell him to come home, and he couldn't believe it either."
It was at that moment that Lorraine and Seanie became vocal advocates for their little baby. They fought to have him assessed quickly to check that his heart was okay, as some babies with DS can have heart issues. Thankfully, Louis was fine, and once they were over the initial shock, Seanie and Lorraine's hearts were filled with a "pure love" and a "fierce love" for him.
"It was tough at first but it wasn't a sad event or a tragedy," says Seanie. "It wasn't long before you realise that it isn't a loss, because you've gained a lot. Louis is as worthy and as capable as anyone else. It's remarkable how much love he brings to the house, and how full of fun and joy he is."
It was at Colaiste Choilm in Swords that Seanie and Lorraine first met in 2009, having spotted one another when Seanie went for an interview at the boys' secondary school. "I saw Lorraine and felt I was going to enjoy teaching there," Seanie laughs, while Lorraine says she had been teasing her boss about hiring a bit of "eye candy" for her. Both very attractive people, Lorraine liked Seanie's quiet confidence and he found her to be very open. They began dating, and a holiday in Prague early on confirmed that there was something special between them.
They bought a house in Drogheda in 2011, and Seanie also took up a position teaching religion and history at the local all-boys St Joseph's Secondary School. They got engaged in Edinburgh and were married in June 2013, holding their reception at Cavan Castle. They decided to start a family early on and were thrilled when their four-year-old daughter Ella came along, followed by Annie (2). She is named after Seanie's granny Annie who turns 90 next month, and is a real character who had a big influence on him. Baby Louis was born 13 months later, and was a little surprise as his parents hadn't even had the conversation about having another child by that stage. He is now 15 months old, so with three small children, life is hectic.
Seanie is also a singer-songwriter with two albums under his belt, and his love of music came from seeing musicians perform at the family pub, Vaughan's in Clifden. Seanie and his sister Alison lived above the pub with their parents, Sean and Jo.
He went on to study religion and history at Mater Dei, and Lorraine says he is "highly driven, caring and very thoughtful". She grew up on a farm in Lough Egish, Monaghan, and she and her twin brother, Adrian, are the youngest of Peter and the late Maureen Daly's five children. Her mum sadly passed away from bowel cancer, aged only 56. Lorraine studied maths and Irish at UCD, and is currently on leave from her teaching job at Colaiste Choilm. "Lorraine is very supportive and I don't think I'd be in music professionally if it wasn't for her encouragement," says Seanie. "She's lovely to myself and the children and is very intelligent."
Seanie's new single I can and I will be released on Thursday, which is World Down Syndrome Day. He will also perform three concerts later this week, and the proceeds from the single and gigs will go to Down Syndrome Ireland. They have met an amazing tribe of parents in the DS community here, which is very strong, they say.
They're aware that there will be challenges and tough moments ahead, as Louis is prone to chest infections and already works with a physiotherapist and speech and language therapist. There are also huge highs and bonuses, as Louis inspires them daily and has brought immense joy. "Your little warrior will lift you up and give you any comfort you need," says Lorraine.
Most of all, Louis's proud parents wish to challenge the stigma they feel exists around DS. Their gorgeous son will be raised to do whatever he wants to do, they say, because he is capable of anything, just like Ella and Annie. "Louis is very funny and he has such an infectious smile and contagious laugh," says Lorraine. "We celebrate the girls' milestones with serious joy, but with Louis, he makes the highs even higher. We feel so blessed and lucky to have him."
'I can and I will' can be downloaded from Thursday, and Seanie will play The Cobblestone, Dublin, on Thursday, Odd Mollies, Drogheda, on Friday and Black Gate Cultural Centre, Galway, on Saturday. All proceeds to DSI. Tickets €10 from www.seanievaughanmusic.com
Source: Read Full Article