Useful recipes for Halloween sauces, jellies and creams from natural ingredients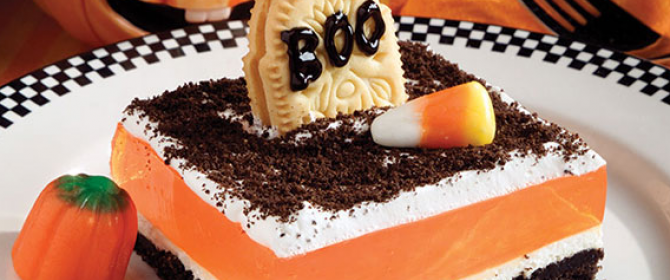 Many look forward to Halloween, the holiday thanks to which everyone at least one day will become a child again. But apart from costumes, you should care about the treats on Halloween. We recommend you to refuse from chemical dyes and flavors, and to cook sauces, creams and jellies made from natural ingredients.
Sauce Mush of mummies
Ingredients
5 pickled cucumbers, chopped
1/3 Cup mayonnaise 1 tablespoon
2 tablespoons Dijon mustard
1 tablespoon whole mustard
2 teaspoons granulated sugar
1 1/2 teaspoon garlic powder
3/4 teaspoon onion powder
A pinch of salt
A little hot pepper
Method of preparation
Add half of the pickles and the remaining ingredients in the bowl of a food processor. Grind until smooth. Garnish with the remaining cucumber and serve.
AND ПРИГОТОВЬТЕ10 LIGHT DRESSINGS
Sauce Dinner Dracula
Ingredients
1/3 Cup 1 tablespoon dark brown sugar
1 1/4 cups fresh or frozen cranberries (thawed)
3/4 Cup ketchup
2 1/2 tablespoons Worchester sauce (sweet and sour fish sauce which can be replaced with soy)
2 teaspoons vinegar
1 teaspoon of salt
1 teaspoon chili powder
1/2 teaspoon black pepper
1/2 teaspoon ground cumin
1/2 teaspoon onion powder
1/4 teaspoon garlic powder
Method of preparation
In a medium-size pot over medium heat add brown sugar and cranberries. Stir until then, until the sugar has melted, about 2-3 minutes.
Add remaining ingredients and reduce heat to medium-low. Simmer for about 10 minutes, stirring frequently.
Remove from heat, serve and enjoy.
The sauce from the frog
Ingredients
1 tablespoon vegetable oil
4 jalapeno peppers, peeled and chopped
Pinch of red pepper
1 teaspoon ground cumin
1/2 teaspoon paprika
1/2 teaspoon salt
180 g cream cheese
SEE ALSO:SPICY-TASTY WHO CAN EAT SPICES, AND WHO DOES NOT?
Method of preparation
Add vegetable oil in a small skillet over medium heat and let it heat up.
Add jalapeno and sauté for 4-6 minutes, or until the peppers are soft.
Add red pepper, cumin, paprika and salt and mix well.
Remove from heat and set aside to cool.
Place in a gravy boat shredded cheese, pour over the sauce. Ready.
All these sauces can be served along with the fingers of a dead man made from sausages.
SEE ALSO:11 INSTAGRAM ACCOUNTS WITH USEFUL IDEAS FOR HALLOWEEN
Vegan jelly Eyeball
Ingredients
Eyeball:
2 tbsp agar-agar (or regular gelatin if you are vegan)
2 cups coconut milk
1 tsp vanilla extract
1 tbsp water
A pinch of salt
3 tbsp granulated sugar
1 kiwi
Nuts in chocolate (for pupil)
Syrup (blood):
1/2 Cup sugar
1/2 Cup strawberries
Method of preparation
Start by cleaning and slicing a kiwi. You will need 2 small slices.
Place one piece on the bottom of two saucers.
To cook the eyeball, place all the ingredients, except agar-agar and water in a saucepan over medium heat. Gently stir for 5 minutes.
Mix the water and agar agar together, making sure agar-agar is fully dissolved.
Add the mixture of agar-agar and water in a mixture of milk and increase the heat to medium.
Continuously stir for 2-3 minutes.
Turn off the heat and leave the mixture to cool for 2 minutes, but don't wait longer than 3.
Immediately pour mixture slices of kiwi on the half shell.
Place in the fridge for about 4 hours or until tender.
Before serving, slice the strawberries.
Place the strawberries and sugar in a small pan over medium heat.
Periodically stir for about 10 minutes.
Remove strawberry sauce from heat and let it cool.
Use a colander or sieve to separate pulp from liquid.
Place a few spoonfuls of gravy on the plate, then gently place the eyeball on top of the sauce so that kiwi was on top.
In the centre place the pupil of the nut. Ready!
Cupcakes from the earth
Ingredients
Cream:
1/2 Cup of Goji berries
1/3 Cup warm water
180 g low-fat cream cheese
1/2 Cup Greek yogurt
1/2 Cup powdered sugar
Cupcakes:
1/2 Cup black sesame seeds, plus a little for decoration
2 eggs
2/3 Cup granulated sugar
1/2 Cup Greek yogurt
1/4 Cup milk 2nd fat
1/4 Cup vegetable oil
1 tsp vanilla extract
100 g whole wheat flour (about 1 Cup)
3 tablespoons of cocoa powder
1 teaspoon baking powder
1/2 teaspoon baking soda
1/2 teaspoon salt
Method of preparation
To prepare the cream, place the Goji berries and 1/3 Cup of warm water into a small bowl. Let stand 20 minutes.
In a blender grind the Goji berries until smooth. Strain the mixture to separate the seeds. Set aside.
Place cream cheese and 1/2 Cup of yogurt in the bowl of a mixer. Whisk on maximum power until smooth. Adding powdered sugar, beat on low power until smooth. Add a mix of Goji and again whisk. Refrigerate for 30 minutes.
To prepare cupcakes, preheat oven to 180 C. Prepare 12 silicone molds, greased. In a food processor grind sesame seedsto get a paste. Put pasta in a bowl. Crack in your eggs, granulated sugar, 1/2 Cup of yogurt, milk, oil and vanilla.
Whisk the flour, cocoa, baking powder, baking soda, and salt in a medium bowl. Add the mixture paste of sesame seeds in the flour mixture, mix well.
Divide the batter between the prepared muffins cups. Bake at 180 ° C for 17-19 minutes or until until toothpick inserted in center is clean. Cool the cupcakes in tins for 10 minutes. Remove the cupcakes from the molds and let them cool. Spread the frosting evenly on the cupcakes and garnish with remaining sesame seeds.