See Morgan Beck, Bode Miller's 7-Month-Old Twin Sons Learning to Swim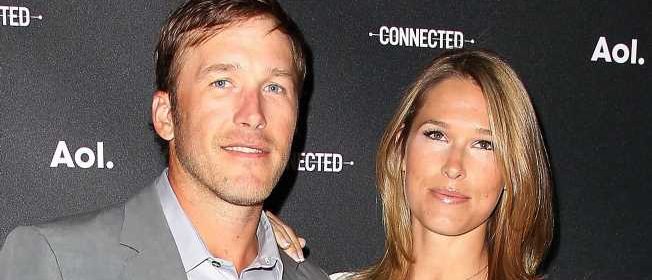 Morgan Beck shared videos of her and Bode Miller's 7-month-old twin sons, Aksel and Asher, having swimming lessons in a pool.
"Yeahhhhh boys!!" the former professional beach volleyball player, 33, captioned her Instagram Story. The California native asked the little ones from behind the camera: "Are you having fun? As long as you guys have each other, huh?"
The baby boys floated on their backs and kicked their feet while their two trainers monitored them closely.
The swimming lessons came two years after Beck and Miller, 42, announced that their 19-month-old daughter, Emeline, drowned.
"We are beyond devastated," the former professional skier wrote in a statement in June 2019. "Never in a million years did we think we would experience a pain like this. Her love, her light, her spirit will never be forgotten. Our little girl loved life and lived it to it's fullest everyday. Our family respectfully requests privacy during this painful time."
Four months after Emeline's death, the couple went on to welcome their son Easton. Aksel and Asher arrived in November 2019. (The pair also share Nash, 5, and Miller welcomed Neesyn, 12, and Samuel, 7, in previous relationships.)
Easton learned how to swim in April 2019 when he was 6 months old. "I saw 6-month-old babies and 1-year-olds and 16-month-olds, 19-month-olds, swimming — that could've been Emmy," Beck explained on the Today show at the time. "That should've been Emmy. And it was that easy to commit to one session of what we're doing now. It would've changed everything."
Her husband chimed in, "Being a parent is inherently scary. You're worried about your food or your screen time or whatever, but the number one thing that can take your child, where none of that stuff is relevant, is drowning."
For access to all our exclusive celebrity videos and interviews – Subscribe on YouTube!
Source: Read Full Article