Why Virus Tests at One Elite School Ran Afoul of Regulators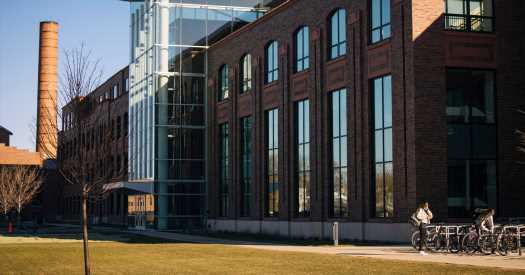 It was supposed to be a pandemic triumph, a way for a prestigious school to keep its doors open when many others could not. Instead, the coronavirus testing program at New Trier High School, outside Chicago, offers a cautionary lesson about what happens when educators are asked to take on public health responsibilities.
The Centers for Disease Control and Prevention has urged school administrators to implement regular testing of students in order to identify coronavirus outbreaks before they become more widespread. Late last year, New Trier, which serves families from some of Chicago's most affluent suburbs, rolled out a $1.3 million testing campaign, part of an ambitious plan to keep classrooms open for the school year regardless of rising infection rates in the community.
Administrators made testing mandatory for all 4,000 students on the school's two campuses. But the school chose a lab that had not been certified to run a testing program of its kind, led by a scientist who was not qualified under federal guidelines to run a diagnostic lab. The saliva test the lab used was neither vetted nor authorized by the Food and Drug Administration.
The test relies on a widely used technology, but a study describing its uses has not been published in a peer-reviewed journal nor validated by independent experts. According to federal guidelines, the assay should not be used to identify potentially infected students.
New Trier may have inadvertently violated federal regulations on testing. Now the Illinois Department of Public Health has opened an investigation into the lab.
"What concerns me is the lack of oversight on any quality," said Scott J. Becker, chief executive of the Association of Public Health Laboratories. "It sounds unkosher, and it just makes me uncomfortable."
In early March, after being contacted by The Times, the testing company, SafeGuard Screening, applied for F.D.A. certification and hired a scientist with credentials to run the operation.
The C.D.C. encourages K-12 schools to arrange for both diagnostic testing for students and staff members with symptoms of coronavirus infection, and weekly screenings for those without symptoms. (The only exceptions to the second recommendation are for those schools in areas with very low virus transmission rates; there are few communities in the United States that qualify.)
The few schools that have tried to implement testing programs have found it extraordinarily difficult, according to a recent analysis by the Rand Corp. To make testing possible, schools need access to rapid testing, additional personnel and substantial technical assistance, the authors found. Simply persuading staff and students to accept regular testing can be an enormous challenge.
Paul Sally, the superintendent at New Trier, believes his school has overcome the many obstacles that come with testing. "What we're most proud of is the fact that in our school, we don't have cases of transmission," he said.
But for several weeks this winter, infection rates in the towns around New Trier topped 200 cases per 100,000 per week, resulting in a test positivity rate of 13 percent. The school has recorded scores of cases. After a party on Feb. 6, for example, 48 New Trier students tested positive for the coronavirus and more than 200 were quarantined.
New Trier has remained open. By comparison, schools in New York City, the largest public school system in the country, are required to shut down after confirming just two cases.
The idea for the testing program formed last summer, when New Trier's administrators and a new reopening advisory board began planning ways to open the school and keep it that way.
School administrators started by looking for a company that could handle testing of the school's sizable population and deliver same-day results at a reasonable price. They settled on SafeGuard, a start-up that had launched in September, paying the company to conduct saliva testing on willing students and staff.
"At that moment, they were the only one available to do this type of screening in our environment," Dr. Sally said.
Edward Campbell, a microbiologist at Loyola University, started SafeGuard after learning of a virus test developed by researchers at the University of Wisconsin-Madison. SafeGuard serves about 30 school districts and runs roughly 30,000 tests per week, at $11 per test, Dr. Campbell said.
Latest Updates
New Trier signed on, too, but the introduction of the test did not go smoothly. Tempers flared at school board meetings, with some arguing for the school to open, citing the harm being done to students' mental health. Others questioned the push to stay open despite skyrocketing Covid-19 rates in Illinois.
Some parents made T-shirts, set up a website and held a rally in support of reopening; a group of students countered with an online rally. The testing program roiled the community, pitting the administration against teachers, students against the administration, parents against teachers and parents against parents.
"A lot of kids don't even want to come to school because apart from the Covid risk, it's also just not enjoyable to be at school," said Eva Roytburg, 18, a senior at New Trier.
Still, the school pushed ahead with testing. Dr. Campbell's lab analyzed saliva samples from New Trier students and delivered the results in a spreadsheet, flagging students who needed a confirmatory test by a certified lab.
Although SafeGuard technically did not deliver a diagnosis, the implication was clear — after rapid testing, some students were presumed to be infected, and they and their siblings were sent home.
The company and the school refer to this as surveillance. But while surveillance programs may gauge the prevalence of a disease or a pathogen at a population level — that 10 of every 1,000 students are infected, for example — they do not provide results for individuals.
The school and the company were instead "screening" students — flagging individual students who might be infected. And screening testing is subject to stringent regulation.
Class Disrupted
Updated March 29, 2021
The latest on how the pandemic is reshaping education.
Teaching new teachers is becoming a struggle, as disruptions from the pandemic scare off new recruits.
Frustration is growing in New Jersey's affluent suburbs, where taxes are high and many students are barely in classrooms.
In a boost to school reopening, the federal government says students can be three feet apart if masked.
College admissions essays provide high school seniors a canvas to reflect on a turbulent year.

Since the start of the pandemic, the Food and Drug Administration has granted emergency use authorizations for dozens of coronavirus tests. The C.D.C. details which kinds of testing are appropriate for different purposes. And the Centers for Medicare & Medicaid Services certifies labs for testing through its Clinical Laboratory Improvement Amendments program.

School administrators wishing to implement testing must navigate through a maze of requirements from these agencies, keeping an eye on the subtle differences between surveillance, screening and diagnosis — or trusting a lab to do so for them. Surveillance does not require certification from C.L.I.A., for instance, but screening testing does.

Because of rising confusion, the F.D.A. this month released detailed guidance for schools, workplaces and communities on the differences between screening and diagnostic testing programs.

SafeGuard should have obtained C.L.I.A. certification for its tests, or New Trier should have applied for a waiver to implement its program, according to testing experts.

"It's not hard for a school system to get a C.L.I.A. waiver," Mr. Becker, of the Association of Public Health Laboratories, said. Nearly 300,000 labs are certified to perform testing, and many schools and universities are already relying on those labs and on authorized tests, he noted.

Dr. Campbell said that his lab operates well within current regulations, pointing to a new federal guideline saying that regulators will not cite a lab that is not C.L.I.A.-certified so long as the lab "does not report actual test results" but refers individuals for further testing instead.

But on Dec. 28, officials at the Centers for Medicare & Medicaid Services sent Dr. Campbell a letter clarifying the requirements. "If at any time a patient specific result is to be reported by a facility, a C.L.I.A. certificate must be obtained," the agency warned.

Dr. Campbell said his company had not requested emergency use authorization from the F.D.A. because of the expense and because the process was "so backlogged now."

Stephanie Caccomo, a spokeswoman for the F.D.A., disputed the assertions. "There is no cost for submitting an E.U.A. request," she said, and companies can market their tests as soon as they validate them and notify the agency.

In interviews, Dr. Campbell and school officials said the Illinois Department of Health was aware of the program and had given its blessing. But Melaney Arnold, a spokeswoman for the department, said state regulators "did not approve the use of SafeGuard Screening to provide test results to individuals."

"SafeGuard has been warned to cease providing diagnostic results to schools," Ms. Arnold added. "The investigation and follow-up continue."

Despite the warnings, Dr. Campbell and New Trier administrators insist the testing program is legal and is keeping the school's doors open.

"The guidance is very confusing," said Dr. Campbell. "What's a person trying to operate in good faith supposed to do?"

Source: Read Full Article