Who Drank the Kool-Aid? How Children Get Hooked on Sugary Drinks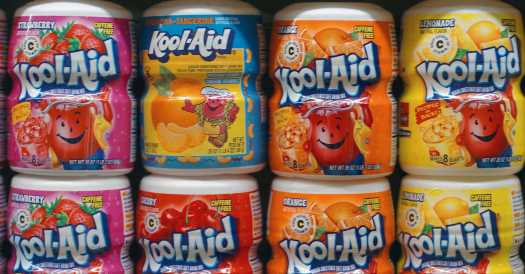 Slave to your sweet tooth? Researchers say the predilection for sweetened drinks — a major driver of the nation's obesity crisis — begins in childhood. That's one reason health experts recommend children under 2 never be given fruit juice. When it comes to children 2 to 18, the American Academy of Pediatrics recommends a daily limit of 25 grams of sugar, or six teaspoons.
Nice try.
Last year, nearly two-thirds of the $2.2 billion in beverages marketed to children contained added sweeteners, according to a report released last week by the Rudd Center for Food Policy & Obesity at the University of Connecticut.
At a time of mounting childhood obesity, food and beverage giants like Coca-Cola, Kraft Heinz and Harvest Hill spent nearly $21 million last year advertising sugary drinks to children. Although beverage companies have been developing healthier options like blends of juice and water, the report found that the packaging and marketing of these products often leaves parents confused.
Another problem, the center found, is that drinks made with 100 percent fruit juice and those devoid of wholesome ingredients are often sold side by side in supermarket aisles.
Some of the confusion is intentional. Labels on drinks that contain no fruit juice are frequently splashed with images of apples, oranges and grapes, and many tout prodigious amounts of vitamin C. Others shout "no added sugar" on the front but bury any mention of artificial sweeteners in fine print on the back.
"I think parents are terribly confused," said Jennifer L. Harris, the lead author of the report. "I've talked to parents with Ph.D.'s in public health who say they've been tricked into buying unhealthy drinks for their kids."
Sugary drinks are responsible for almost half the added sugar consumed by American children, but many pediatricians remain wary of artificial sweeteners because they help cultivate a child's sugar cravings, and they are most often added to products with little nutritional value.
"If your children gets used to sweetness, it's going to be almost impossible to get them to drink milk or plain water," Dr. Harris said.
The Rudd Center analyzed 23 of the best-selling children's drinks and ranked those with the highest sugar content and those most heavily advertised to children. The center also flagged products most likely to subtly misrepresent their front-of-label ingredients.
Here are a few that stood out.
Apple & Eve Cranberry Juice Cocktail: 28 grams of sugar
Just a single serving exceeds the recommended daily limit of sugar for children by three grams, but it gets worse: the 16-ounce bottles technically contain two servings, which means an especially thirsty child could gulp down 56 grams of sugar in one go.
Adding to the impression of wholesomeness are the profusion of bright red cranberries on the front label, the words "No High Fructose Corn Syrup!" and the tagline "100 percent Vitamin C."
[Like the Science Times page on Facebook. | Sign up for the Science Times newsletter.]
Kool-Aid Tropical Punch Drink: 38 grams of sugar
What it lacks in real fruit juice (it has none), this iconic childhood thirst-quencher makes up in sugar.
A lot.
A multi-serving bottle contains 38 grams of sugar per 12-ounce serving. This Kool-Aid flavor and others also dominate the list of products that use "child features" — marketing devices like cartoons, wacky names and words like "cool," "fun" and "extreme" to appeal to children. Kool-Aid Sour Jammers topped the list, with an average of five such features per package.
Hawaiian Punch: 30 grams of sugar
Those who experienced their first sugar high on this birthday party staple won't be surprised that Hawaiian Punch comes in third among the most sugar-laden children's drinks. On the plus side, Fruit Juicy Red contains 5 percent fruit juice and no caffeine and it's gluten free. Hawaiian Punch's popularity helped its owner, Keurig Dr Pepper, rack up $7.4 billion in sales last year, an 11 percent increase over the year before.
Minute Maid Lemonade: 21 grams of sugar
With its gargantuan lemons and claims of 100 percent fruit juice, a box of Minute Maid Lemonade can give consumers the impression that it is a healthy drink option. It contains 11 percent fruit juice, and the second ingredient, after water, is high-fructose corn syrup, followed by sugar. Because supermarket refrigerators often display the lemonade side by side with 100 percent juice products, some consumers consider it as salubrious as orange juice. Also confusing: an official serving of Minute Maid Lemonade is just 6 ounces, less than a cup.
Capri Sun Roarin' Waters: 8 grams of sugar
Flavored waters are one of the fastest growing categories in the drinks industry, fueled in part by the perception that they are healthy. But many of these products are sweetened with hard-to-pronounce additives like acesulfame potassium.
You wouldn't glean that from the packaging of Capri Sun Roarin' Waters, which touts "50 percent less sugar" and "all natural ingredients" but makes no mention of the Stevia that makes the drink so sweet. These products also have another distinction: they are far more likely to be advertised to black children than to white children. The Rudd Center found that the average black child 6 to 11 was likely to view Capri Sun television ads 21 times over the course of 2018, compared to 11 times for white children.
Andrew Jacobs is a reporter with the Health and Science Desk, based in New York. He previously reported from Beijing and Brazil and had stints as a Metro reporter, Styles writer and National correspondent, covering the American South. @AndrewJacobsNYT
Source: Read Full Article