'When the specialist came to talk to us, our world fell apart' – Little boy born with heart condition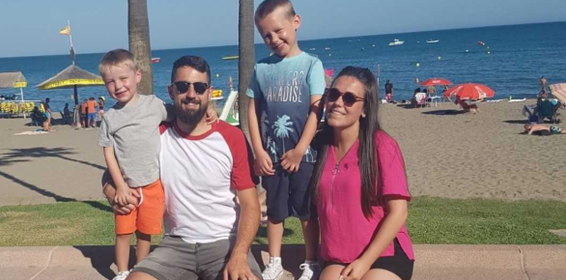 The mother of a little boy who was born with a heart condition has recalled the moment her world fell apart when doctors revealed the diagnosis.
Freddie Kenny was born with hypoplastic right heart syndrome, a serious heart condition, and he had his first open heart surgery when he was just 10 days old.
His mother Niamh said the family was ready to bring little Freddy home after he was born, when Niamh and Freddie's father Padraig were told he had to see a specialist.
"When the specialist came to talk to us, our world fell apart," Niamh said.
"We didn't know before Freddie was born that he had a heart condition. Two days after his birth in Kilkenny we had our bags packed and we were ready to go home from the hospital."
"The nurse was checking his oxygen levels before we went and put the little rubber band around his foot. She couldn't get a reading on Freddie but we didn't panic at all at that stage. The nurse took him to another machine and said she'd get a specialist to look at him."
"[The specialist] said there was something wrong with Freddie's heart and they couldn't help him in Kilkenny. He needed to go straight to Crumlin."
Dr Orla Franklin sat with Freddie's parents and explained what his condition was.
"One thing that stuck out clearly was when she told us that we had a long road ahead, but that Crumlin Heart Centre was the best place to be. My baby was in safe hands they would do whatever it takes to help him."
After his first open heart surgery, Freddie came home for the first time. When he was six months old, he had his second surgery.
"He hit all his milestones and we got through the second surgery. After that, we had a two-year gap before his third surgery. The hospital put us in contact with the hospital psychologist who taught me how to speak to Freddie and tell him why I had to leave him in the hospital. The psychologist was a Godsend."
"She helped me explain to my eldest son, Harry, why I wasn't there. He was at home in Carlow and started his first year in big school. It was hard on him to be away from his mother, especially because he was still so young himself. It was so hard on all of us."
After Freddie's third surgery, Niamh recalled that he had a seizure while she was feeding him.
"I didn't know what to do or how to help him, it was awful to watch, but the staff were with him immediately and he was OK. One week later the physio was pushing Freddie to walk and get moving. She was brilliant. She was determined to get him out before Christmas."
Harry and Freddie both got to meet Robbie Keane and Johnny Sexton, Niamh said, and they both got to meet Santa.
"They were just over the moon when they saw their heroes – I honestly think Freddie forgot that he was sick when he got to shake hands with Robbie and Johnny. Then, after an emotional rollercoaster journey, I felt like everything finally fell into place because on Christmas Eve our family left the hospital and we went home together. It was one of the best days ever!"
Freddie, who Niamh described as "the happiest little man", started school in September. Last year, he brought Christmas presents for the children on the ward in Crumlin. 
"He wanted them to feel as special as he did when he was in hospital over Christmas. He's so thoughtful and considerate, for such a young child."
Niamh has ran two mini marathons for Crumlin since Freddie was born and raised over €4,000.
"Our family and friends got us through this tough journey and we couldn't be more grateful to them and to the hospital for being there for us and our precious boy. We can never repay the people in the hospital for being there when we needed them most, but we can try give back as much as we can. We're so grateful."
Source: Read Full Article