Toddler with a rare condition means he 'could die from falling asleep'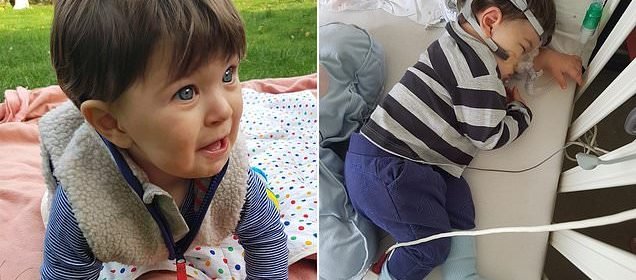 Heartbreaking picture of a toddler who 'could die from falling asleep' helps parents smash their fundraising appeal to get him a life-saving mask
Charlie Wagstaff has the genetic disorder Congenital Central Hypoventilation 
Affects how his central nervous system controls his breathing when he sleeps
Charlie has to wear a mask attached to a ventilator every time he nods off
Mask is stunting the development of his face, leaving him with deformities
Parents exceeded £1,000 target for bespoke mask that will let his face develop 
View
comments
A heartbreaking photo of a one-year-old with a rare condition that means he could die every time he falls asleep has helped his parents smash their fundraising target for a bespoke mask to help him breathe during the night.
Charlie Wagstaff, from Hampshire, suffers from the genetic syndrome Congenital Central Hypoventilation, which affects just 1,000 people worldwide and 70 in the UK.
The condition impacts how the central nervous system controls breathing, forcing the one-year-old to wear a mask attached to a ventilator every time he nods off.
But his current mask is stunting the development of his face, leaving him with facial deformities.
Charlie's parents have already exceeded their £1,000 target for a trip to Denmark where doctors will develop a bespoke breathing mash that will let his face develop normally. 
This heartbreaking photo of one-year-old Charlie Wagstaff helped his parents exceed their £1,000 target for the youngster to have treatment in Denmark. Charlie suffers from Congenital Central Hypoventilation, which affects how his breathing is controlled when he is asleep 
Charlie was only allowed home from hospital four months after he was born, with carers having to watch him every night to monitor his oxygen and carbon dioxide levels
CCH means Charlie's central nervous system fails to properly regulate his breathing when he falls asleep.
This means he does not respond to increased carbon dioxide levels that would stimulate someone a healthy person to draw in a breath. 
Ever since he was finally sent home from hospital at four months old, Charlie has had to have his oxygen and carbon dioxide levels closely monitored by carers every night.
Landlords Angie Ryan and Steve Pratt, both 55, from Denmead, Hampshire, set up a fundraising page for Charlie's parents, who used to be regulars at their pub Fox and Hounds.
Girl, nine, has to wear her furry panda onesie to school…

Company executive, 42, who had a testicle removed because of…

Thousands are missing out on vital heart scans that can…

Unhealthy lifestyles boost the risk of a heart attack for…
Share this article
On a Justgiving page for Charlie, Ms Ryan wrote: 'We were heartbroken to hear of Charlie's condition and can only imagine the struggles his mum and dad have been through.
'It is so rare that only 1,000 people in the world have been diagnosed with this lifelong and life-threatening condition, which has completely turned his mum and dad's life around. 
'Charlie's mask is starting to cause him facial deformities, so any money raised will go towards a bespoke mask which will hopefully allow his face to develop properly.
'They will need to travel to Denmark for the bespoke fitting.'
Charlie has to wear a mask attached to a ventilator while he sleeps, however, this is stunting the development of his face and causing him to suffer from facial deformities
WHAT IS CONGENITAL CENTRAL HYPOVENTILATION SYNDROME?
Congenital Central Hypoventilation Syndrome (CCHS) affects how a patient's central nervous system manages their breathing.
Breathing should happen automatically, without a person having to think about when to do it.
In CCHS, however, the normal safeguards used by the nervous system to control breathing are impaired.
When a person's carbon dioxide levels rise this should stimulate them to breathe.
In CCHS, this stimulus does not occur and breathing can stop.
Most CCHS patients only experience symptoms while asleep but severe sufferers can also stop breathing when awake.
Untreated, CCHS can cause disability and even death.
CCHS is rare and affects just 1,000 people worldwide and 70 in the UK.
It is caused by a genetic mutation to the nerves that are responsible for sending messages between the brain and the body.
Symptoms generally appear soon after birth and can include:
Pauses in breathing
Breath-holding spells
Failure to breathe at all 
Skin turning blue
Twenty per cent of patients also develop Hirschsprung's Disease, which affects the bowel and is related to underdevelopment of the nerves in the gut. It can lead to severe constipation and bowel obstruction. 
There is no cure. Treatment involves ventilation support to assist breathing.
Source: Great Ormond Street Hospital 
Mr Pratt went on to explain the first time he saw Charlie when his parents brought the youngster to the pub. 
'He had all these tubes and equipment and they explained he had spent months in hospital' he said.
'I was really upset hearing about what he goes through and wanted to do something.
'I asked if there was anything he needed and his parents said he needs a new mask for breathing at night.'
Mr Pratt performs tribute acts and will host a Neil Diamond night at the pub on December 1 to continue to raise funds. 
'The community always get involved when we do our events,' he said.
'People are so generous with donating raffle prizes and we have sold nearly every ticket. I think people like seeing the money going to worthy families.'
Charlie's parents have raised the money needed for the youngster to have a bespoke breathing mask made in Denmark, which will allow his face to develop normally
Although he looks healthy, Charlie had 'tubes and equipment' coming out of him as a newborn
Source: Read Full Article