Scientists warn gene tests can become a 'self-fulfilling prophecy'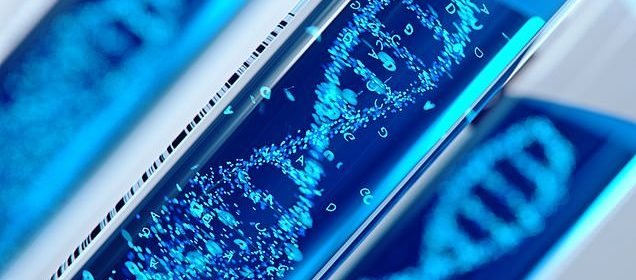 Scientists warn 'genetic testing' results can become a 'self-fulfilling prophecy' as study shows people who were falsely told they have bad fitness genes become WORSE runners
Scientists at Stanford University conducted the study on more than 200 people
The experts took DNA samples to test for genes linked to exercise and fullness 
Then they gave some people the wrong information about their genetic risk 
Those told to run on a treadmill gave up 22 seconds earlier than they had done previously if told their genes made exercise harder 
They are so popular that gene-testing kits are now sold as Christmas presents, but users should be careful.
A DNA test can make people develop physical problems if they believe they are in their genes.
People told they have bad genes for keeping fit become worse at running, a study has found, with their lung capacity reduced. 
But people told they are less prone to obesity feel fuller after eating actually produce more of a hormone which tells them they have eaten enough.
Scientists at Stanford University, who conducted the study, conclude that gene tests can become a 'self-fulfilling' prophecy. 
A DNA test can make people develop physical problems if they believe they are in their genes
Previous research shows people told they are at genetic risk of Alzheimer's disease start performing worse in memory tests.
But more than five million people have sent off saliva samples to private firms which offer to tell them which illnesses are in their genes.
The Stanford study took DNA samples from more than 200 people to test for genes linked to exercise and fullness. Then they gave some people the wrong information about their genetic risk.

Is laziness in YOUR DNA? How much time you spend sitting,…


Consistent bedtime could prevent weight gain: Kids who go to…


Five ways pregnant women can reduce the risk of stillbirth,…


Man, 51, is nailed to the ground after being impaled by a…
Share this article
In a group of 116 people, those told to run on a treadmill gave up 22 seconds earlier than they had done previously if told their genes made exercise harder. Their lung capacity was reduced by two litres per minute.
Dr Alia Crum, assistant professor of psychology at Stanford, who led the study, said: 'Receiving genetic information doesn't just make you more informed. 
SHOULD YOU GIFT YOUR FAMILY A GENE TEST THIS CHRISTMAS? 
Giving a relative an at-home genetic testing kit this holiday season may be more of a curse than a gift, experts warned last Christmas.
Genetic testing companies such as 23andMe offered holiday discounts and marketed their kits as ways to bring families closer by learning more about their shared genes.
More than two million people bought tests from 23andMe alone, which tell them information about their genes ranging from innocuous traits like cleft chins to whether they may pass a predisposition for Alzheimer's to their children.
Curiosity about family ancestry and genetics is natural, but ethicists pointed out that at-home tests reveal information that's not to be taken lightly, and don't come with a genetic counselor to interpret the results. 
The desire to gift the tests is 'a certain amount of just curiosity: 'why do I have red hair when mom and dad don't,' and little sort of family secrets might be found out in a fun way,' said Dr Arthur Caplan, a bioethicist at New York University.
'What this study shows is that it can also have a physiological impact on your body in a way that actually changes your overall risk profile.' 
The study, published in the journal Nature Human Behaviour, says giving someone the results of a genetic test can change their 'mindset' and make them feel they are no longer in control of their health.
The researchers used gene testing for an obesity and exercise gene because they are not as 'emotionally charged' as genes linked to cancer and Alzheimer's disease.
They found some people wrongly told they had certain genes could show physical symptoms even more dramatic than those actually caused by those genes.
In one experiment, 107 people were asked to sit down for the same meal, once before getting their genetic test result and then after receiving it a week later.
Those told a 'protective' gene made it harder for them to get fat produced two and a half times the amount of fullness hormones during the second meal. They felt 40 per cent more full, despite nothing having changed.
Co-author Bradley Turnwald said: 'What was consistent in both studies was that those informed that they had the high-risk gene always had a worse outcome than those informed that they had the protective gene, even though we essentially drew out of a hat which information people received.' 
Advocates of gene tests say they can help people live more healthily. It can be a wake-up call getting information about the 10,000 conditions which can now be tested for using DNA.
But Dr Crum said: 'The take-home message here is that the mindset that you put people in when you deliver genetic risk information is not irrelevant. 
'The mindset of being genetically at risk or protected can alter how we feel, what we do and, as this study shows, how our bodies respond.' 
Source: Read Full Article