Scientists show that a novel therapy could be effective against pediatric leukemia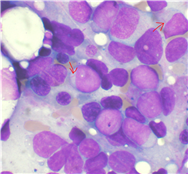 Mount Sinai researchers have developed a therapy that shows promise against a deadly pediatric leukemia. The small-molecule therapy was highly effective in fighting a type of acute myeloid leukemia in both in vitro and in vivo experiments, according to research published in Science Translational Medicine in September.
The therapy, named MS67, causes the degradation of the WDR5 protein, which drives the proliferation of acute myeloid leukemia with a specific genetic makeup called mixed lineage leukemia rearrangement. This type of leukemia is more common in children, has very poor response to standard treatments and a dismal prognosis, and until now has confounded researchers.
WDR5 also plays an important role in driving the proliferation of other cancers such as pancreatic cancer, so researchers believe that it is likely that WDR5 small-molecule degraders such as MS67 could also be effective in treating those cancers.
"This study is the first to demonstrate that pharmacological degradation of WDR5, which selectively eliminates the proten, is an effective and superior therapeutic strategy than pharmacological inhibition, or blocking, of WDR5 for the treatment of WDR5-dependent cancers including acute myeloid leukemia with mixed lineage leukemia rearrangement," said Jian Jin, Ph.D., the Mount Sinai Professor in Therapeutics Discovery and Director of the Mount Sinai Center for Therapeutics Discovery at the Icahn School of Medicine at Mount Sinai. "In addition, MS67 is the first WDR5 small-molecule degrader that exhibits robust anti-tumor activities in vivo."
Source: Read Full Article