Roles of Selectins in the Immune System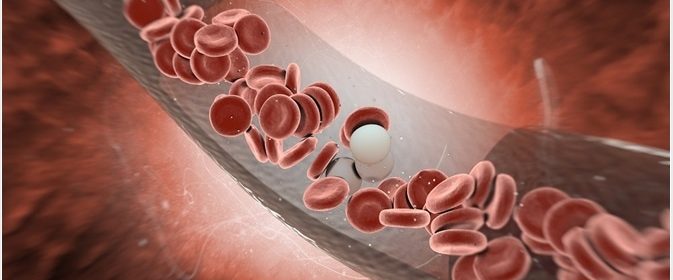 Selectins are a family of carbohydrate-binding transmembrane molecules found on the surface of endothelial cells, leukocytes and platelets.
Credit: vitstudio/Shutterstock.com
Selectins are required for the trafficking of innate immune system cells, T lymphocytes and platelets. The absence of selectins or their ligands has severe health consequences, with recurrent bacterial infections and persistent disease occurring.
During inflammation, selectins enable the initial attachment of leukocytes from the bloodstream, which causes their downstream movement along the endothelium via adhesive interactions referred to as leukocyte rolling.
Three type-I-cell surface glycoproteins make up the selectin family, namely L-selectin, P-selectin and E-selectin. L-selectin is the smallest of the selectins and is expressed on all granulocytes and monocytes and the majority of lymphocytes. P-selectin is the largest selectin and is found on the surface of activated endothelial cells and platelets. The expression of E-selectin does not occur under baseline conditions, aside from in skin microvessels, but its expression on activated endothelium is induced by inflammatory cytokines.
L-selectin
L-selectin is a 74 to 100 kDa glycoprotein involved in lymphocyte homing and adhesion to endothelial cells in peripheral lymph nodes. It contributes to leukocyte capture during the early stages of the adhesion cascade, following which it is shed from the surface of the leukocyte.
Studies of murine models have shown that L-selectin is crucial to mediating leukocyte rolling following surgical trauma and is also required for the recruitment of neutrophils, following inflammation.
Studies of mice have consistently demonstrated that leukocyte rolling is mediated by cooperation between L- and P-selectin, with L-selectin alone unable to perform this task at normal velocities. Both L- and P-selectin need to be present to mediate leukocyte capture before rolling can begin.
P-selectin
P-selectin is a 140 kDa molecule expressed in the granules of activated platelets and endothelial cells. The stimulation of endothelial cells by inflammatory mediators such as thrombin or histamine quickly leads to the cell surface expression of P-selectin.
Cytokines such as interleukin 1 or tumor necrosis factor (TNF) also trigger additional P-selectin synthesis. The main ligand for this selectin is P-selectin glycoprotein ligand-1 (PSGL-1), which is expressed on all leukocytes. Interaction of P-selectin with PSGL-1 enables leukocyte rolling along the venular endothelium.
E-selectin
E-selectin, is a 107-115 kDa glycoprotein expressed on inflamed vascular endothelial cells in response to the inflammatory cytokines TNF-α and IL-1β. As well as the role E-selectin plays in mediating leukocyte rolling, it contributes to firm adhesion. Studies of murine models have shown that mice deficient in E-selectin have a decreased amount of firmly adherent leukocytes in response to stimulation by chemoattractants or cytokines.
Based on the finding that E-selectin is also involved in firm adhesion, researchers went on to study mice deficient in E-selectin and the inegrin beta chain protein CD18. These mice exhibited an inflammatory defect that was so severe, it led to early death. This suggests that E-selectin functions downstream of P-selectin, contributing more to the adhesion phase of the cascade.
Sources:
http://ley-lab.liai.org/publications/240.pdf
www.rndsystems.com/products/human-e-selectin-cd62e-antibody_bba18
http://bme.virginia.edu/ley/selectins.html
Further Reading
All Cell Migration Content
Microtubule Motor Proteins
Structure and Function of Proteoglycans
Confocal Reflection Microscopy for Cell Migration Studies
Last Updated: Feb 26, 2019
Written by
Sally Robertson
Sally has a Bachelor's Degree in Biomedical Sciences (B.Sc.). She is a specialist in reviewing and summarising the latest findings across all areas of medicine covered in major, high-impact, world-leading international medical journals, international press conferences and bulletins from governmental agencies and regulatory bodies. At News-Medical, Sally generates daily news features, life science articles and interview coverage.
Source: Read Full Article