Providing housing for the most vulnerable people in society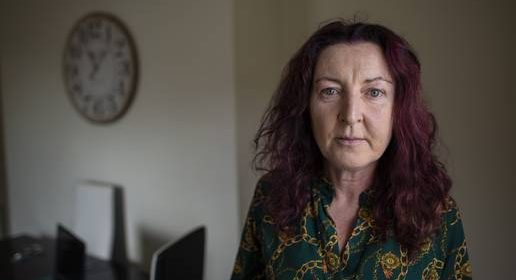 'Seventy per cent of the people we work with have enduring mental health difficulties," says Martina Smith, CEO of the Housing Association for Integrated Living (HAIL). "They are at the serious end of the spectrum, including schizophrenia, paranoid schizophrenia and bi-polar disorder. Many wouldn't have a huge amount of family support, and in some cases there will be a history of addiction issues, which adds more complexity."
Their clients are referred to them by the HSE and local authorities, people who are high risk of becoming homeless without the kind of support HAIL offer, something that, in a vicious cycle, will hugely contribute to the stress they are under, and the further breakdown of their mental health. It is, says Martina, "a basic human right to have the key to your own home, and that in turn will assist in recovery."
These clients can come from homeless services, hospitals or be in existing tenancies with the HSE where they have been identified as being at risk. In other cases, families of someone with a serious mental illness may contact HAIL directly – for example, aging parents caring for an adult son or daughter, who are worried about what will happen to that person in the event of their death. HAIL give advice where necessary about how to be referred, which usually will involve getting onto a local authority housing list, and linking in with the HSE for medical services.
"We have to be strict about the parameters of who exactly we work with, because demand is so great," says Martina. Essentially, that means "we work with some of the most vulnerable people in society."
HAIL underpin recovery by providing homes for life, security of tenure, along with the necessary emotional and practical support. "Even if they go back into hospital, we work with the HSE to protect the tenancy so they have a place to go, a home to go to, when they get out."
They do this by buying, and increasingly building, predominantly one-bedroom apartments. "Our client group mostly need one-bedroom units as they are single people, and shared accommodation isn't ideal for them," Martina says. HAIL also provide some 'general need' housing along with the supported housing, and ensure a careful mix of tenants in their properties. "In 2018 we supported 242 tenants in our own properties, of which 10pc were medium-high support and the rest are low support."
The initial moving-in phase is one of "high level support," with visits from HAIL several times a week. The work with their clients on many levels, including setting up steady bill and rent payment systems, by standing order, that will survive the disruption that can occur to clients lives and mental health. Over around nine months, the support reduces gradually, until people are coping alone, with, perhaps, monthly visits. They are by then connected to a network of other support systems, including community projects in their area, and peer volunteer mentorship from others who have been through similar experiences, and have been trained to provide support.
"Independent living is the plan," says Martina, "along with community integration. Our aim is to get in, provide the necessary support, and get out. We don't want to be providing the services forever. But, if they ever need us, we are there."
And that, combined with the security of knowing that they have somewhere to live that will not be lost to them, even if their mental health needs escalate to the point where they require hospitalisation, is the key to HAIL's considerable success.
"When people are referred to us, we do a full assessment of needs," explains Sandra Fox, HAIL Head of Services. "Meaning the physical and the psychological needs, and we tailor an individual plan. We look at every aspect of their lives. For example, some will wish to return to employment, others will feel they are not socially contributing and will want to address that because it can have a negative effect on self-esteem. We look at all that. If they don't have family support around them, we concentrate on social links."
Recently, Sandra has seen changes to the typical age profile, which has been early-40s to mid-60s. "We're beginning to see an increasing number of younger people," she says. "We work with those over 18, but we are aware now of younger people in need." In fact, such is the success of the HAIL model that there is "a never-ending demand," she says.
Case Study: Bernie Feirtéar
Bernie Feirtéar, a native Irish speaker, came to Dublin from Co Kerry to study teacher training, and, after what she describes as 'a breakdown' at the age of 25, was diagnosed with bi-polar disorder.
Now 51, she has been hospitalised seven times, usually for six weeks or so, although her last in-patient stay was four months.
Each time, she says, stress has been the trigger factor.
"I was working as a substitute teacher, and that was erratic and stressful. Maybe if I had done less of it, I wouldn't have had the breakdown?"
Stress would lead her to a manic phase, which would then be followed by debilitating lows. Both aspects made it very difficult to sustain any kind of regular working life.
She gave up teaching and worked as a care assistant for a year, as part of a CE scheme, and later did a diploma in Irish-English translation in a bid to find employment that suited her better.
However, the bi-polar episodes continued, and after each spell in hospital, Bernie would find herself starting over in terms of her living accommodation.
"If you get another hospital admission, that could be anything from six weeks to five years.
"So you will lose your home while you are in the hospital."
Sometimes, she would return to the family home in Kerry, but that was only ever temporary.
"It was difficult, problematic and stressful," she says, of the entire process
She first came across HAIL when she was referred to them in 2017.
At that time, Bernie, who had been on the housing list for "years", was living in a HSE-run hostel in Dublin with an on-site rehab team.
By the time she was referred to HAIL, Bernie no longer needed the on-site care.
She was managing independently, although still in need of support.
After an interview with Bernie, HAIL moved her into a bright one-bedroom apartment in a complex of seven one-bedroom units, all owned by HAIL, and all carefully assessed in terms of support requirements.
What did Bernie think of the apartment when she first saw it?
"I thought it was lovely. I was very pleased with it," she says.
Together with her care worker, Bernie set up payment paths for her utility bills and rent (the way it works is that her rent allowance goes straight to HAIL, while the proportion Bernie pays herself comes out of her bank account on a standing order), meaning that should another hospital stay be required, the bills will continue to be paid, and Bernie will have a home to return to.
"If I have difficulties, if I'm feeling down, I know the support is there. I know I can ring and ask for help."
There are also peer mentors, those who have been through the system and have been trained to give back, who organise weekly activities including walks, cinema and theatre visits.
Bernie's last hospital stay was 10 years ago. These days, she manages her medication well, lives a full, independent life and says, "I'm happy here. I'm well here."
What is HAIL
■ The Housing Association for Integrated Living (HAIL) was founded in 1985 as a non-profit voluntary organisation. It has developed into a successful voluntary housing association providing exceptional quality social and affordable rented accommodation for people from local authority housing waiting lists, primarily those with mental health difficulties.
■ Funding comes from a mix of capital grants and loans from the Department of Housing, Planning and local Government through the relevant local authority and private finance from Bank of Ireland, The Housing Finance Agency.
■ For more information visit hail.ie
Source: Read Full Article