Patients risk going BLIND while thousands wait for appointments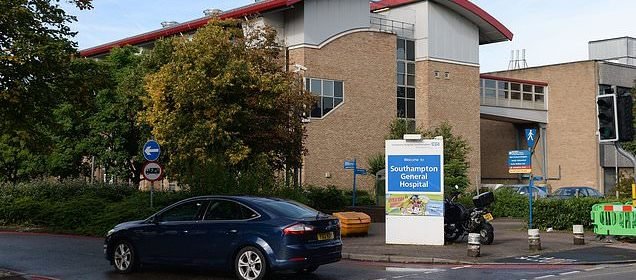 Patients are at risk of going BLIND as thousands wait for eye appointments at struggling NHS trust plagued by staff shortages
At least 7,000 missed out on follow-up appointments amid staff shortages
Of these, 38 patients saw their condition worsen while they waited for care
Trust blames ageing population for demand outstripping its ability to give care 
7
View
comments
Patients have been left at risk of going blind as thousands wait for eye appointments at one struggling NHS trust.
Junior doctors have blown the whistle at the University Hospital Southampton NHS Foundation Trust.  
They warned at least 7,000 patients with serious eye conditions have missed out on follow-up appointments due to staff shortages.
Of these, 38 saw their condition worsen while they were forced to wait for specialist care, an investigation found.
Whistleblower junior doctors at University Hospital Southampton NHS Foundation Trust, which includes Southampton General Hospital (pictured), warned at least 7,000 patients with serious eye conditions missed out on follow-up appointments due to staff shortages
The trust has blamed the ageing population for a rise in demand outstripping its ability to treat those in need. 
Of the 7,000 patients, 4,500 had glaucoma and 2,500 were suffering from diabetes-related eye problems. Both are major causes of blindness.   
A spokesperson from the trust claimed doctors are seeing a five per cent increase in the number of patients coming to them every year.
It is unclear how severe the condition is of the aforementioned 38 patients, who are being reviewed by the trust.
The trust claims it has addressed the backlog of patients and has made 'significant progress' among those with diabetes.
'My wife, my soulmate, my love, my everything': Husband's…

'Don't be taken in by anti-vaccine myths on social media':…

The man who cries BLOOD: Gruesome picture of bloody tears…

Nearly half of women above age 50 have urinary incontinence…
Share this article
But around 3,000 still need to be reviewed, who will be booked in for an appointment according to the urgency of their needs.
This came to light after trainee doctors wrote a letter of concern to trust chiefs earlier this year.
They called for a 'national awareness message' into the pressures facing eye clinics.
Both the trust and the Royal College of Ophthalmologists have blamed the backlog of patients waiting for appointments on 'significant and sustained' pressure on eye services across the country.
They added these issues are common in all NHS Trusts.
Michael Burdon, president of the Royal College of Ophthalmologists, agreed these problems are widespread, adding UHS is 'ahead of the curve' in getting them sorted. 
'I don't think most trusts have got a really good handle of the extent of this problem,' he told the Health Service Journal.
'There's a mismatch between capacity and demand across ophthalmology in the NHS.
'More patients are being put on waiting lists that don't tend to end up being managed appropriately and we get a situation where there are hundreds if not thousands of patients on the lists.'
Mr Burdon added eye services are not prioritised by health chiefs due to these conditions usually just affecting the elderly.
JUST HOW STRETCHED IS THE NHS?
Waiting times at over-stretched A&E units are at their worst level since records began, according to official figures in April 2018.
Experts said the NHS was in the grip of an 'eternal winter' and many hospitals are still struggling to cope with the unprecedented pressure. 
Health and Social Care Secretary Jeremy Hunt was forced to admit it was the 'worst winter ever' amid a severe outbreak of flu and cold weather.
Chiefs cancelled thousands of operations in a controversial move to ease pressure. And experts have suggested this may be the only option to stop a crisis next year. 
The latest monthly data from NHS England also shows that waiting times for routine operations, such as knee and hip replacements, are at their highest since 2004.  
And violent assaults on staff have risen by 10 per cent in a year – partly driven by frustration with waiting times. 
These services are also not seen as being as important as other specialities, such as emergency care, he said.
In an effort to prevent this patient backlog happening again, UHS plans to develop news ways of referring those in need.
It will also expand its team over the next few months, outsource to other providers and appoint a manager to oversea high-risk patients.
For those with diabetes, the trust will develop 'virtual clinics', offer appointments on Saturdays, use locum consultants, and suspend some general clinic and routine surgeries.
But last month Southampton City Clinical Commissioning Group said it was still concerned about the situation.  
Unpublished data suggests 230 new specialist consultants are needed to cope with the rising demand.
NHS England has therefore launched an elective care transformation programme that is reviewing ophthalmology, as well as other services. 
This comes after a report warned this coming winter is likely to be even more difficult than the last for the NHS.
NHS Providers said last year trusts made 'extraordinary efforts' to maintain care for patients in spite of unprecedented demand.
The body, which represents health service acute, ambulance, community and mental health services, warned the challenges this winter are likely to be even more severe.
RECORD NUMBER OF NHS OPERATIONS CANCELLED AT THE LAST MINUTE DUE TO THE 'WORST WINTER EVER' 
The number of patients who had NHS operations cancelled at the last minute hit the highest since records began in 1994, figures revealed in May.
Official figures showed 24,475 procedures were aborted in the eleventh hour between January and March this year in England – 1.3 per cent of all admissions.
The figures have been branded 'unacceptable' by the Royal College of Surgeons, as it warned the scrapped surgeries left thousands in agony.
But the data doesn't include the tens of thousands of operations that health chiefs controversially declared would be postponed in advance back in January.
Unprecedented pressures in overcrowded A&E units – described as being like war zones – also had a knock-on effect on spiraling waiting times.
Nearly 3,000 patients endured waits for NHS treatment of more than a year – the highest total in six years, according to NHS England data.
However, health chiefs argue the NHS is finally in 'recovery mode', after being crippled by an 'eternal winter'.
Medics hoped the 'worst winter ever' – as it was dubbed by former Health and Social Care Secretary Jeremy Hunt – would have been over by March.
Hospitals normally quieten down in spring, allowing staff to 'catch up'. 
But there was no such let-up this year, partly due to heavy snow and a severe flu outbreak. 
Source: Read Full Article