One-third of doctors in hospitals hit by burnout, study shows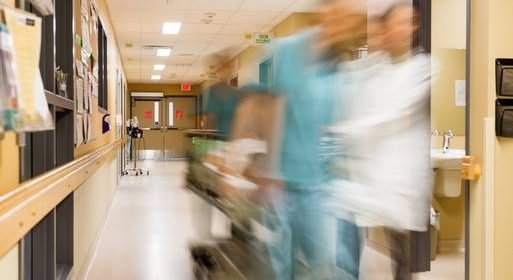 One-in-three hospital doctors working in the Irish health service is suffering from burnout, a new national survey has revealed.
The study of workplace wellbeing among a range of medical grades, including consultants and trainees, found many are suffering from low levels of work-life balance and high amounts of stress linked to their job.
The research, published in the journal 'BMJ Open', was led by Professor Blánaid Hayes, Immediate Past Dean of the Faculty of Occupational Medicine, at the Royal College of Physicians of Ireland.
One in two doctors reported being emotionally exhausted and overwhelmed by work.
"These results give great cause for concern. Fifty per cent of doctors reported being emotionally exhausted and overwhelmed by work, which is higher than in hospital doctors from the UK, the USA and Australia. There is a need to critically review the working conditions of hospital doctors in Ireland," she said.
The study, 'Doctors don't Do-little: A national cross-sectional study of workplace wellbeing of hospital doctors in Ireland', surveyed 1,749 medics.
It found that hospital doctors across all grades in Ireland have low levels of work-life balance and high levels of work stress.
"Surprisingly, in a milieu where evidence is the key driver of patient treatment, the evidence on the relationship between workplace psychosocial environment and employee health is paid little attention by those who fund and manage healthcare organisations. It is buried under the constant refrain of 'putting the patient first' with little regard for those who are instrumental in providing care.
"Burnout was more prominent among young male doctors who had not yet clocked up many years of practice but had 'lower work ability and greater over-commitment'."
One-third had insufficient work ability which measures the degree to which individuals are able to cope physically and mentally with the demands of their job.
Seven in 10 doctors reported a "strong or very strong" desire to practise medicine.
But when asked if their work situation left them enough time for their family and personal life, only one-in-five doctors felt this was the case. Occupational stress was reported by four out of five doctors.
For many trainees who were advanced in their career the rewards did not match their efforts. Trainees reported working significantly more hours than their consultant colleagues which "might explain the higher prevalence of both occupational stress and burnout in trainees".
"Presenteeism", where people work longer hours than they should, was prevalent in more than three-quarters of doctors and was significantly associated with burnout.
The research said the high levels of presenteeism are perhaps not surprising in an occupational group who, uniquely in Ireland, are imbued with responsibility to secure "cover" for absence, even in the context of acute illness.
The study said the findings are "perhaps not unsurprising" considering the timing of the study, which followed years of cutbacks in the service. The stress and burnout are likely to have contributed to "the wave of emigration" among highly trained young doctors.
"For those who remained at home the findings are a reminder that the profession is in "distress". The results are also a factor in the "intolerable vacancy rates at consultant level".
The research said while improving the quality of patient care and reducing the frequency of adverse events are justifiably garnering the attention of researchers, there is growing evidence linking it to burnout.
Source: Read Full Article