Okanagan health officials optimistic this season's flu vaccine will be more effective than last year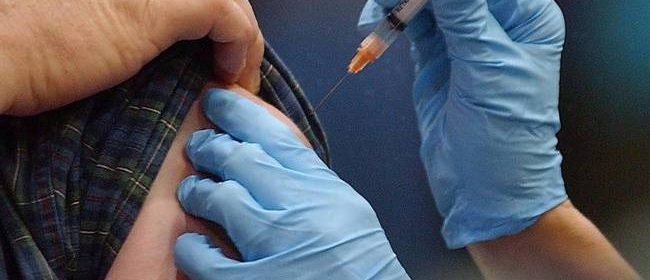 It's that time of year, according to Interior Health, to roll up your sleeve and get a flu shot to protect yourself and your loved ones from influenza,.
Health experts say the best line of defence against the flu is immunization, as influenza is a serious and contagious respiratory infection.
"It hospitalizes and kills a lot of people, so vaccination or immunization is one of the best methods to protect ourselves against getting influenza," said IHA medical health officer Dr. Karin Goodison.
Related

New agreement expands Sask. pharmacist's ability to give flu shots
100-year anniversary of flu pandemic
Edmonton Gallery's Spanish Flu Exhibit
It can be especially dangerous in seniors. That is why the Penticton Seniors Centre is hosting an immunization clinic on Nov. 8, from 10 a.m. to 4 p.m.
"I think it is good for all seniors 60 and over to get their shots for flu," said Seniors Centre society president Don Wilson.
"I think because our defenses are less as you get older, things wear out and the flu shot just gives you an extra boost."
You can also get the flu shot at your local pharmacy. Don Cocar is a pharmacist and owner of Knights Pharmacy on Main Street in Penticton. He said he's administered 300 flu shots in the past two weeks containing the H1N1 strain, the H3N2 strain and a B strain.
"Now is the time to be doing it," he said.
The B.C. Centre for Disease Control (BCCDC) told Global Okanagan that the preliminary vaccine effectiveness for 2017-18 was, overall, 38 per cent.
"We cannot predict the effectiveness of this season's vaccine," the statement said.
Goodison is optimistic this season's vaccine will provide better protection than last year.
"The last two years we've H3N2 seasons and our H3N2 vaccine is not as effective as our vaccine against H1N1," she said.
"This year, based on what's happening in the south, we're more likely to have an H1N1 season in which we will find that our vaccine is likely to be more effective, so the variability is anywhere from 40 to 60 per cent effective."
Cocar said despite the lower protection rate, getting the flu shot is still the best line of defence.
"Last year, they say the vaccination wasn't as effective, but it's still well worth it to get the vaccination due to the complications that can occur, especially in the senior population," he said.
The BCCDC said there were fewer confirmed influenza cases in September and October compared to the same period over the past two years, with 29 cases confirmed in 2018 compared to 97 in 2017 and 135 in 2016.
Goodison said the early results could indicate a milder flu season is in store.
"In the southern hemisphere, they had a milder season this year, so we are anticipating that we may see that in the northern hemisphere," she said.
The flu shot is free for people 65 years and older, people of any age in long-term care facilities, people with chronic health conditions, all children six to 59 months of age, Aboriginal people, pregnant women and people who provide essential community services.
To find a flu clinic near you, visit Immunize B.C.
Source: Read Full Article