'I was given six months to live five years ago'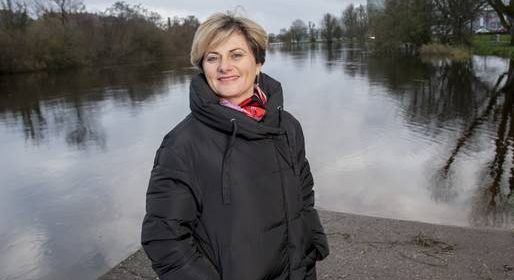 Veronica Kenneally knew the symptoms of melanoma. The mother of three made an appointment to see her doctor and was quickly diagnosed with cancer in 2010.
However, after three years it had spread to her brain and doctors told her there was nothing else they could do. With nothing to lose, she opted for a radical treatment approach. The resulting immunotherapy medicine course has since allowed her a longer and healthier life.
"I noticed a growth on my leg in 2010 and luckily had it seen to fairly quickly even though I had no symptoms," she says.
"I knew that this was one of the things with melanoma – it doesn't make you feel ill – you just have something not looking right on your body. But I didn't think it was anything serious, just something which could be cut off.
"So when the doctor rang and said they weren't happy with just removing it, my heart sank. Apparently they realised straight away that it was a melanoma and wanted to take a big bit of skin from around it so they could trace its source.
"I eventually became comfortable with the notion of this as I believed they knew what they were doing and I would be fine afterwards – little did I know what the following eight years would bring."
Veronica, who is married to Brian Dennis and lives in Cork, had plenty of time to get used to surgery as over the years has had several operations to remove cancerous lesions.
"Not long after the first melanoma was removed, they noticed that it had returned, first in my groin and then in my lung – so I really began to realise that things were serious," recalls the 45-year-old. By 2013 – three years on from initial diagnosis – it kept returning all the time and it was actually very hard (for doctors) to stay ahead of it. So that Christmas I decided to look at another option as I had heard of medical trials and wondered if I could get on one to stop it from coming back.
"But two weeks before I was due to see an oncologist in Dublin, things got very bad and my consultant said it was time to start thinking of my kids – Eddie (15), Amy (9) and Suzy (8) – and the possibility that they may be without a mother in six months. I was encouraged to speak to someone about palliative care and needless to say both myself and my family were absolutely shattered." Still reeling from this horrendous news, Veronica decided to keep the appointment in Dublin and was heartened to be told that there were other options and that the race wasn't over yet.
"I was told that there were other routes and initially was put on a trial and felt really ill for the first 48 hours," she says. "But this then cleared [and] I began to feel a bit better. I was on this trial drug for 18 months (although it had to be stopped once as another tumour had to be removed) and finally now I am on immunotherapy treatment."
Since her initial diagnosis, the Cork woman has had 14 operations to remove cancer in her brain, spine, lungs, bowel and close to the heart. Along with the surgery she believes the immunotherapy drug programme is what has kept her alive through it all and would encourage others to not lose faith and seek out a second opinion if they are not happy with treatment.
"Today, I am really well and thanks to the immunotherapy, many people I interact with daily don't even know I have cancer," she says. "I am treated every three weeks – it means a day in Dublin but that's fine as I relax on the train with a book or just enjoy the countryside. I am fit and currently planning a week-long swimming trip to Oman. I have three wonderful children and a great husband. Overall things – as much as they can be – are good.
"For someone having to face this kind of very tough diagnosis I would advise them to surround themselves with positive practically-focused people and family who will help them overcome each hurdle. I would advise them to question each step and prepare themselves to take a radical approach to treatment and most importantly, I would advise them to enjoy the days, the kids, the laughs, the fun and just take pleasure from everything – as none of us know what tomorrow will bring or whether we will be there to enjoy it."
Veronica is speaking as part of the Irish Pharmaceutical Healthcare Association's (IPHA's), Second Chance campaign. Bernard Mallee, IPHA's Director of Communications and Advocacy, says innovative new medicines, such as those developed by the Innovative Medicines Initiative (a public-private partnership aiming to 'speed up the development of better and safer medicines') can make a difference to people like Veronica but patients should not be kept waiting for treatment. "Innovative medicines are helping people live longer, healthier lives. They are creating high-value jobs in a fast-growing economy and improving health outcomes for patients. IPHA is campaigning for the Government to work with the industry to give patients timely access to the innovative medicines pharmaceutical companies make. Many of these medicines are made in Ireland but patients in other countries have access to them before our own patients do. This is now an urgent challenge.
"If the Government worked with the industry to properly plan for – and fund – medical innovation, patients would not be left waiting for vital medicines which could make a huge difference to their lives," he says.
"Without innovation, there would be no cures. It is up to all of us – but especially policymakers and industry leaders – with a stake in patients' lives to pledge that we will not allow Ireland's healthcare outcomes to slip because of an inadequate approach to reimbursing innovative medicines. The process should be streamlined and we need to create a funding mechanism, planned over years, for new medicines."
There are many types of treatments which depend on the type of cancer and how advanced it is. Some people will have only one, but most have a combination to include chemotherapy, radiation and immunotherapy which means using the body's own immune system to fend off the disease. And Mallee says of the three, immunotherapy is the least devastating to the body as a whole and there is hope on the horizon for Irish patients.
"This is because it relies on targeted cancer destruction rather than attacking all of the cells in the general area of the cancer," he explains. "Immunotherapy boosts the body's natural defences to fight cancer. So, breakthroughs in cancer immunotherapy treatment are a big deal and offer hope for forms of cancer such as melanoma and lung cancer which, historically, have been difficult to treat.
"Cancer is the leading cause of death across the globe, killing one in six people. But innovations in cancer treatment aim to address a set of issues which will typically face healthcare providers and patients, including aggressive treatment accompanied by side-effects, tumour recurrence after treatment, surgery, or both, and aggressive cancers that are resilient to widely used treatments," added Mallee.
Innovative oncology treatments
* Targeted therapy is a treatment which targets the changes in cancer cells that help them grow, divide and spread.
* Hormone therapy is a treatment that slows or stops the growth of breast and prostate cancers that use hormones to grow.
* Stem cell transplants are procedures that restore blood-forming stem cells in cancer patients who have had theirs destroyed by very high doses of chemotherapy or radiation therapy.
* Precision medicine helps doctors select treatments that are most likely to help patients based on a genetic understanding of their disease.
Source: Read Full Article