'I get glimmers of my dad, but they're only glimmers' – Daughter who returned home from Canada to care for her dad on the 'long goodbye'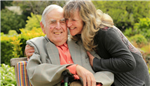 According to the Alzheimer Society of Ireland, the number of people with dementia in Ireland is expected to more than double over the next 18 years, from 55,000 today to 113,000 in 2036.
Dementia is an umbrella term used to describe a range of conditions which cause changes and damage to the brain. It's progressive, there is no cure and the majority of people with dementia – some 63pc of them – currently live at home.
There are many conditions which cause dementia. Alzheimer's disease is the most common cause. Vascular dementia, dementia with Lewy bodies and Frontotemporal dementia are other causes.
Family members caring for a loved one with dementia know why it's called 'the long goodbye' – the grief they experience or the loneliness they often feel in their caring role is often not acknowledged.
Máire-Anne Doyle cares for her 88-year-old father Brian in their family home in Dublin's Mount Merrion. It's not how Máire-Anne pictured her future, but she wouldn't change it either.
Indeed, she was working in Toronto in a high-powered human resources job for Public Health Ontario when, four years ago, she began to notice subtle changes in her father from their Skype conversations.
Her mother, Kay, had passed away 10 years earlier and her father had nursed her right up until her death. He had been living alone since then. The small deteriorations Máire-Anne was noticing – her father's general confusion about things – were alarming.
But it was the day he phoned her from the top of Dawson Street in Dublin city centre and he didn't know how to get to Harcourt Street, just a short distance away, that Máire-Anne knew something was very wrong.
Not long afterwards, her father was diagnosed with vascular dementia, which affects his short-term memory. She says he went to the appointment on his own and afterwards told her and her three siblings one by one.
Instinctively, Máire-Anne felt she had to do something. She and her brothers and sister had made their lives in different parts of the world – her sister lives in Vancouver, one brother is in London and another is in Malaysia. She says while she has no children of her own, her maternal instinct kicked in and she asked for a six-month leave of absence from her job.
No regrets
Three-and-a-half-years ago, on the cusp of 60, she packed up her life in Toronto, put her things in storage, rented out her house and moved back to the family home to care for her father. Four months later, she informed her employer she wouldn't be going back.
According to Máire-Anne, one thing her father was really clear about in life was that it's always the things you don't do that you regret. He encouraged his children to grab every opportunity and to travel far and wide. One of her mother Kay's mantras was: "You'll never regret doing the right thing."
These are the things that come into her mind when she's asked what helped her make up her mind to come home. That and love. Her father, she says, has always been a wonderful dad and a good man. She describes her parents as being mad about one another all through their lives, laughing together up to the end of her mother's life.
"You could tell dad anything. He would always say, 'You have to tell me the truth.' We had a very close bond when I was growing up. His philosophy in life was when you have to make a decision about something, it's all about debits and credits. I went to him when I was thinking about going to Canada and he asked me if I'd done the debits and credits – the reasons for and against. He's a really positive man and he loves Monty Python. He turns things around in that way," she says.
While his dementia has not affected his speech, Máire-Anne says her father's innate sense of confidence is gone. "Sometimes, he can't keep up in the conversation and he needs reassurance. Sometimes, he's very quiet because he doesn't know where the conversation is," she says.
Having worked all his life as a chartered accountant, order and routine was important to him and Máire-Anne tries to ensure that routine is strict because that's what works.
"His own mother relied on him a lot, mum relied on him a lot. He's always been the one to find the answers. Now, he doesn't know what the questions are to find the answers. He's still trying to find the solution," she says.
Every night before bed, she puts the next day's plans on a board in the kitchen. In her father's bedroom, she has another board with a few key phrases on it to remind him where he is and to reassure him all is well. She says these little touchstones remind him there's no cause for concern.
One of the important things Máire-Anne says she learned from the Alzheimer Society is that people may forget what you said to them, they may forget what you gave to them, but they don't forget how you make them feel.
Even on difficult days, she says she ends her day by telling her dad how much she loves him and he responds by saying: "I love you more."
She admits there are hard days, days when she has to 'vent' to her siblings. On these days, she says she's not asking them for anything more than just to listen to her.
"Some days are not perfect and I do my very best not to lose the head – patience is key.
"If I'm feeling overwhelmed, my brothers and sisters are there. They're incredibly supportive and are there 100pc for me," she says.
According to the Alzheimer Society, it's normal for family members to feel worried, anxious, resentful and overwhelmed, and it points out that it's common for people to have feelings of grief and loss as their life and the life of the person they care for is changed by dementia.
Support
While Máire-Anne's life has changed beyond recognition, she feels that she's lucky in many ways to be supported by family, to have been able to maintain contact with friends in Canada, and to have good neighbours who pop in and out.
She also says the lack of State support for carers is shocking. "Their [the Government's] answer seems to be 'put them in a home'. Because I've a house in Toronto, I'm not eligible for a carer's allowance. I get €300 to cover respite during the year. We are lucky from a family point of view – we're blessed really because, financially, we are okay".
However Máire-Anne says others in a caring role are not okay and that's why she wants to talk about what it's like to live with and love someone with dementia, so people can understand the reality.
"It really is the 'long goodbye'. I get glimmers of my dad, but they're only glimmers. You start to chat about things, but his eyes will cloud over. It's important to remember who he is," she says.
The Alzheimer Society has been a life line, according to Maire-Anne, organising social events and, in the early days of Brian's illness, getting him involved in its work to promote a greater understanding of dementia in the public at large.
Life, now, is about keeping things ordered. A trip to the shops, the cemetery to visit the grave of his wife or to the social events organised by the Alzheimer Society, give Brian a sense of purpose.
"It's all about routine. Everything is about creating a ritual.
"I know I'm doing the right thing, but sometimes I ask at what cost to myself? It's all very well for people to say, 'How's your dad? Call me if you need anything.' I'm not going to call someone. What I'd love to see is a support for carers – someone to listen. All you want is to be heard. I'm the strong character I am because of the wonderful opportunities I've had and my wonderful parents, without that I wouldn't have been able to cope," says Máire-Anne.
The Alzheimers Society is aiming to raise €500,000 to provide supports and services to help families living with dementia nationwide through its Tea Day fundraiser, which takes place on Thursday, May 2.
This year marks the 25th anniversary of the charity's fundraiser. According to the society, the Tea Day campaign provides vital funds for truly important services, which include: nationwide day-care centres, respite, home care, social clubs, carer support groups, Alzheimer cafés and the busy national helpline.
Every year, thousands of people around the country get involved with local Tea Day events in their homes, workplaces, schools, local community centres, parishes or somewhere special.
The ASI is asking people to invite their friends, family, colleagues and neighbours to have a cuppa, a chat and maybe a treat or two.
Last year, there were 1,200 Tea Day hosts, and this year, the Charity is looking to double that number. Registration deadline is Friday, April 26.
For more details, to get involved or to register for an Alzheimer's Tea Day pack, see teaday.ie or call (01) 2073833. Follow ASI on Facebook: facebook.com/TheAlzheimerSocietyofIreland; Twitter @alzheimerSocIre, #TeaDay2019 #TimeForTea; Instagram: @alzheimersocirl
ACCORDING to the Alzheimer Society of Ireland, often the early signs of dementia may be difficult to detect. Some people experience changes in their short-term memory early on, for others, changes to mood or to language may be the early signs. Each person's experience with dementia is unique.
In general, the early warning signs and symptoms can include:
⬤ Memory loss, particularly for recent events
⬤ Problems with language, difficulty finding the right word
⬤ Changes in personality, mood or behaviour
⬤ Becoming confused in familiar surroundings or situations
⬤ Difficulty in following conversations, TV programmes or reading
⬤ Difficulty managing money and everyday tasks
⬤ Difficulty solving problems or doing puzzles
⬤ Loss of interest in hobbies and pastimes, lack of initiative to start something or go somewhere.
⬤ Repeating a question or story several times without realising
⬤ Misplacing things by putting them in the wrong place.
According to the ASI, most people will experience a number of these signs, and they will find they are having increasing difficulty over time. It says early diagnosis is important because there are other, often treatable, causes of memory loss and confusion and because it's important to establish what the next steps are.
Early signs of dementia
Source: Read Full Article