Educated pregnant 'secret smokers' put babies at risk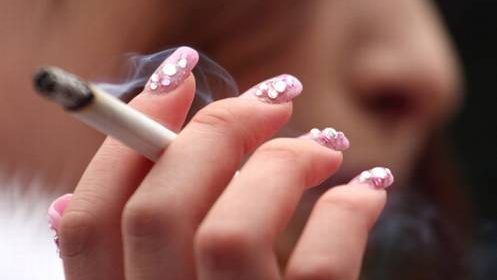 A significant number of pregnant women in Ireland may be "secret smokers", leaving their baby at risk of being malnourished.
A new study of a group of mothers-to-be attending the Coombe Maternity Hospital in Dublin found several were reluctant to disclose their habit.
Researchers at the Centre for Human Reproduction in the Coombe who questioned the 234 women presenting for antenatal care showed 15pc admitted they were smokers.
However, when they were given a breath carbon monoxide test another 10pc, many well-educated, came clean on their persistent smoking, the 'European Journal of Obstetrics and Gynaecology and Reproductive Biology' reported.
Professor Michael Turner of the UCD Centre for Human Reproduction, who led the study, said that they were more likely than non-smokers to have a growth-restricted or malnourished baby – which increases the risk of an adverse pregnancy outcome such as stillbirth.
He said: "Maternal smoking is arguably the most important modifiable risk factor for pregnancy in Ireland.
"The number of adults smoking in Ireland is declining slowly and most women quit spontaneously before they present for antenatal care.
"We found that 15pc disclosed to the midwife at booking that they were persistent smokers.
"However, following a breath carbon monoxide test and a more detailed questioning from our research fellow, a further 10pc disclosed their persistent smoking.
"Interestingly, we were surprised to find the non-disclosers were better educated."
Prof Turner said: "We recommend therefore that all women presenting for antenatal care should have a breath carbon monoxide test to screen for persistent smoking."
He added: "It is an inexpensive point-of-care test – less than the cost of a packet of cigarettes.
"If current smoking is confirmed, women should be offered a smoking cessation behavioural intervention and support.
"Most women will not engage during pregnancy itself with interventions but it should be offered again after delivery when nicotine replacement therapy can be safely offered."
If the test is positive, the women should have repeat ultrasound examinations in the third trimester to detect foetal growth restriction which may necessitate early delivery with induction or Caesarean section.
"We urge that all 19 maternity units screen for undisclosed maternal smoking.
"At present, only Letterkenny does so. It is an inexpensive way to improve the foetal outcomes and may have lifelong benefits."
The HSE said it provides a range of smoking cessation support services, some in the community and some in hospitals.
Every cigarette smoked contains over 4,000 chemicals, so smoking when pregnant harms the unborn baby.
Cigarettes can restrict the essential oxygen supply to the baby.
As a result, their heart has to beat harder every time their mother smokes.
It is possible to use nicotine replacement therapy during pregnancy.
It is not recommended that pregnant women take 'stop smoking' tablets, such as Champix or Zyban.
Source: Read Full Article