How to bulletproof your heart years before disease hits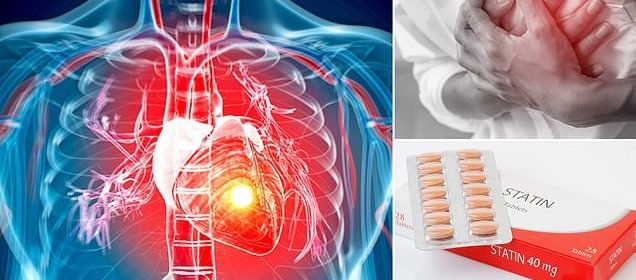 How you can prevent a heart attack: BARNEY CALMAN joins the world's top cardiac experts as they unveil the revolution that will bulletproof your heart years before disease hits
Barney Calman went to the American Heart Association Scientific Sessions
Here they shared the latest breakthrough research on the cardiovascular system 
In Britain alone, one person dies of coronary heart disease every eight minutes 
The focus of the Chicago meeting this year was on slashing figures like these 
It means persuading people to take early action to stave off future problems
Prevention, as we all know, is better than cure – not least because, when it comes to many of our biggest health threats, cures are often not forthcoming. And this philosophy perfectly encapsulates the collective goal of thousands of heart health experts who gathered last week at the American Heart Association Scientific Sessions in Chicago to share the very latest breakthrough research.
I was one of the specialist medical writers invited to report on the discoveries that will change the way patients are treated within weeks – if it's not happening already.
There is unarguably a need for innovation: in Britain, one person dies of coronary heart disease every eight minutes – usually a fatal heart attack. That's 66,000 people every year. Every 12 minutes someone in the UK will have a stroke, while more than one million men and 900,000 women are living with chronic angina – debilitating chest pains caused by blocked heart arteries.
Scroll down for video 
In Britain, one person dies of coronary heart disease every eight minutes – usually a fatal heart attack. That's 66,000 people every year (pictured stock image)
The focus of the meeting this year was on slashing figures like these by stopping problems before they begin. In many cases, this means persuading people who feel otherwise well to take action in a bid to stave off potential future problems. 'Looking after heart health is like a pension – you don't just save for a few months,' explains Professor Martin Cowie, one of Britain's foremost cardiologists. 'You have to keep doing it.'

Lifting weights for just an hour each week is better for…


Take a bath to lower your blood sugar: Soaking in hot water…


Gluten-free diets DO help you lose weight – but only because…
Share this article
Thankfully, huge strides are being made toward tackling these challenges, with better medicines and more accurate testing that can help us, the patients, make the right decisions for our healthcare.
Here, I outline the standout announcements made last week and, with the help of Prof Cowie, of The Royal Brompton & Harefield NHS Foundation Trust, and Dr Laura Corr, consultant cardiologist at the Harley Street Clinic and Guy's and St Thomas' Foundation Trust, explain what they mean for patients…
MAINTAIN GOOD CIRCULATION …AND FIGHT DEMENTIA
Mounting evidence seems to suggest that heart and circulation problems could cause dementia. Two new studies reported last week suggested that irregular pulse rates in middle age could be an earlier indicator of cognitive decline in later life. The first looked at the link between stiffness of the arteries and the development of memory problems.
More flexible arteries can respond better to the daily physical and emotional stresses that require the arteries to temporarily pump more blood. If arteries are stiff – due to build-up of fatty plaques and inflammation inside their walls – blood pressure can rise and damage arteries, making a heart attack or stroke more likely.
It is very important to maintain good circulation around the heart (pictured stock image). Mounting evidence seems to suggest that heart and circulation problems could cause dementia
Researchers at University College London and Cardiff University looked at data collected in a study of 10,000 civil servants aged between 35 and 55 when they were recruited in 1985. They had a raft of medical tests and then were reassessed, and retested every few years, most recently in 2015.
One 2002 test involved an ultrasound of the carotid arteries in the neck, which could flag up arterial stiffness. Those who had stiffer arteries at the start of the experiment were twice as likely to be suffering from cognitive decline – problems with memory and language – after ten years than those who did not.
Exactly how arterial stiffness leads to dementia is not yet known but it is thought that healthy, elastic arteries cushion some of the pressure of the blood travelling towards the brain, protecting the tiny, fragile blood vessels. The neck scan could be offered in middle age to flag up potential problems.
A second study found that patients with atrial fibrillation (an irregular heartbeat that can lead to strokes) were more likely to be suffering microscopic brain injuries.
These findings may partly explain why high blood pressure in middle age leads to dementia in later life.
What does it mean for me?
Dr Corr says. 'A study a few months back showed that high blood pressure in mid-life was a risk factor for dementia. Probably a quarter to a third of all dementia cases are vascular, meaning they are caused by problems with the blood supply to the brain. The damage slowly accumulates over a lifetime, so starting to consider heart health early in life is important.'
NEED STATINS? THIS SCAN MAY HELP YOU DECIDE
It is estimated that 12 million Britons could benefit from statins, which slash the risk of a heart attack by up to 50 per cent and the risk of stroke by a third. Yet only two-thirds of this number are thought to take the drugs.
In 2013 new guidelines were introduced meaning Britons over the age of 40 are now routinely assessed for heart disease risk before receiving a prescription, taking into account a raft of factors alongside cholesterol level, from age and ethnicity to family history of heart disease and underlying diabetes.
It is estimated that 12 million Britons could benefit from statins (pictured stock image), which slash the risk of a heart attack by up to 50 per cent and the risk of stroke by a third
These assessments generate a percentage likelihood of a heart attack within ten years. If this exceeds ten per cent, then statins are recommended.
Many of these people will feel otherwise fit and healthy and critics have loudly argued that it's a one-size-fits-all approach to medication that is unnecessary. Coupled with the fact that statins have been linked to muscle pains and other side effects, it is undoubtedly a reason people stop taking the drug or refuse to start.
Last week, in an effort to address this problem, US health chiefs revealed new guidelines that recommend 'more personalised risk assessment'. The ten per cent risk threshold remains but they suggest more thorough investigation of risk factors, such as premature menopause, chronic kidney disease and inflammatory disorders, and an additional test called a coronary artery calcium (CAC) scan. The hope is that millions of 'borderline risk' patients will be persuaded to accept, and stick to treatment.
What does it mean for me?
'The more personalised we can make discussions about heart health, the better,' says Dr Corr. 'Age is a strong risk factor, but if you are super-fit, eat well and live a healthy lifestyle, then having slightly higher cholesterol may not be a problem. A CAC scan is a 20-minute type of X-ray that would help these patients know whether or not to consider a statin.
'People often think of "clogged" arteries but in fact the process is a lot more like acne in teenagers – you get inflamed spots inside the artery walls, with fatty deposits and inflammation. These can harden and calcify, and that is what this scan looks for.
'It's available privately at the moment, for about £500, but I hope it will be widely used in the future as it is a strong indicator of future problems.'
THE NEW DIABETES DRUGS THAT ALSO HELP THE HEART
It has long been recognised that poorly controlled type 2 diabetes causes damage to blood vessels, raising the risk of a heart attack or stroke. But there is evidence that newer diabetes drugs may have a dual effect – not just in controlling blood sugar, but also in reducing the risk of a deadly heart attack.
Type 2 diabetes is known to affect more than three million Britons. But up to a million more sufferers may be undiagnosed, and a further 12 million are at high risk, with elevated blood sugar levels.
Experts last week called for better conversations between cardiologists and patients about the dangers of high blood sugar.
Trials announced last week suggested that the diabetes drug dapagliflozin could protect patients from cardiovascular death or hospitalisation due to heart failure.
What does it mean for me?
'The message for people with diabetes is that their choice of medication is important,' says Prof Cowie. 
'Dapagliflozin is one of a new class of game-changing diabetes drugs that can be taken alongside the standard medication, metformin. It not only tightens up blood sugar levels and helps patients lose weight, but also has a major impact on the risk of dying of cardiovascular disease or suffering from heart failure.
'Patients need to discuss with their diabetes clinic about whether they are on the right treatment.'
TWO DRUGS FOR VERY HIGH-RISK PATIENTS
People who have already suffered a heart attack, or are at risk of having one, and are already on statins should be offered two additional drugs, according to new US guidance. Studies show that for those experiencing angina chest pains, and suffering with diabetes, these new medications can dramatically lower cholesterol levels and slash their risks of heart attack.
Ezetimibe reduces the amount of cholesterol absorbed by the body from food. The medicine, licensed in 2003, was initially widely criticised after studies suggested patients' vascular health deteriorated while on it.
British health watchdog the National Institute for Health and Care Excellence (NICE) first approved the drug in 2007 as an alternative or add-on to statins, then reversed this decision and instead approved it for a very select group. In 2016, due to more data showing it did in fact reduce the risk of heart events, it went back to its original ruling.
A new study announced last week that the 20p-per-pill drug was particularly effective as a standalone treatment for high-risk older patients over 75, reducing their chances of cardiovascular events.
In addition, or instead of this, very high-risk patients should be offered another cholesterol-lowering drug known as a PCSK9 inhibitor. Although expensive, costing about £4,450 per patient per year, it stops the liver from producing cholesterol, lowering levels in the blood.
What does it mean for me?
Dr Corr says: 'Taken on its own, ezetimibe isn't very powerful, but when taken with statins, it reduces the risk of a major cardiac event by a further six per cent.
'My approach at the moment is, for people at high risk, to find a statin that suits them and get them on the highest dose they can tolerate, then add ezetimibe if needs be. This, along with lifestyle advice, will help us control cholesterol in up to 99 per cent on cases. For the others, there are the PCSK9 inhibitors, a twice-monthly injection.
'These are not magic bullets, but can help patients who have had bypass surgery, stents, or a stroke, and still have high cholesterol.'
BOUNCE BACK AFTER HEART ATTACK… WITH YOGA
A yoga programme for heart-attack patients was as effective as conventional cardiac rehabilitation exercises, according to a new study of about 4,000 patients in India after discharge.
Yoga (pictured stock image) is now considered an effective way to recover from a heart attack, according to a recent study
Rehabilitation programmes for British patients begin four to eight weeks after they are discharged and involve sessions at a gym, using rowing machines or static bikes.
What does it mean for me?
Prof Cowie says: 'Doing yoga might not stop you from having another heart attack, but if it helps you feel better, more balanced and confident, less stressed and back to normal after surgery, then it's a great idea if you fancy it.'
Fish oils
CAN

fight heart attacks – and here's the proof

Omega-3 fish oils may after all have a role in preventing heart attacks, according to two major studies unveiled last week – contrary to studies published earlier this year.

Researchers from Harvard Medical School in the US found that among those who didn't eat the recommended weekly one-and-a-half portions of oily fish, there was a 40 per cent reduction in heart attack risk if they took fish oil capsules.

The study involved more than 25,000 healthy middle-aged men and women for five years, half of whom took supplements, and half a placebo.
Dr Corr says that, when it comes to omega-3 it's better to eat the real thing (pictured is a stick image of omega-3 pills). It doesn't have to be a slab of fish – it could be prawns or a can of tuna
In a second trial, those given a high dose, prescription-only omega-3 supplement were 31 per cent less likely to have a heart attack, 28 per cent less likely to suffer a stroke, and 20 per cent less likely to die due to cardiovascular causes.
Four months ago, University of East Anglia scientists looked at previous studies and decided there was no evidence that fish oils protected the heart. The Harvard study concluded the preventive effect of omega-3 exceeded the modest 15 per cent reduction in heart-attack risk offered by taking aspirin, and there were no side effects.
What does it mean for me?
Dr Corr says: 'When it comes to omega-3, I always say it's better to eat the real thing. It doesn't have to be a slab of fish – it could be prawns or a can of tuna. But if you don't eat fish, on this evidence a supplement might be a good idea.'
Source: Read Full Article