How the Virus Unraveled Hispanic American Families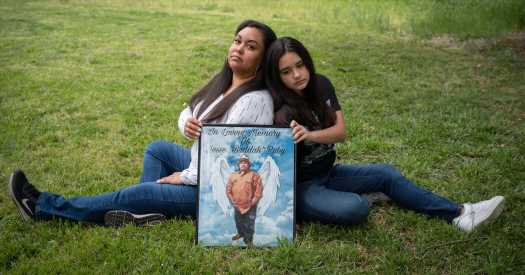 Deaths in Santa Clara County, Calif., highlight a terrible disparity of the pandemic: Covid-19 killed many Hispanic Americans at younger ages.
Virginia Herrera, left, whose fiancé of nine years, Jesse Ruby, died of Covid in January, with her daughter, Ginger. "This took us by surprise," Ms. Herrera said. "Never in a million years did I think he wasn't going to make it."Credit…Sarahbeth Maney for The New York Times
Supported by
By Roni Caryn Rabin
Graphics by Lauren Leatherby
To a wide circle of friends and family, Jesse Ruby was the go-to guy.
The father who would drop everything and drive across town if his sons needed a ride. The cousin who spent weekends helping relatives move. The partner who worked odd jobs on weekends with his girlfriend, Virginia Herrera, to help make ends meet for an extended household in San Jose, Calif.
"If he was your friend, or he considered you a friend or family, all you had to do is ask," Ms. Herrera said. "You could depend on him. He was that person." Then, in December, Mr. Ruby caught the coronavirus. He died six weeks later, at just 38 years old.
Across the United States, the pandemic has shattered families like Mr. Ruby's. Hispanic American communities have been pummeled by a higher rate of infections than any other racial or ethnic group and have experienced hospitalizations and deaths at rates exceeded only by those among Native Americans and Alaska Natives.
But new research shows the coronavirus has also attacked Hispanic Americans in an especially insidious way: They were younger when they died.
They are much more likely than white Americans to have died of Covid-19 before age 65, often in the prime of life and at the height of their productive years. Indeed, a recent study of California deaths found that Hispanic Americans between the ages of 20 and 54 were 8.5 times more likely than white Americans in that age range to die of Covid-19.
"It matters how old you are when you die, because your role in society differs," said Dr. Mary Bassett, director of the François-Xavier Bagnoud Center for Health and Human Rights at Harvard's T.H. Chan School of Public Health.
Her research has found that Hispanic Americans and Black people who died of Covid-19 lost three to four times as many years of potential life before the age of 65 as did whites who died.
The virus more often killed white Americans who were older. Their deaths were no less tragic, but they did not lead to the unraveling of income streams and support networks that was experienced in Hispanic American communities. These families experienced a very different pandemic.
"When you die young, you may be a critical breadwinner for your family," Dr. Bassett said. "You may have dependent children. And we know that losing a parent is not good for children and has an impact on their future development and psychological well-being."
Mr. Ruby and Ms. Herrera lived together in San Jose, Calif., where the extreme wealth of Silicon Valley's high-tech elite contrasts with poverty and homelessness, and where working families double and triple up under the same roof, paying some of the highest rents in the country.
"It's a tale of two cities," said Jennifer Loving, chief executive officer of Destination: Home, a public-private partnership aiming to end homelessness in Santa Clara County, which includes San Jose. "We literally have Teslas sitting outside homeless encampments."
Health is as polarized as wealth. An analysis of county death records by The New York Times provides a rare, granular look at who died of Covid-19 in a county of 1.9 million people — by age, sex, race and ethnicity, pre-existing health conditions and, importantly, where people lived.
Covid-19 death rates in Santa Clara County
Source: Read Full Article